Glamping, or luxury camping, in pods, tents, lodges, and more has undergone a rapid and metamorphic rise and become a mainstream favourite the world over.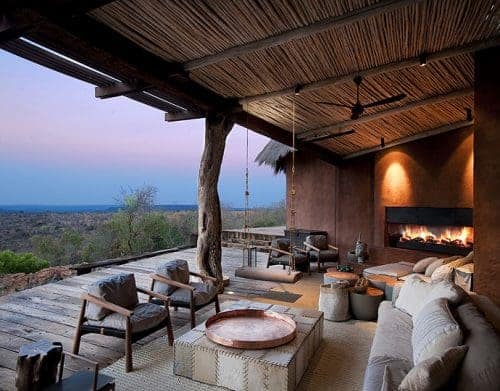 What is glamping? Luxurious camping! Just ten short years ago, camping in the great outdoors meant a dusty tent furnished with a foam mattress and a fiber rug thrown in for good measure. But, that doesn't cut it anymore. Today, the definition of glamping means that you can choose between a floating cabin, an extravagant chateau-inspired tree house, a cleverly converted shipping container set beside its own lake not to speak of glass pods, super luxury tents, or sensational safari lodges.
Today's campers have upgraded to more comfort and love the quirky, fun, family-friendly appeal that glamping spells, not to mention that it offers more space and fresh air than your average cottage. Innovative offerings to an ever-demanding clientele include high levels of luxury, such as hotel-standard beds and Egyptian cotton sheets, a mini-bar, a cappuccino maker, a private hot tub, and massage packages, among others.
Today's Traveller has found you the ultimate luxury glamping places where you can go wild, be alone, take a swim, a nature walk, a safari or even a camel ride, – in short, thoroughly indulge yourself.
Leobo Private Reserve, Waterberg, South Africa
Escape to Leobo Private Reserve—12,000 acres of pure African beauty offering the ultimate private retreat experience. Choose between two unique accommodations; The Observatory offers two lavish bedrooms and a nanny's quarters while the Lodge has 8 cottages with captivating views of the reserve. Enjoy maximum freedom as you explore all that nature has to offer – from game drives and horseback riding through lush bushland to star gazing above tranquil skies at night – an unforgettable adventure awaits!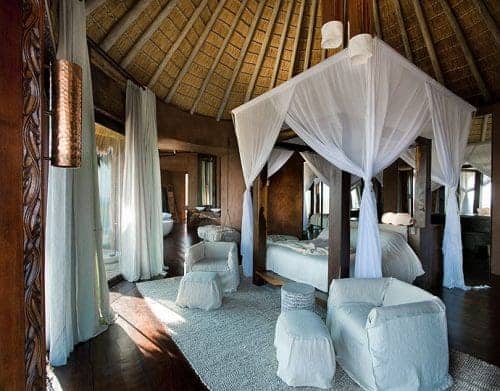 At The Observatory, award-winning designs truly shine. From the lush and inviting roof deck to the impressive hippo skeleton hung above its dining table – everything here is simply stunning and one of a kind. Perched high atop the escarpment, the lodge offers breathtaking views that truly transport you to another realm. You'll enjoy privacy like never before as this special reserve allows exclusive usage only – no surprise visitors will be stopping by!
Al Maha Desert Resort UAE
Revel in an oasis of privacy at Al Maha, a Luxury Collection Desert Resort and Spa, Dubai. Nestled among the lush palm groves and iconic sand dunes of the illustrious Dubai Desert Conservation Reserve, the 5-star retreat offers unbridled seclusion amongst sweeping plains and majestic Hajar Mountain massifs – with private pools to luxuriate or explore via camel treks & horseback rides! The intimate 42 suites combine discreet luxury with authentic regional antiques for added local flavor;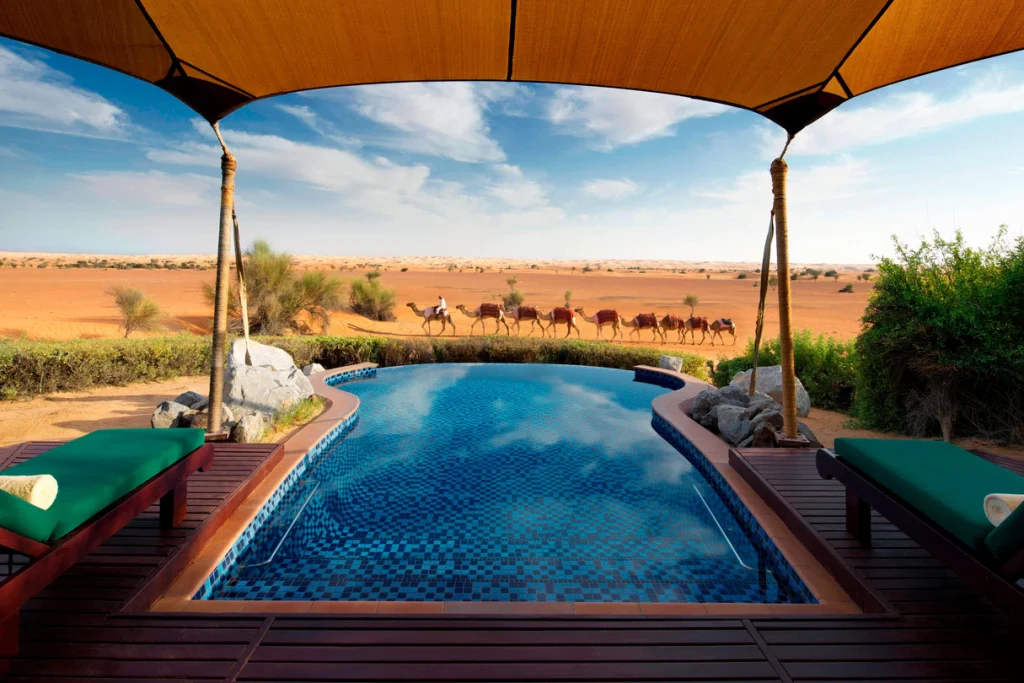 The 42 individual suites, including the Bedouin, Royal, Emirates, and Presidential Suites provide luxurious comfort in a unique desert setting. The Al Diwaan dining room offers Arabic and Mediterranean cuisine alongside incredible views of golden sand dunes from its private annex. Enjoy your meal on the terrace or have it delivered directly to you for an even more special experience!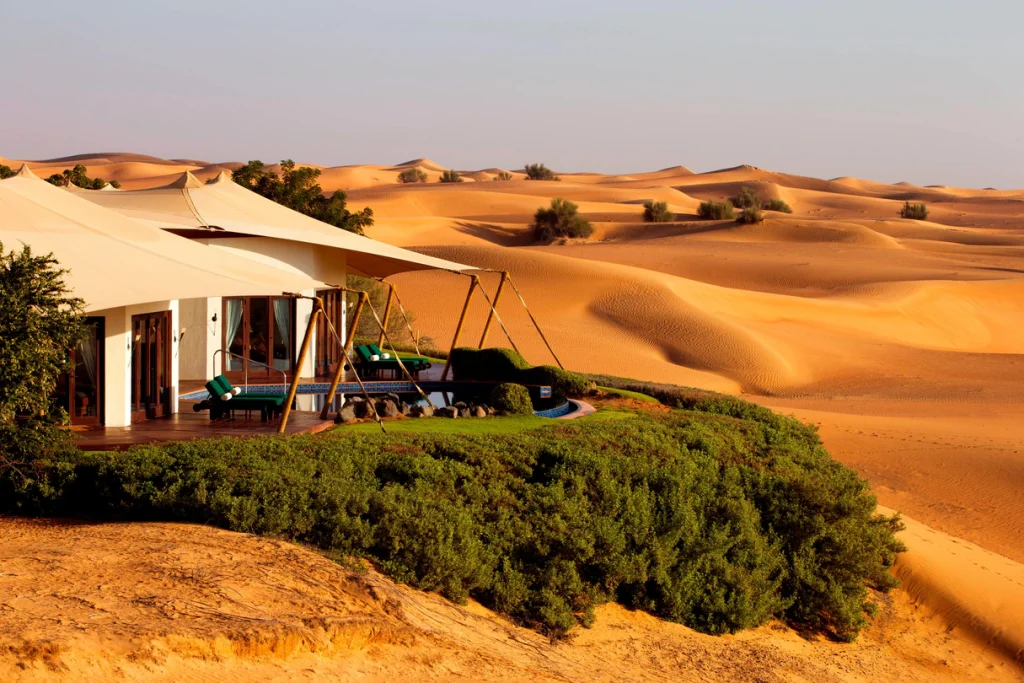 Explore all that the destination has to offer with activities reflective of traditional Bedouin culture – explore nature with walks and drives through hidden valleys; take part in wildlife safaris or falconry lessons; enjoy horse riding adventures over sand dunes and so much more – culminating each day under starlight during unforgettable sundowners amongst the distant mountainscape.
The Boulder: Norway's 3 luxury cabins high above the fjords
You get a real sense of hovering high above one of Norway's most beautiful fjords at The Bolder. With its distinctive design and location by the Lysefjord, The Bolder has become one of Norway's most remarkable places to stay.
The three new cabins designed by architect firm Snøhetta are now ready to offer guests an experience of nature that is far beyond the ordinary. The five-sided wooden cabins between the pine trees, stand on a column a few metres above the ground, at the very edge of the outcrop. All that's behind it are the sky and fjord. The enormous panoramic window looking out towards the Lysefjord is like a landscape taken straight out of a painting.
The first two lodges, called The Bolder Skylodge, have been a massive success. What developed from the slightly wild brainchild of printer and founder Tom B. Norland soon became known as one of the most remarkable places to stay in Norway.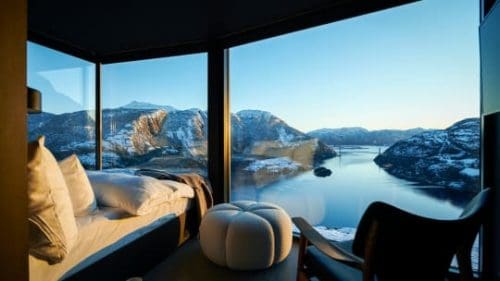 'Staying in these lodges really does something to you. It's a whole new way of experiencing nature and seeing one of Norway's finest fjords. You can drive right up to the lodges, so the accommodation is accessible throughout the year. The experience is perhaps most magical in the autumn, winter and spring,' Norland says.
When the founder and Snøhetta describe the lodges as being 'in harmony with nature', it doesn't just mean that the buildings have a unique connection to the landscape, that the choice of materials is well considered, or that the buildings leave a minimal footprint in the landscape.
Staying a night or two in the small lodges promises a rare experience of nature, and the opportunity to experience Norwegian fjord landscapes in a whole new way.
Khwan Glamping Beach Resort, Koh Samui
Khwan Glamping Beach Resort is located just 50m from Maenam Nam Beach and 30m from Maenam Town Center. Forget your traditional resort or the beachfront hotel with a sea view balcony – this is glamping where luxury knows no limits.
Whether you're visiting Koh Samui for business or leisure, check out Khwan Glamping's luxury tented living space, which sets an example for sustainable living and provides the comfort and ambience of a home away from home.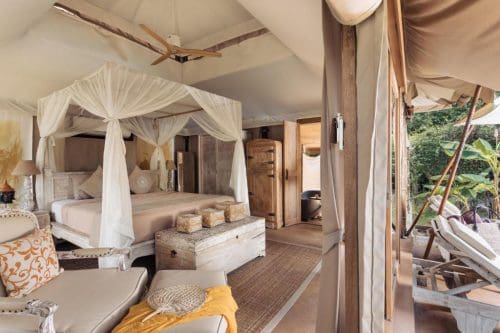 The interiors of the luxury tents resemble an art hotel. Art lovers will find delight in the authentic and original pieces of art, designed by the resort's hand-picked selection of artists. Discover the plush amenities featured in the chic boutique and gallery resort and enjoy a stay in one of the exclusive luxury tents, each designed with the help of a different original artist.
The resort in Koh Samui offers luxurious glamping facilities complete with high-end services, a large community pool with a pool bar, and a spa in one of the luxury tented villas, with facilities for massage treatments. Fine dining is provided by Chef Mattias and includes Nouvelle cuisine and Fusion Thai food, seafood specialties, and a wine selection.
Habitas AlUla, Saudi Arabia
Habitas AlUla, Saudi Arabia charts a new course across a land unfamiliar to the modern traveller. Habitas, the sustainable, experience-led hospitality brand which continues to fortify its status as an industry disruptor with the recent launch of its Namibia and Bacalar properties, will open its next "home" – this time even further off the map, in the uncharted AlUla region in the Northwest of Saudi Arabia. Habitas AlUla rests within an ancient oasis in the desert canyons of the Ashar Valley, surrounded by sandstone cliffs and palm groves.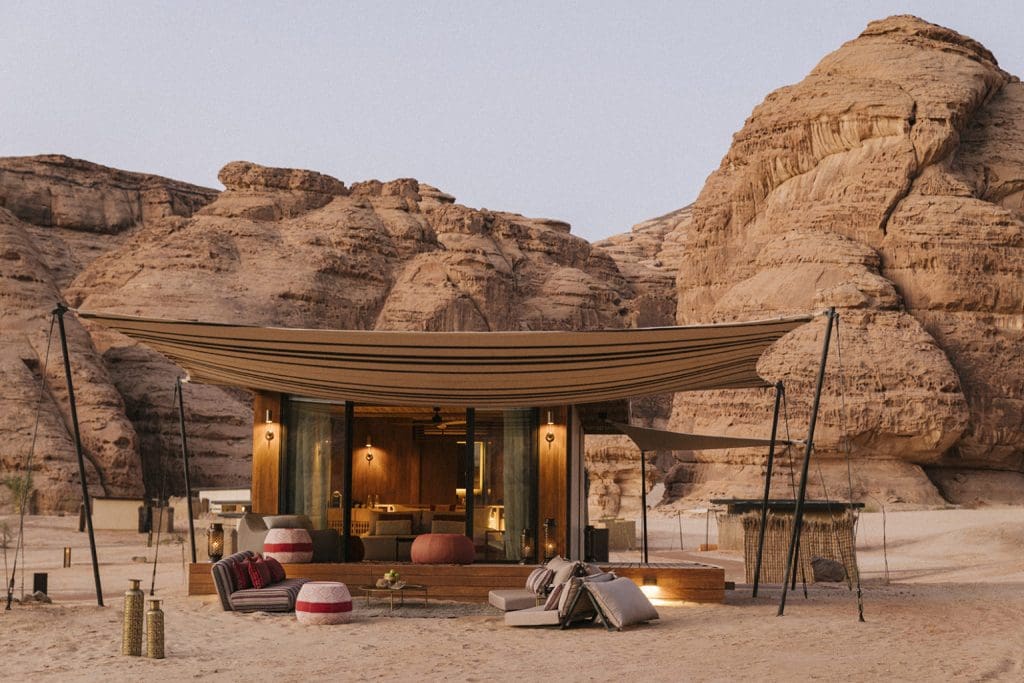 The serene resort pathways lead guests up to each of the 96 guest rooms which span three tiers: premium Celestial Rooms, Alcove Rooms, and Canyon Rooms, as well as to the yoga deck, wellness and fitness centers, restaurant, and swimming pool. Each of these spaces is constructed from ethically-sourced organic materials which blend seamlessly into their natural surroundings.
Habitas AlUla is the true embodiment of the brand's six programming pillars: music, wellness, adventure, culture, learning, and culinary, all of which are meticulously developed to immerse guests within the region's authentic culture and natural environment.
This is illustrated through programming that accommodates art and culture walks, canyon trekking, yoga, meditation, and breathwork. Habitas will leverage its musical roots to create and curate sounds from the region's unique talents, and showcase them for guests through the medium of a concert series.
AlUla's on-site restaurant Tama, aptly named after the word "here" in Aramaic, is in line with one of Habitas' core brand experiences, the essence of being present, and keeping people in the here and now.
Aman-i-Khas Tents, Ranthambore National Park, Rajasthan, India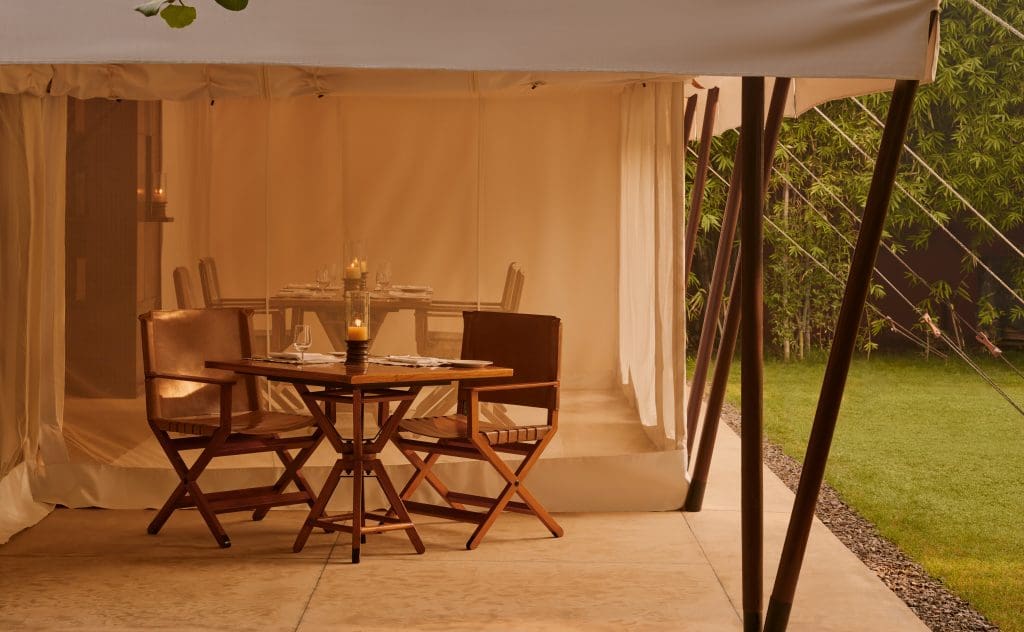 At the edge of Ranthambore National Park, luxury awaits in ten spacious and elegant tents.
Each tent offers 1,162 square feet of indoor space perfect for relaxing or entertaining – a bedroom with soaring ceilings, a living area with daybeds to rest without worry, dining areas ideal for savoring meals together at sunset as well as bathing areas featuring lavish free-standing bathtubs and showers – all connected by large sun decks meant to capture charming views on passing wildlife. Come experience this exclusive retreat among nature; you won't be disappointed!
In the luxuriously inviting atmosphere of the Dining Tent – complete with a grand communal table, several smaller dining settings, and an outdoor terrace reminiscent of Mughal tent cities – you can savor international favorites or tantalizing Indian fare like our aromatic Rajasthani thalis. As night falls, gather around our warmly glowing fire pit in cozy comfort to indulge in a delightful conversation about your day's discoveries beneath the star-studded canvas and listen as nearby forest inhabitants sing their lullabies.
Immerse yourself in a multi-sensory world at our Spa Tent – with treatments inspired by centuries of holistic wisdom. From Ayurvedic journeys to Reiki massages, outdoor yoga sessions, and lounger-lined pools modelled on ancient step wells; you'll be truly rejuvenated for an unparalleled experience!
Whitepod: Les Cerniers, Switzerland
If you have a yen for exploring the Swiss Alps, here's a truly unique way of doing it – go glamping in style to Les Cerniers, in Switzerland.
Located at the base of the Dents-du-Midi mountain range in the village of Les Cerniers, Whitepod takes advantage of Switzerland's intrinsic snow-capped beauty and the adrenaline-pumping adventure of the mountains to create the ultimate glamping luxury.
Whitepod camp comprises 15 geodesic dome pods, around a central chalet and spa. The Chalet Les Cerniers is the main reception of the resort and also houses the restaurant where guests can enjoy a complimentary buffet breakfast or evening drinks around the fireplace. Each luxury pod comes with a woodburning stove to keep it warm, organic luxury bedding for ultimate comfort, and full-service bathrooms.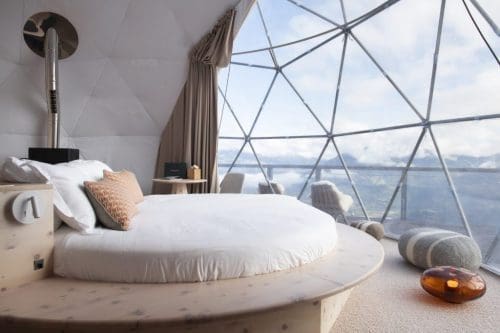 Wake up to stunning views of the Alps and Lake Geneva from the pod's large bay windows and private deck.
Each pod can house two persons, while five of the pods come with mezzanines that can hold two extra beds for children.
Whitepod attracts a lot of couples, as also people with their families or groups for seminars. What's more, Whitepod resort has its own ski slope that extends over four miles of powdery snow and is perfect for beginners and intermediate-level skiers, and the cost of skiing is included in the rate you pay for the pod. Also included, are the relaxation areas services, such as a sauna and a Japanese bath. Less than 30 minutes away, fun activities such as paragliding and thermal baths are available.
Whitepod Eco-Luxury Resort has partnered with Audemars Piguet to create the Timeless Suite, a truly one-of-a-kind experience. Situated at the edge of the forest and boasting panoramic views over Valais valley, guests can immerse in nature while enjoying luxurious amenities such as its own private terrace and Nordic bath. With 18 individual pods plus 9 Swiss cabins complete an alpine brasserie for local cuisine – this combination of luxury and sustainability promises unforgettable memories!
Treehotel, Sweden
Located in Harads, which is part of Swedish Lapland and only 50km from the Arctic Circle, Treehotel stands near the River Lule and is about 100km from Luleå Airport. Blessed with a magnificent landscape, Treehotel is a camouflaged cube of mirrors that nestles deep within a forest in northern Sweden.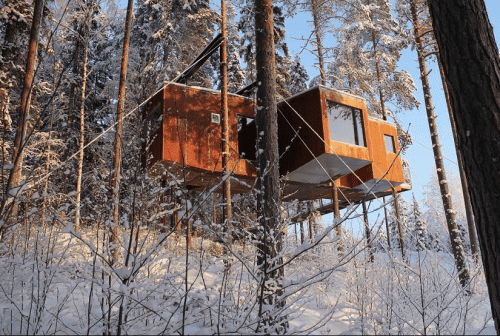 Inspired by the film, 'The Tree Lover,' by Jonas Selberg, and created by some of Sweden's top architects, Treehotel's 'tree rooms' are aesthetically beautiful while respecting the natural environment.
There are cabins that look like birds' nests, one that looks like a spaceship, and one inspired by the wings of a dragonfly.
And, if you happen to visit between September to March, you could get lucky and witness the magical Northern Lights above the pines.
From Treehotel's rooms, you get a superb view of the Lule River valley, miles of forest, and the powerful river. The entire experience promises to be unforgettable, starting with a friendly reception at Britta's Pensionat before being guided to your tree room. Each tree room is unique and the modern design coupled with the forest's tranquillity creates an instant feeling of luxurious relaxation.
Hosts Kent and Britta ensure that guests are indulged at every meal at Britta's Pensionat. The 1930s-1950s retro setting is inviting and cosy, and this, combined with the tree rooms' contemporary design, creates an entirely unique dimension for every Treehotel guest. Both summer and winter activities are on offer if you opt for a weekend stay. However, if you choose to simply enjoy the quiet, timelessness, and harmony around you, that too, is an option.
Read more: Latest