The delectable cuisine of the people of Maharashtra, India, known as Maharashtrian food or Marathi cuisine has distinct characteristics despite sharing many similarities with other Indian cuisines.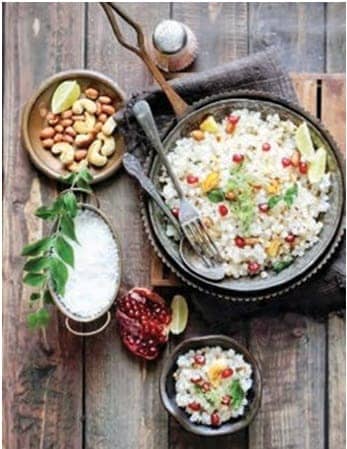 The distinct cuisine of the people of Maharashtra is known for dishes like Pithla Bhakri and Puran Poli. Dried red chillies are used to give the dishes a unique flavor.
The staple food of Maharashtra is the traditional unleavened flatbread known as bhakri, which is typically made from jowar (a type of millet) or bajra (pearl millet). It is served with many accompaniments like ghee, curd, pickles, and chutneys.
The popular snack food in Maharashtra is Vada Pav, a sandwich-like dish made of batata vada (potato fritters) sandwiched between two slices of pav (a type of Indian bread). Misal Pav is a spicy curry made of sprouts and served with pav, while Pithla Bhakri is a dish made from besan (gram flour) gravy.
Puran Poli is a sweet flatbread stuffed with chana dal (split chickpeas) and jaggery. The people of Maharashtra also enjoy seafood like bombil (Bombay duck) and prawns, as well as vegetarian dishes such as bhaji (vegetables cooked in spices).
Maharashtra has a variety of traditional sweets, many of which are made from milk products. Shrikhand is a sweet yoghurt dish served cold with puris, while Amrakhand is a blend of mango puree and shrikhand.
Modak is a sweet dumpling filled with jaggery, coconut, and nuts. The people of Maharashtra also enjoy savoury street snacks such as bhel puri (puffed rice mixture) and pav bhaji (mixed vegetables in spicy gravy).
The local beverages include buttermilk and the popular energy drink known as Sol Kadi. Maharashtra is also known for its unique Saatvic cuisine, which uses only pure ingredients free from onion, garlic, and other spices. This type of cuisine is often served on special occasions or during religious festivals.
In recent times, Maharashtra has adopted many fast food dishes, including pizza and burgers. Fast food joints serving these items can be found in most cities of the state.
Maharashtrians have traditionally considered their cuisine to be more austere than others. Mild and spicy meals are served in Maharashtrian cuisine.
Wheat, rice, jowar, bajri, vegetables, lentils, and fruit are all staple foods.
Vegetables are frequently served with peanuts and cashews.
Pav bhaji
It is a world-famous fast food delicacy from the western state of Maharashtra or even the king of street food. The dish is made up of veggies seasoned with a special blend of spices called pav bhaji masala and served with soft bread rolls called pav.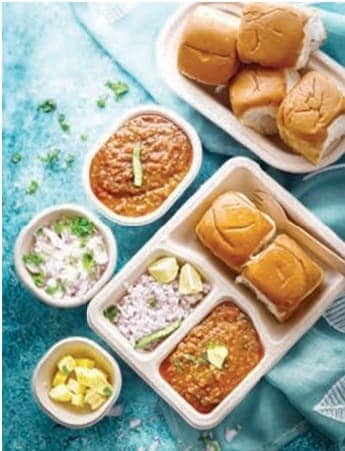 The recipe was created as a quick meal for textile workers, providing the necessary nutrition from the combination of veggies. Serve it with lemon wedges for an additional push to the dish.
Sabudana khichdi
Sabudana khichdi, cooked with sabudana pearls, boiled potatoes, roasted peanuts, and a few spices, is one of the most popular fasting dishes. It is traditionally prepared during Hindu fasting days such as Navratri, Mahashivratri, or Ekadashi. It's high in carbohydrates, with peanuts providing the only source of protein.
Because sabudana is high in carbohydrates, it makes a satisfying snack. You can garnish the dish with coriander leaves and grated fresh coconut.
Misal pav
It's a traditional spicy cuisine from western India, consisting of a spicy misal stew served with bread or pav. The spicy misal is topped with chivda mix, sev, or farsan, and this meal is unique because of its topping.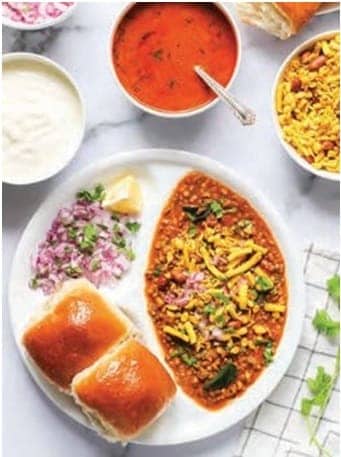 This spicy and mouth-watering dish is usually eaten for breakfast or as a snack, but it can also be served for lunch or dinner.
Bharli Vangi
Stuffed eggplant-based curry recipes are popular in India and can be utilised for a variety of purposes. This dish is a traditional hot curry cooked with purple eggplant and a mixture of packed spices.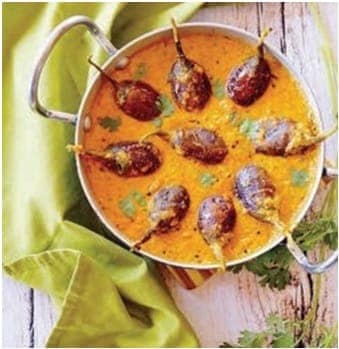 It's one of Marathi cuisine's most popular curries, and it's full of goda masala's warmth. It's usually served with Indian flatbread or roti, although it can also be served as a side dish with dal rice.
Pithla Bhakri
Pitla is a besan (gramme flour) and onion-based Maharashtrian dish. A spicy base of ginger, garlic, green chillies, and onions is thickened with gram flour and water.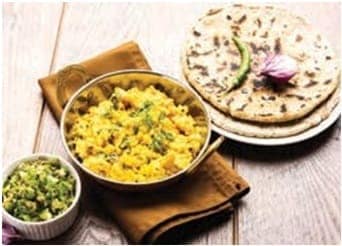 Most Maharashtrian families' favourite comfort food is spicy pithla with bhakri, which is also a famous dish at Mumbai's "Zunka Bhakar centres." Spicy pithla with jowar bhakri (similar to jowar roti) and chilli garlic chutney would make a perfect supper.
Poha
Poha is a Maharashtrian morning dish made of flattened rice, herbs, and spices. It's a popular breakfast in Maharashtrian households and is enjoyed by all ages. In the two most prevalent variants, poha is made with either potato or onion, or both potatoes and onion.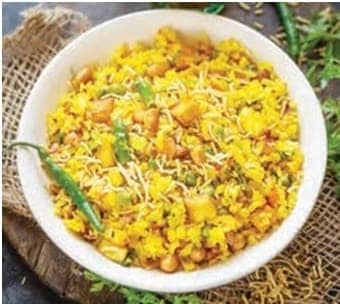 Add boiled peas, grated carrots, roasted peanuts, cashews, coriander leaves (cilantro leaves), and shredded coconut to make it more nutritious
Bhel Puri
Maharashtrian cuisine is famous for its mouth-watering chaat recipes, which are mainly sold by street sellers. The majority of them are gravy or sauce-based snacks with vegetables, spices, and chaat chutneys.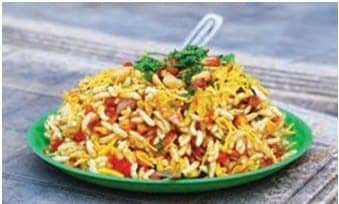 This popular savory street snack recipe uses puffed rice, finely chopped vegetables, and chaat chutneys. It's usually served as a late-night snack with deep-fried flat puris that also function as an edible spoon. When travelling in Maharashtra, this delicious street food is a great appetizer.
Amti dal
The word amti means tangy, and it refers to a flavor that is a mix of spice and sweetness. It is distinctive and specific to Marathi cuisine because of the blend of sweet, sour, spicy, and acidic flavours.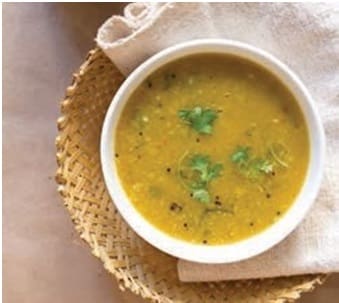 The tanginess comes from the kokum, the sweetness from the jaggery, and the spice from the goda masala. Toor dal/pigeon pea lentil is used in this classic Maharashtrian style dal recipe. It's typically served with plain rice and jeera rice for lunch and dinner.
Puran Poli
Puran Poli is a delicious flatbread cooked with husked split Bengal gramme (chana dal) and jaggery and filled with a sweet lentil filling.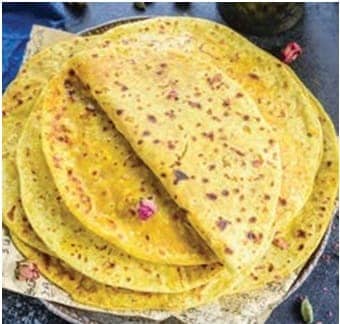 Puran Poli is a traditional Maharashtrian dish that is offered during festivals such as Ganesh Chaturthi, Diwali, and others. Modak, Puran Poli, and Nariyal ladoo are commonly served during the Ganesh Chaturthi festival in Maharashtra. With milk, ghee, or curd, Puran Poli can be served warm or at room temperature (yogurt).
Shrikhand
Shrikhand is a popular dessert in the western Indian states of Gujarat and Maharashtra. It is one of the simplest and most delicious desserts available. It is a simple and tasty delicacy made with thick yogurt and sugar, saffron, and cardamom.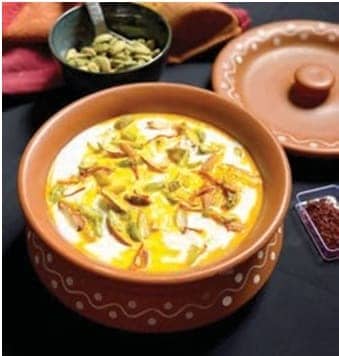 This simple dish is the perfect after-dinner treat, whether you use homemade hanging curd or store-bought Greek yogurt. Top with sliced dried fruits, roasted nuts, or charoli/chironji before serving. Toss in some crushed pistachios as a finishing touch.
Through its unique culture and cuisine, Maharashtra has something to offer to everyone. Visitors to the state will surely enjoy exploring its diverse culinary offerings!
Read More: Latest