We have rounded up 7 popular festive vegetarian dishes you can make at home. These vegetarian Indian dishes are not only delicious, but they are also quick and easy to make.
Festivals make the rounds virtually every month for one reason or the other in incredible India.
And, festival fare means a sumptuous meal and imaginative food preparations.
The Holi festival is just over, the festive Chaitra Navratri season in India is upon us, — one of the most auspicious Hindu festivals dedicated to Goddess Durga and her nine incarnations, harvest festivals like Baisakhi and Bihu, Mahavir Jayanthi, Budh Purnima, and later in the year, Dusshera, Diwali, Bhaiya Duj and more.
From sumptuous sabudana khichdi to sitaphal shake, here are some of our top gourmet vegetarian dishes to lift up your festive spirit.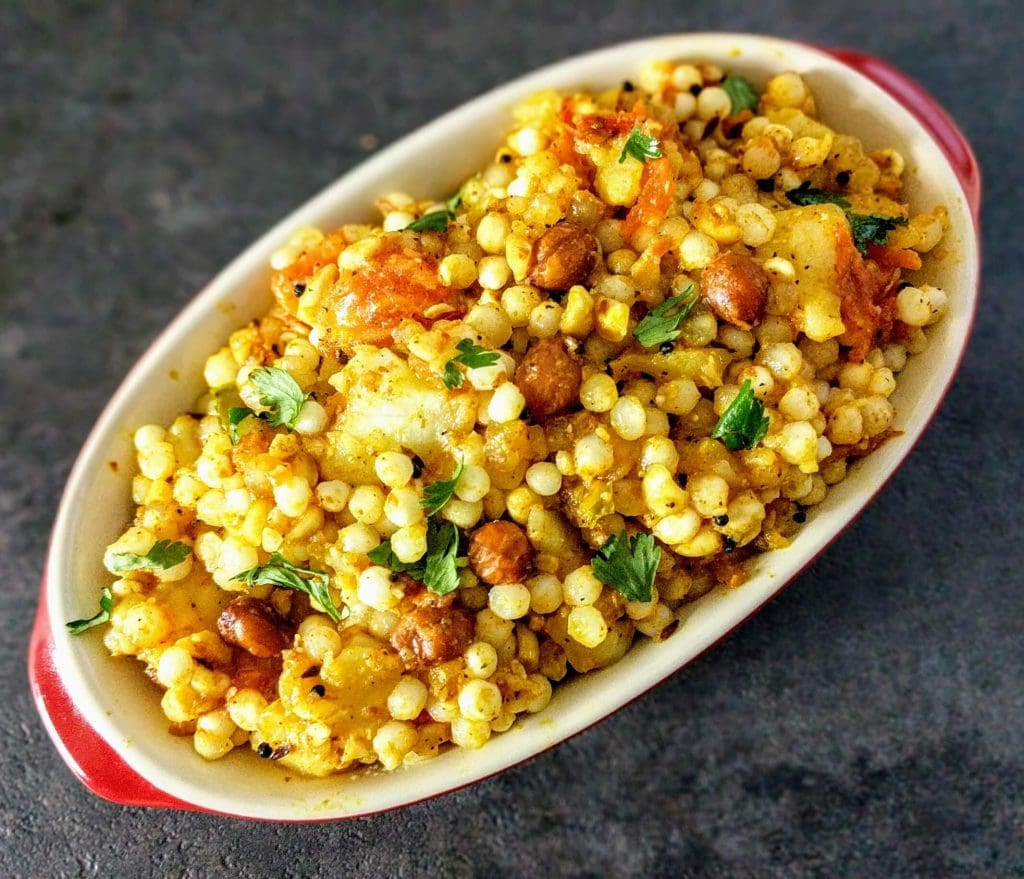 Sabudana Khichdi
Extracted from Tapioca roots, sabudana pearls are high in carbohydrates and fats that keep you full during the fasting season. The addition of peanuts makes this dish a complete meal. To prepare sabudana khichdi, you will need 100 grams of tapioca pearls, washed and dried. Add a tablespoon of asafoetida and cumin seeds in hot oil and let them splutter. Add green chillies and a bit of turmeric for a brilliant golden hue.
Finally, add the tapioca pearls and stir them well. For added crunch, mix in peanuts. Remove from the heat and garnish with coriander leaves. This wonderful preparation of tapioca pearls with crunchy peanuts and fresh herbs makes for a sumptuous vrata meal during the fasting season of Navaratri. Most important it is one of the tastiest vegetarian dishes to be found!
Sitaphal milkshake
Sweet and decadent, sitaphal milkshake is the best welcome drink to greet your guests with. Sitaphal or custard apple is known for its grainy texture and saccharine sweet taste. For this drink, all you need to do is to take the pulp of two custard apples and blend it in a mixer with two scoops of vanilla ice cream and some chilled milk. This festive season, toss the high-calorie aerated beverages with this fruity drink that is packed with vitamins, potassium, and magnesium.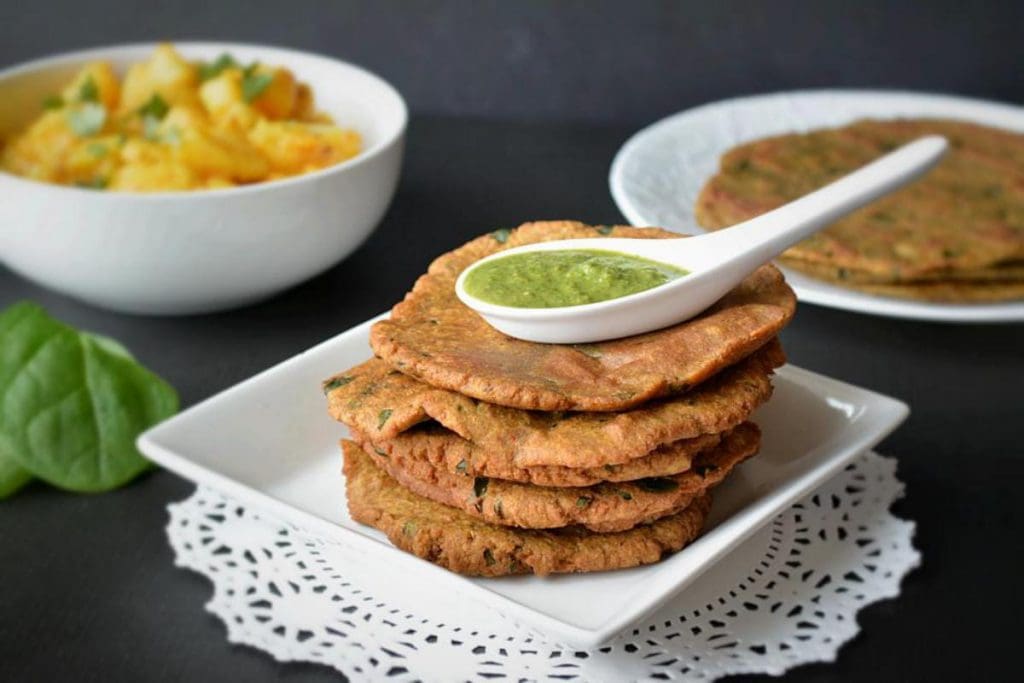 Singhare ki Atte ka poori
Give this roadside delicacy a high-brow twist by using singhare ki atta rather than refined flour. Singhara or a water chestnut is a fruit that grows underwater. Although it is a winter staple, its flour is available throughout the year. This gluten-free flour is packed with nutrients and is great for weight loss.
Knead the flour well with water and oil and use the dough to make pooris (fluffy pancakes). Serve them with a delicious potato curry, lightly spiced with cumin, turmeric and flavoured with fresh tomatoes. This vrat (fast) staple makes for a delicious dinner with friends and family, over one of the most nutritious Vegetarian dishes.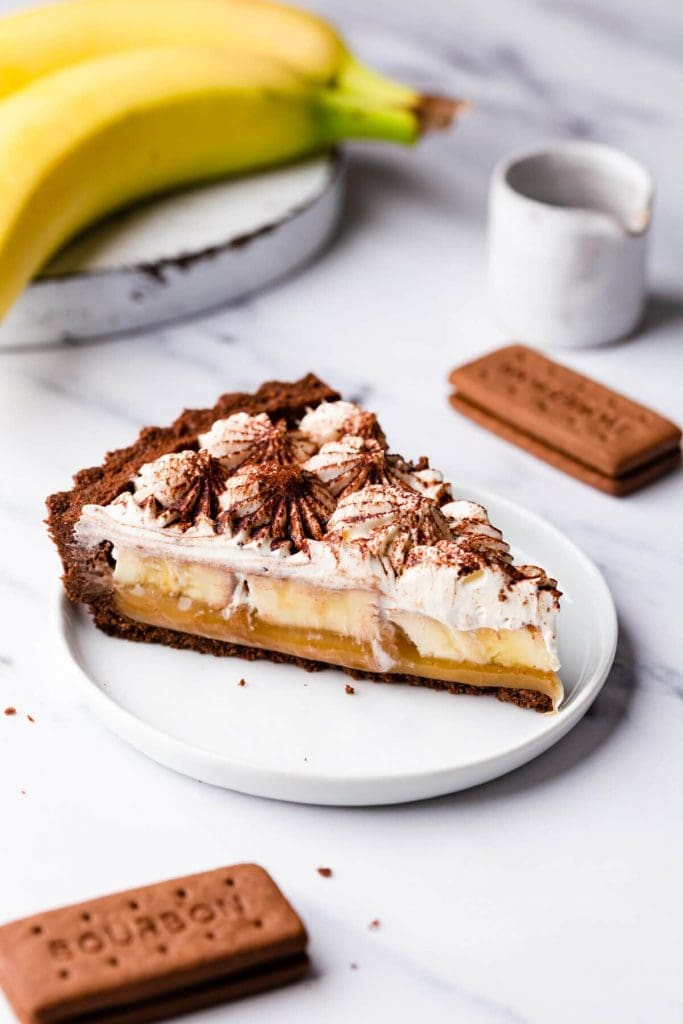 Banoffee pie
This pie is a classic party-pleaser. It takes no cooking and can be prepared in minutes.
The main ingredient of this dish is the caramel sauce that goes on the top of the pie. All you need is a can of condensed milk that needs to be boiled continuously for two hours. The result is a rich and decadent caramel sauce that goes on top of a layer of crushed digestive biscuits. Decorate with sliced bananas and finish the dish off with a topping of whipped cream and chocolate shavings.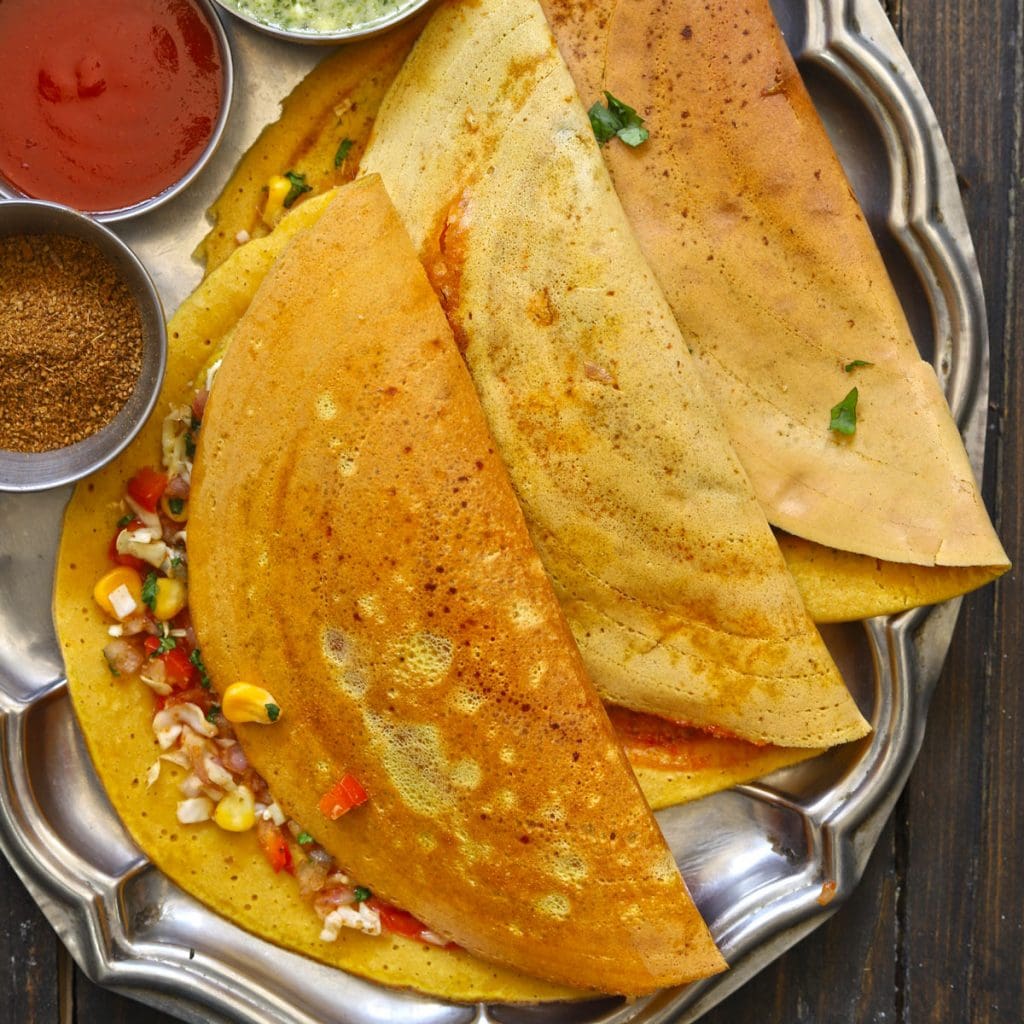 This festive season , give the classic tacos an Indian twist by making them with moong dal instead of maize flour.
Moong dal is known for its high protein content and keeps you full for hours.
Make a paste of soaked moong beans, flavoured with an assortment of Indian spices, such as turmeric, cumin, red chillis, and amchur. Add a cup of semolina flour to add body to the mixture. Make small pancakes of the batter at a medium flame. Serve them with a filling of lettuce and bell peppers, along with homemade salsa and a dollop of fresh sour cream.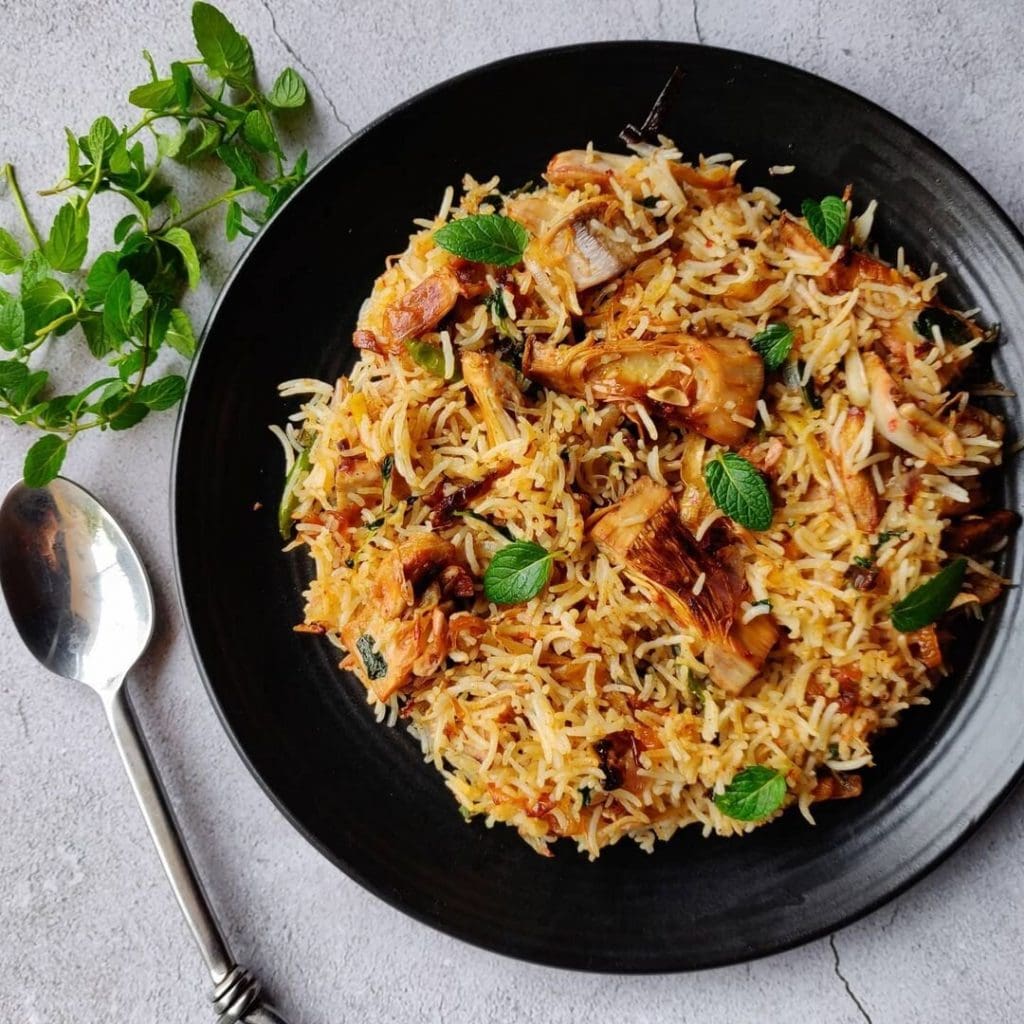 Jackfruit Biryani
Jackfruit, a tropical fruit found in large parts of South Asia, makes for a great meat alternative.
Its meaty texture and robust flavours make them the perfect substitute for meat.
When cooked with spices and yogurt, raw jackfruit kernels can fool even the best of cooks, who might mistake it for mutton., while it's one of the most popular vegetarian dishes found in India.
For jackfruit biryani, you need to boil 200 grams of jackfruit and then cook the kernels with yogurt, spices, and ginger. Boil 200 grams of basmati rice separately. Then in a deep-bottomed vessel, layer the jackfruit curry and rice and top it off with ghee and garam masala. Place it on a low flame and let it cook slowly for at least 45 minutes.
The result is a savoury rice-based dish that is surely going to be the star of the festival dinner. Happily, it's one of the choicest vegetarian dishes on offer.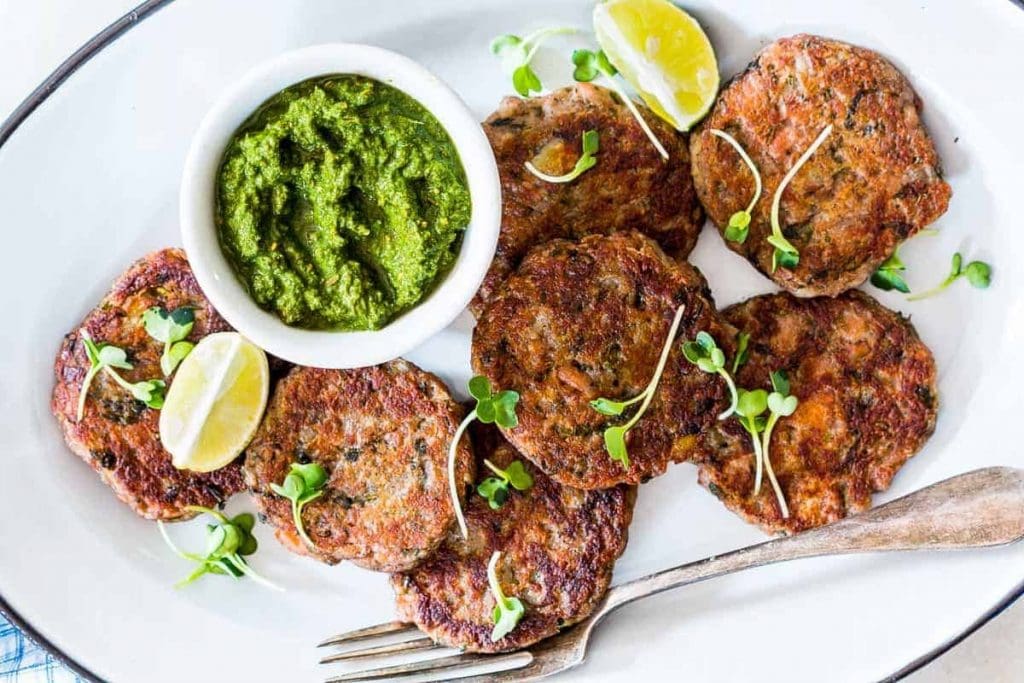 For the perfect accompaniment to your biryani, make these kebabs from mashed raw bananas.
Boil a couple of raw bananas in salted water. Cool the cooked bananas and mix well with melted butter, garam masala, ginger, rose petal powder, fennel powder, wheat flour, and cornflour. Shape them into kebabs and shallow fry them in canola oil. Serve with a yogurt dip and tangy tomato chutney.
If you crave vegetarian dishes, these easy-to-make, mouth-watering recipes for festivals will get your guests asking for more.
Read More: Latest