Culinary experiences, like art, are dynamic and full of zest. We bring you the best of great brunches and wonderful restaurants providing authentic culinary experiences.
Edgy local twists on international cuisine are sought after because they tantalize the mind with familiar and unknown flavours that tempt the mind as much as the palate. Master Chefs curate magic and bring to life delicious offerings that make for multi-sensory and memorable meals.
AnnaMaya Artisanal Brunch at Andaz Delhi
At Andaz Delhi, we were pleasantly surprised by the innovative approach at AnnaMaya Foodhall emphasizing consciously sourced ingredients and local artisans' produce.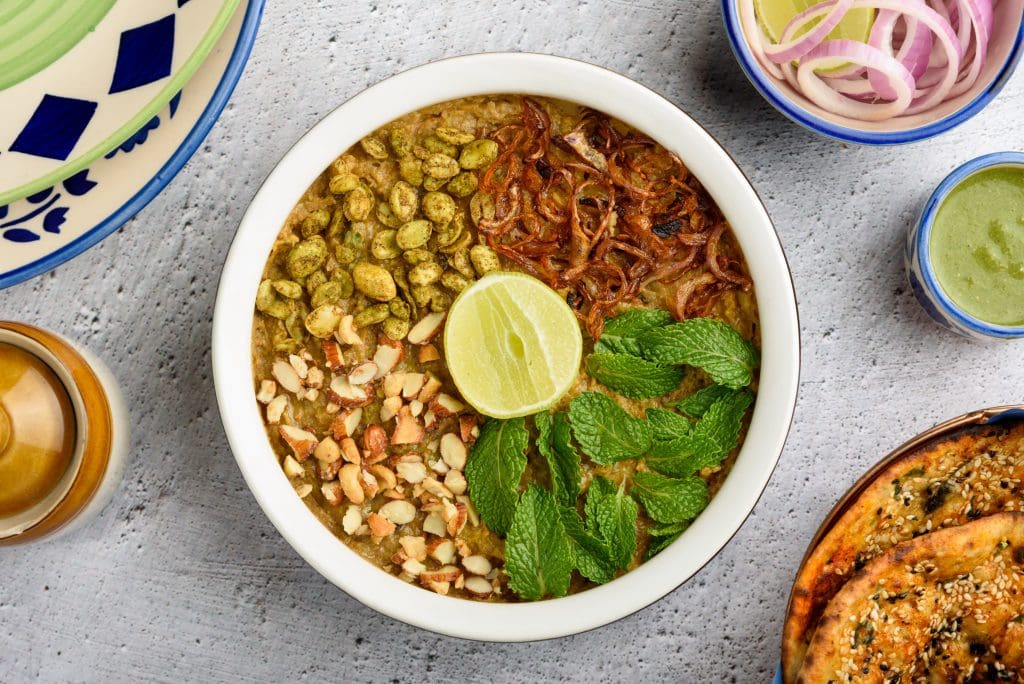 With an array of 401 pop-ups and beautiful live music, it made our weekend, even more, livelier and more fun. To create an exciting culinary experience every Sunday, AnnaMaya Artisanal Brunch offers experiential flavours and reimagined beverages.
The food hall at this luxury lifestyle hotel by Hyatt prepares artisanal meals that are guaranteed to transport you to a state of euphoria. What's more interesting is that the menu is designed around ingredients sourced from local artisans who directly or indirectly contribute to the well-being of society.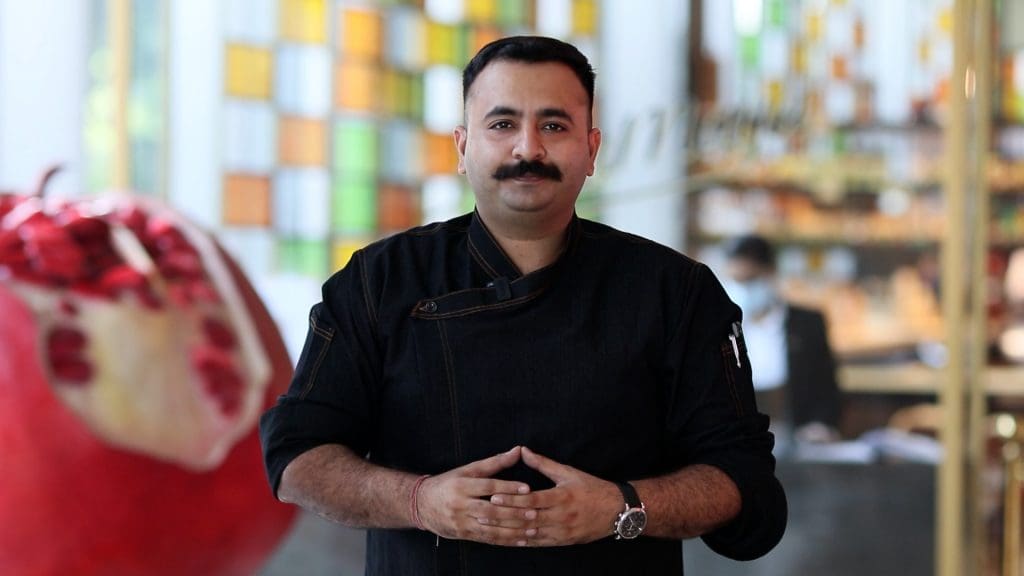 We decided to go for the signature dishes thoughtfully suggested by Chef Akshay, Andaz Delhi. We began with a Rocket & Beetroot Salad. We relished every bite of the refreshing homemade pickle beetroot amalgamated with homegrown micro greens and rocket leaves.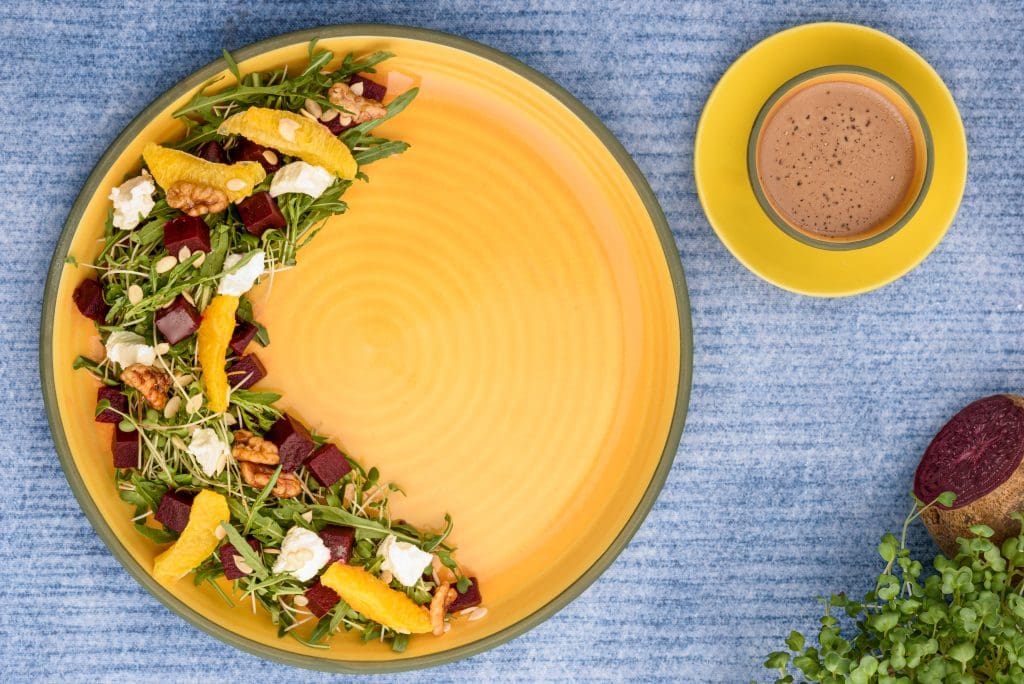 This was followed by Amritsari Goat Milk Paneer Tikka – Indian cottage cheese stuffed with goat cheese, marinated for a prolonged period in Amritsari spices and slow-cooked in a clay oven. Each morsel was delicious.
We then opted for the unusual dish -Kathal ka Haleem – which comprises Jackfruit slow cooked with pulses and spices like vetiver roots, betel roots, sandalwood powder, and many more spices for a minimum of 24 hours until it forms a butter texture and is garnished with dry crispy fava beans. This melt-in-the-mouth dish was sheer heaven and we congratulated the Chef for this delightful take on this vegetarian dish.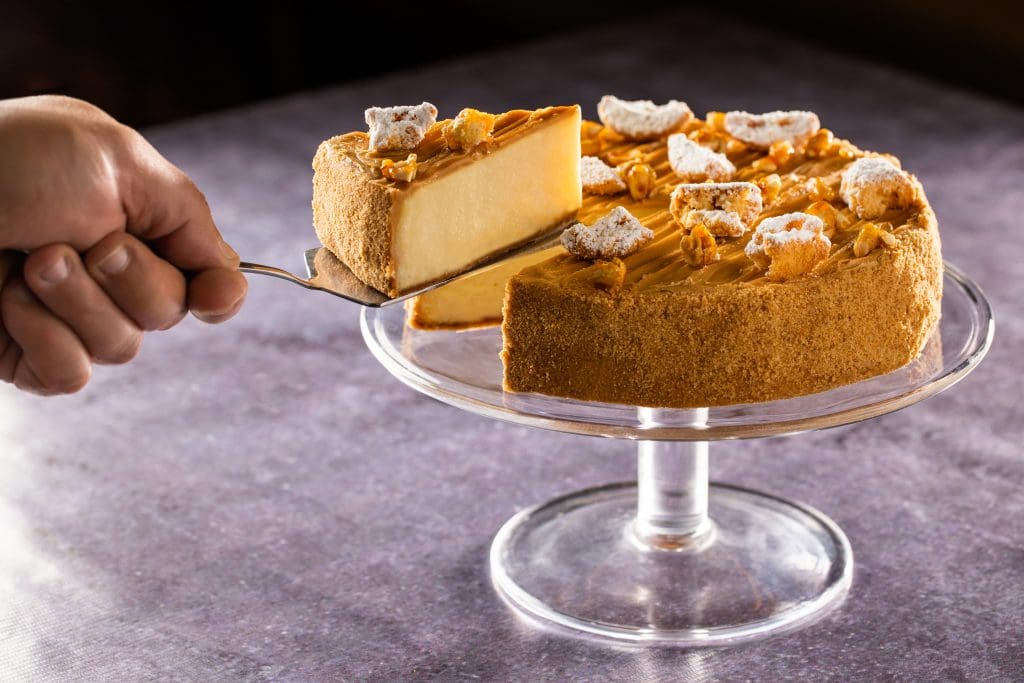 We rounded off a great meal with a Peanut Butter Cheesecake. This dessert is made of Philadelphia cream cheese that has been wiped, shaped, and baked with a cookie crunch layer at the base and topped with peanut butter. It was a blend of soft and crunchie and a great sweet dish to savour.
Said Chef Akshay, Andaz Delhi, "At AnnaMaya Foodhall, we aim to provide a holistic and wholesome experience to all our guests, and our new menu is made up of stellar cuisines and fresh ingredients that make for a memorable feast for all."
Must Know
Every Sunday
Time: 12:30 PM – 3:30 PM
Price: Brunch with Soft Beverage – 2950 ++
Brunch with Soft Beverage, Wine, Beer, Spirits – 3750++
Brunch with Soft Beverage, Wine, Beer, Spirits and /Sparkling Wine – 5500++
A delectable coastal affair at Bay Bistro
Lazy brunches at Bay Bistro, the Franco-Tamil cafe at Radisson Resort Pondicherry Bay take a whole new meaning when you get to enjoy the soft sea breeze and some breathtaking views. The food at this indoor and al-fresco eatery specifically the lavish brunches, is top-notch.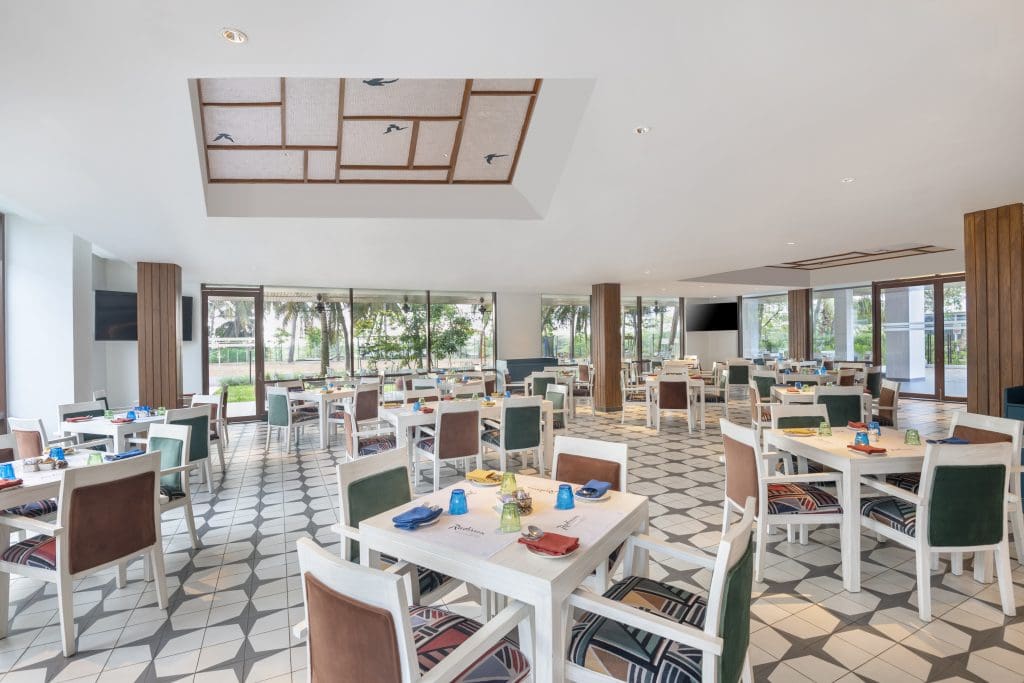 Spoilt for choice!
We visited Bay Bistro on a rather lazy Sunday, eager to sample the brunch that is so sought after. What struck us first was just how many dishes the brunch had to offer. We started off with some refreshing mocktails — the Paradise Masala Chaas and the Watermelon and Mint Twister were just right to set the mood.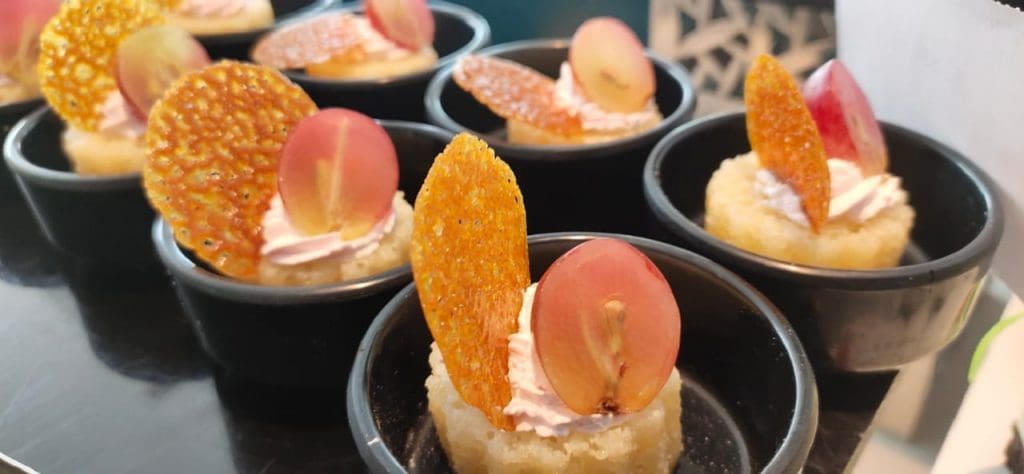 From the salad section, we decided to go with the Parmesan Panacotta Caesar Salad and the Romaine Lettuce and Grilled Vegetables Salad. Both salads were crisp and fresh, and dressed perfectly.
The live grill station was bustling with aromas – Mushroom, cottage cheese, corn, sausage, and fresh seafood like squid, prawns and red snapper served hot with a marinade of your choice.
The smell from the tandoor was tantalising, and we could not resist getting our hands on the Multani Panner Soole and the Sirhindi Murgh Tehri Seekh. Both dishes were cooked flawlessly, but it was the soft and creamy paneer that was the winner for us.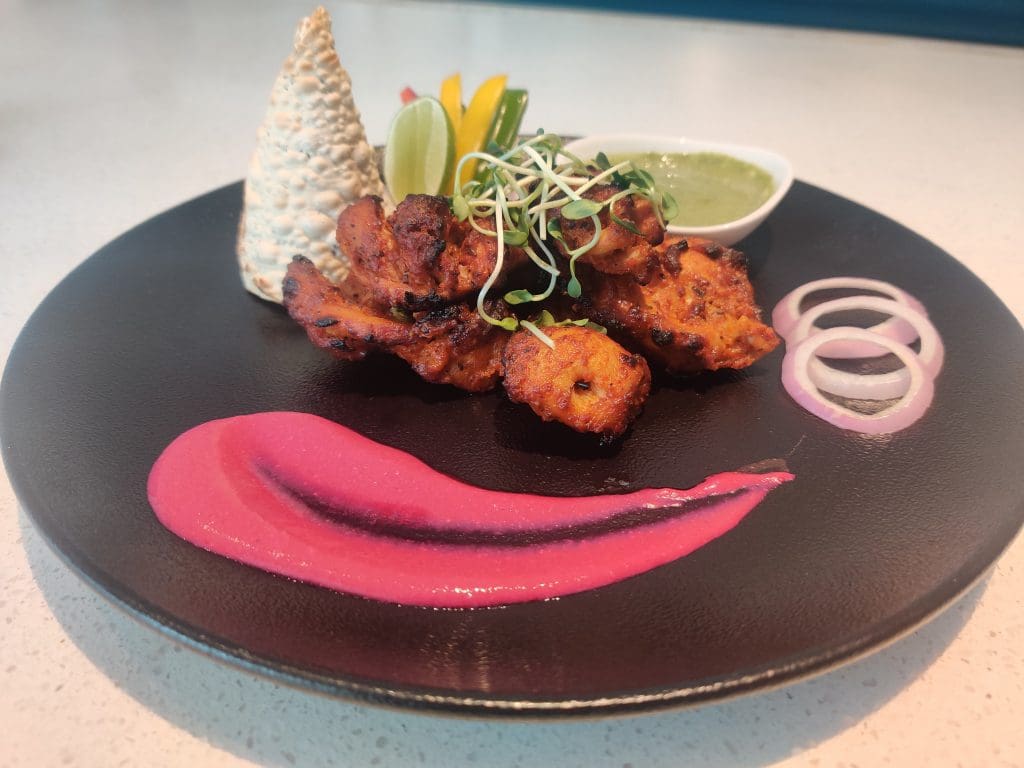 We were keen to try some authentic local flavours and the Maragatha Thulasi Malli Vadai and the Mutton Therakal fit the bill. They were both excellent, and brought alive the South Indian touch.
For the Mains we tried some French cuisine, in keeping with the Franco-Tamil theme of the hotel and restaurant. The Coq Au Vin and and the Classic French Ratatouille were top notch.
There are also plenty of North Indian options, such as Gosht Taar Korma, Jahangiri Murgh Biryani, Uttarkashi Shalgham Ka Bharta, Whorli Puloa, and much much more! The dosa and pasta stations were also crowded!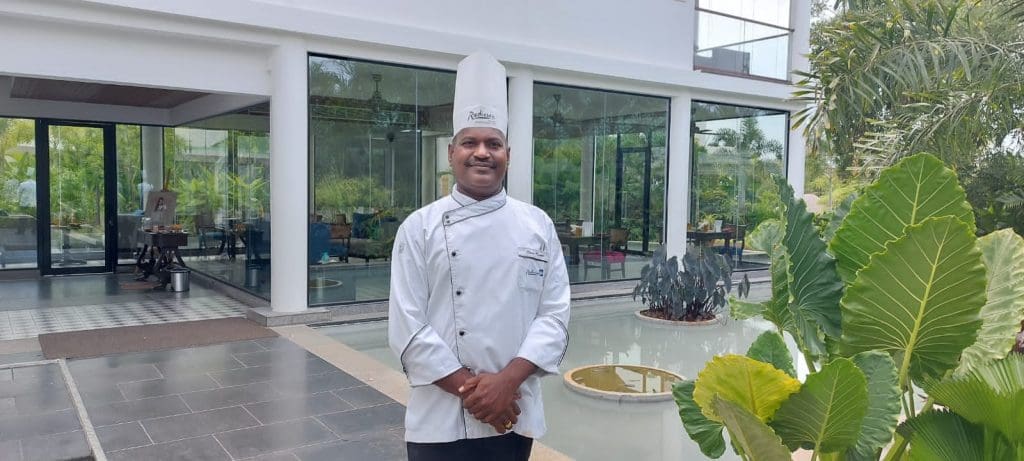 For dessert, we tried the Classic French Opera, Hazelnut Financier with Strawberry Jelly and the Opalys Pistachio Verrine – excellent choices, we must admit. We also tried the Tender Coconut Souffle, which, according to Chef Shivakumar, is a Franco-Tamil-inspired dish.
"Franco-Tamil cuisine evolved from the influence of various cultures. It is a fusion cuisine with a very unique taste. The dishes at Bay Bistro celebrate this uniqueness, with our own twist," says Chef Shivakumar.
Bay Bistro is definitely on our list of must-visit spots while in Pondicherry, and next time, we'll remember to come super hungry!
Must Know:
Sunday brunch – Rs 1, 799 + taxes per person
Hours -Every Sunday, 11 am onwards
Kuro – The Asian Bistro makes a comeback at the Renaissance Ahmedabad
It is rightly said that food is the Asian love language. Asian food is a fan favorite of food lovers and we are no different. We could smell the aromas – a dash of spices, chilies, a tinge of ginger along with authentic ingredients guaranteed to fire up our taste buds.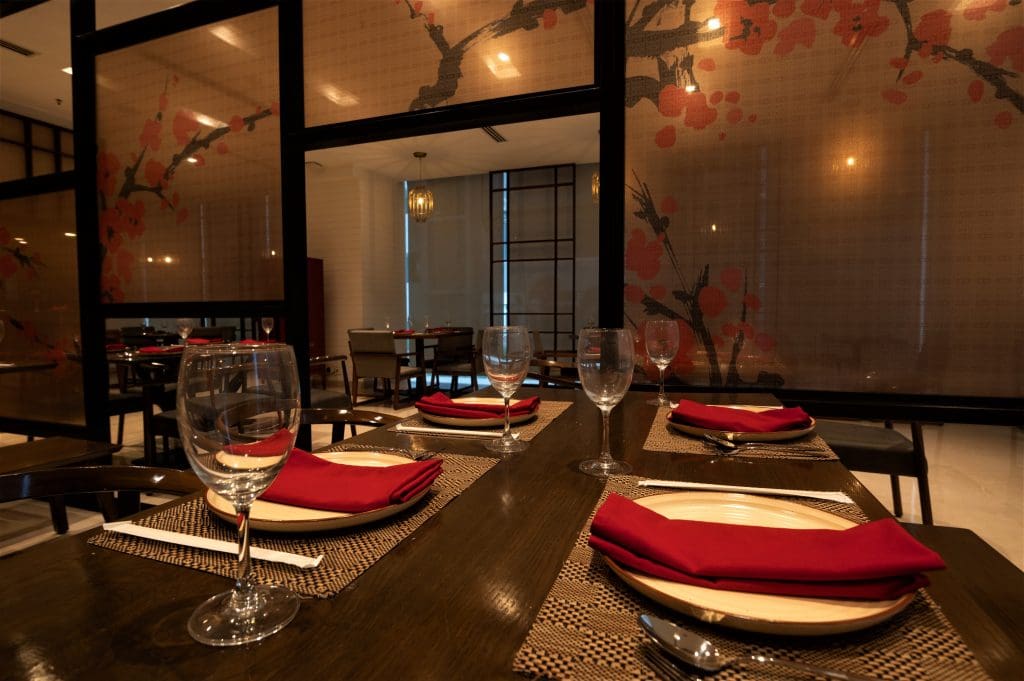 Recently, Renaissance Ahmedabad re-opened their Pan-Asian Bistro – KURO, an Asian specialty restaurant serves top-notch Pan-Asian delicacies.
What catches the attention apart from food are the soft shades that are used to develop the space with cherry blossom printed screens dividing the room weaving an Asian tale. Kuro has a subtle décor and can cater to around 40 people at a time. We appreciated the fact that the bistro also has facility of private dining where you can enjoy authentic flavors of Asia in a close knit space with family and friends.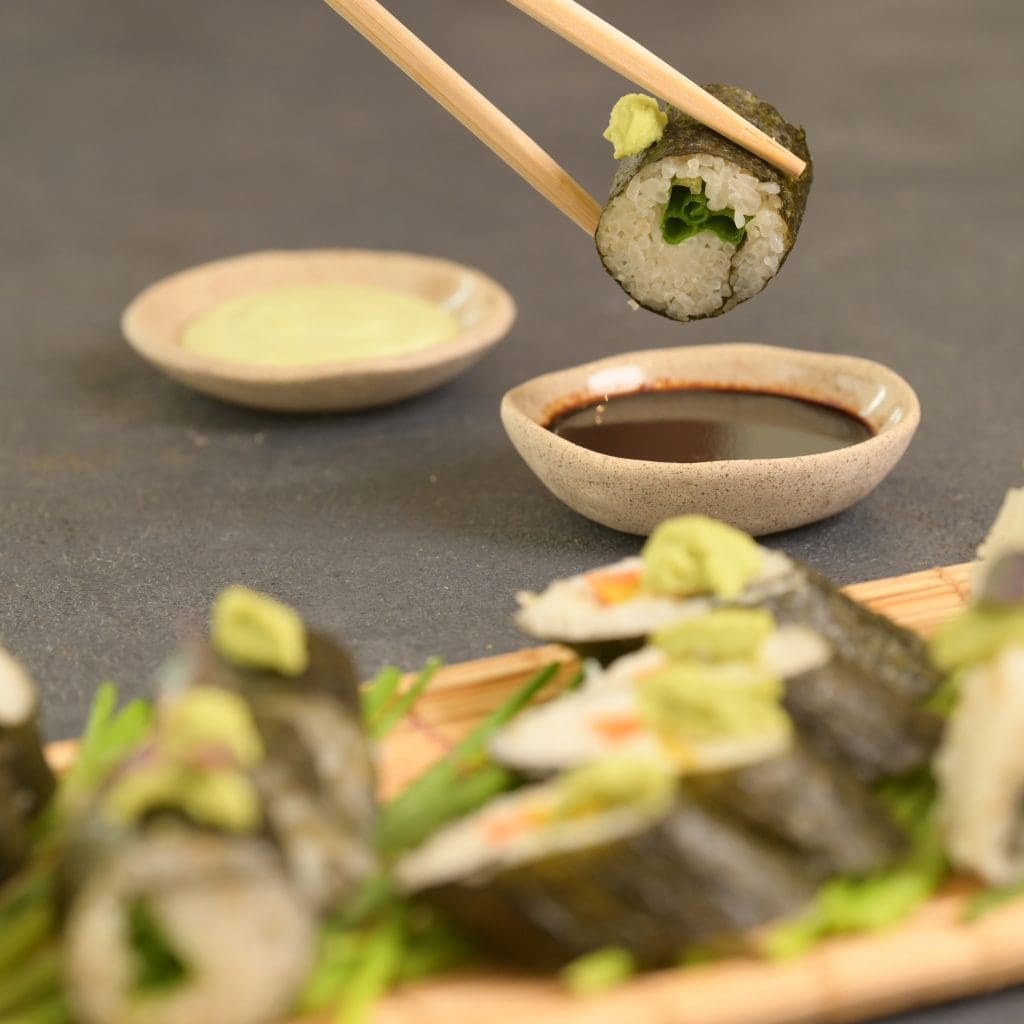 We watch the talented chefs prepare fresh sashimi, nigiri and noodles in interactive, glass-enclosed show kitchens.
We decided to try our what the Chef recommended and ordered the Spicy Tuna roll and Yakki Udon followed by yummy dumplings in vegetarian and non vegetarian. In the vegetarian, we chose Truffle Edamame and from the non-vegetarian section, we opted for Chicken Chestnut Chilly oil. From the vast sushi selection we chose the Salmon Avacado Cream Cheese which was a total joy.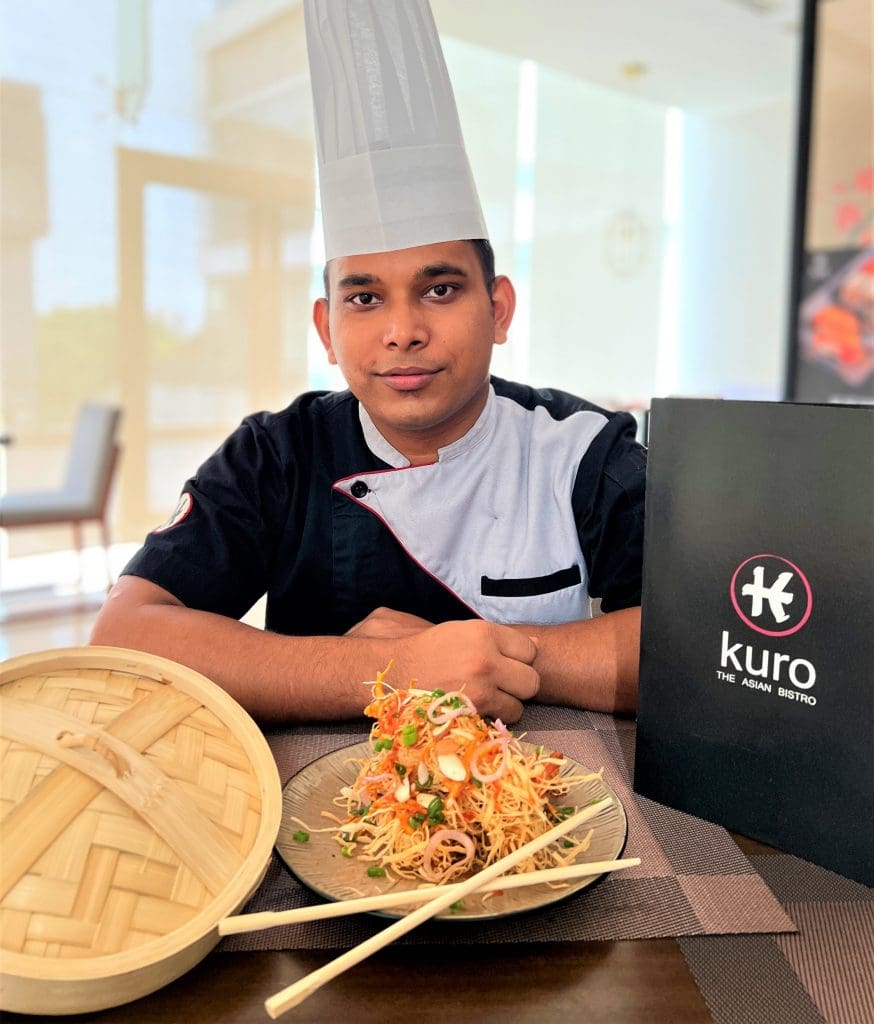 We ordered a Thai Green Curry with hakka noodles which was mouth-watering and rounded off the meal with a Bonafee Pie for dessert.
Chef Bikesh Sarkar, the new Specialty Chef for Kuro, believes, "Food should bring ultimate joy to the consumers, and a creative approach to cooking creates a viable excuse to get together at the table." We agree whole heartedly!
Must know
Timings – Tuesday to Sunday – 7 PM to 11.30 PM
Approx. price for two – 1800 INR

A lively Brunch destination at JW Café at JW Marriott Mumbai Sahar
With the music of laughter, the clinking of glasses, and gleeful faces, we found the JW Café a lively Brunch destination in the maximum city. We understood straight away why the JW Cafe is a favorite among culinary aficionados. Its the extensive live stations offering Indian and Asian favourites, and an array of innovative desserts.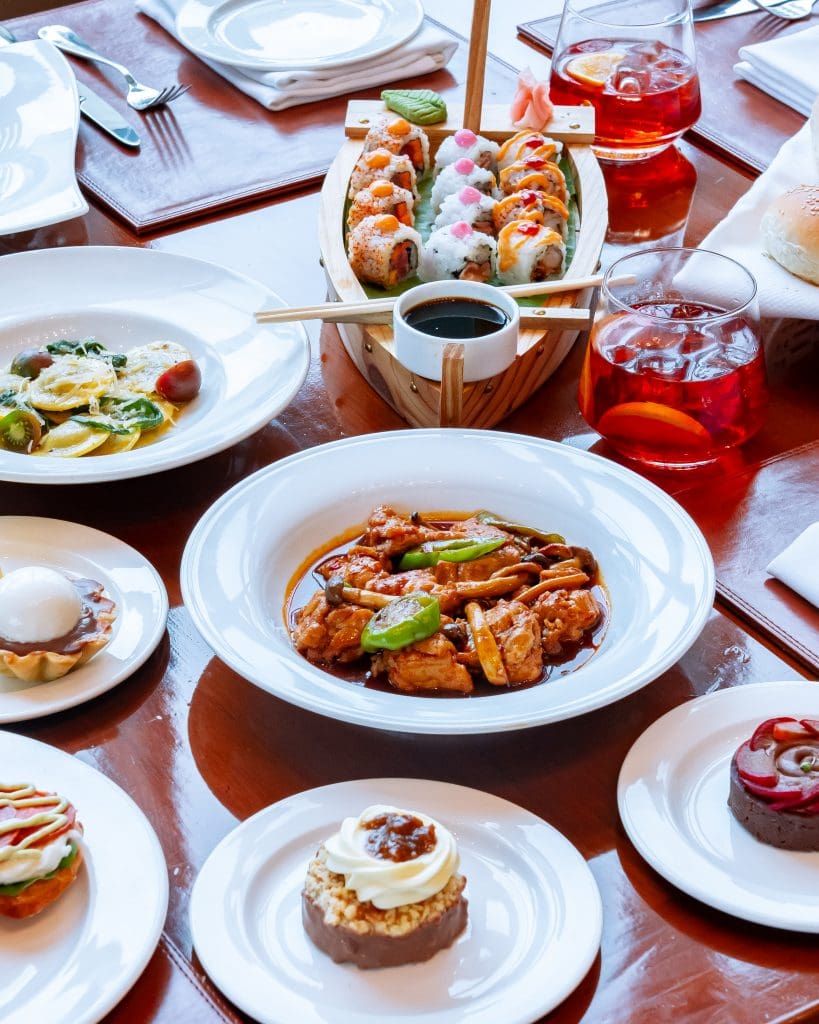 So here we were on a Sunday afternoon checking out the Salad Bar with its variety of antipasti and fresh bread; Indian, Asian, and Continental appetizers. Chef Dane Fernandes explained that a rotational menu featured global delicacies from across the globe, a choice of Asian, Indian and Western delicacies.
We went with Chef Dane Fernandes' suggested delicacies and for our Brunch meal we started with vibrant salads, followed by the innovatively curated Eggs Benedict, Salmon Sushi, and Chef Asif Qureshi's authentic delicious kebabs, and Haleem.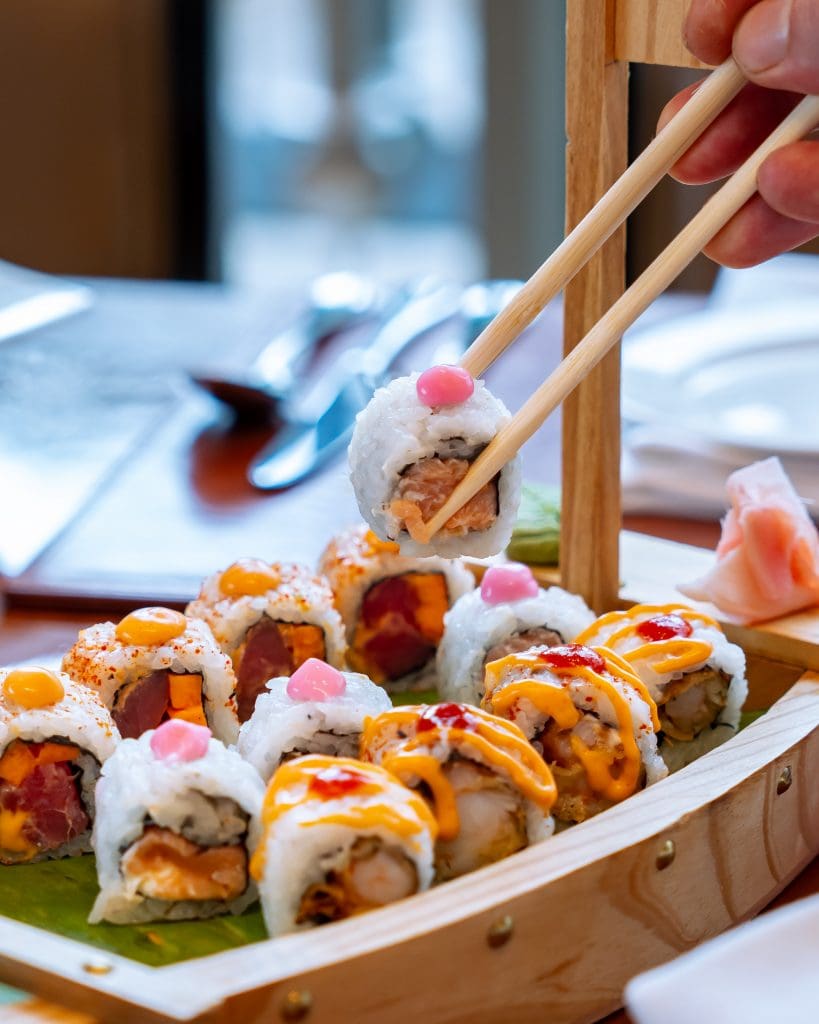 We have a roving eye and we also tried out some delicious Korean Dakochi, Sushi, and the Pork Belly. We then rounded off the awesome meal with a chocolate indulgence crafted by Chef Dane Fernandes himself.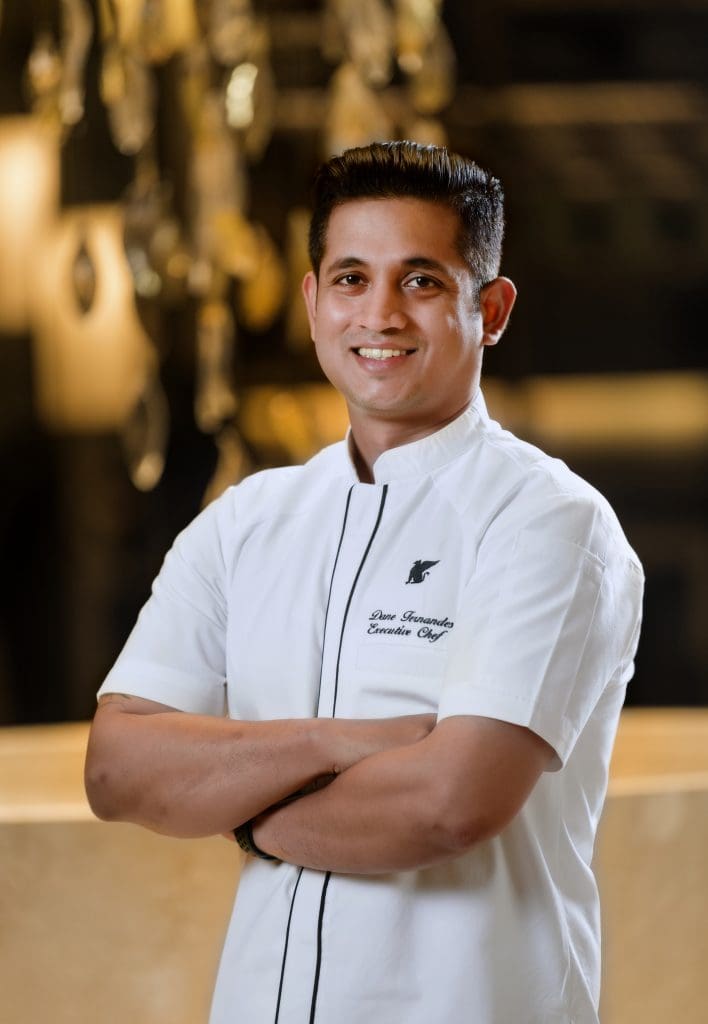 "Our Sunday Brunch aims at providing guests with a taste of undiscovered cuisines and different flavours every week. We have a rotational menu to ensure your loyal guests can experience a variety of cuisines along with our signature delicacies," said Chef Dane Fernandes.
Must Know
Sunday Brunch (Non-Alcoholic) – INR 3000 plus taxes
Sunday Brunch (Alcoholic) – INR 4200 plus taxes
Timings: 1 PM to 4 PM
The Hive: Food for physical and mental wellbeing at Fazlani Natures Nest
The Hive is a place for gastronomy culinary experience where Indian, global and oriental cuisines are served. The restaurant is located in the popular wellness resort, Fazlani Natures Nest near Mumbai.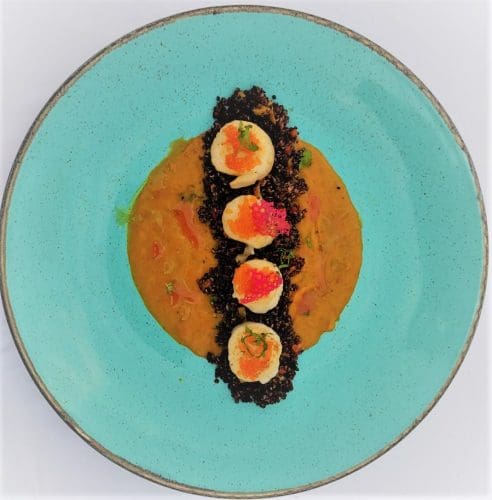 The resort situated in a tranquil hamlet called Takwe near Lonavala and Khandala in Maharashtra offers holistic wellness therapies in the midst of serene settings. The cuisine at The Hive reflects the resort's philosophy.
Almost all the fruits and vegetables served to you at The Hive are organic and sourced from farms owned by the Fazlani Natures Nest. Jaggery and Jam used here are produced in-house as well.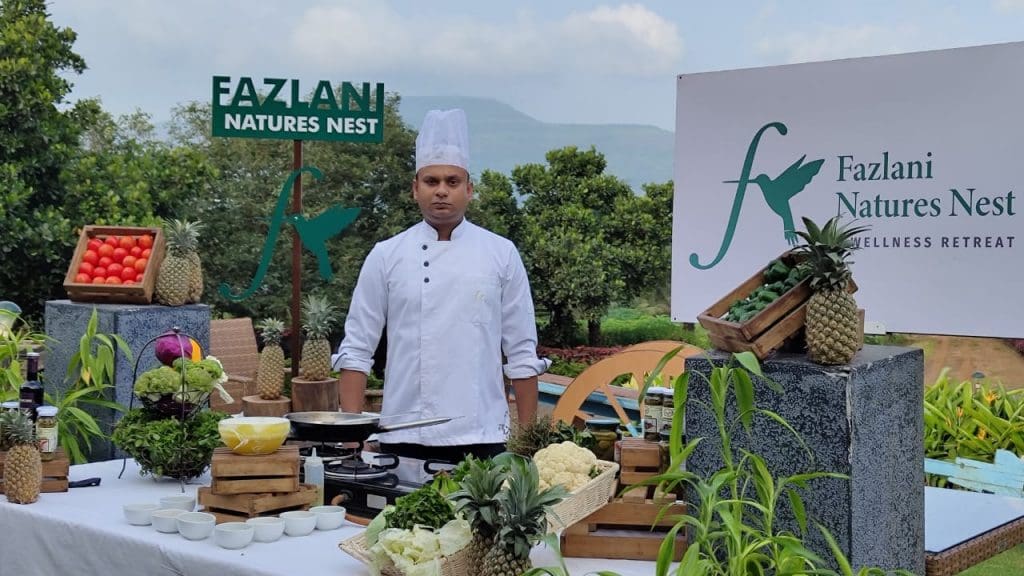 Foods included in an Ayurvedic diet consist of spices, healthy fats like coconut or ghee, quality animal products, fermented dairy, seasonal vegetables and fruit, beans, legumes, and nuts.
Be it Seafood Moilee with brown rice or Murg Quinoa Biryani, the food served at The Hive will impress you. If you love sweet but are conscious about gaining weight, try Cocoa Loco Chia Pudding or Gulab brown rice Phirni!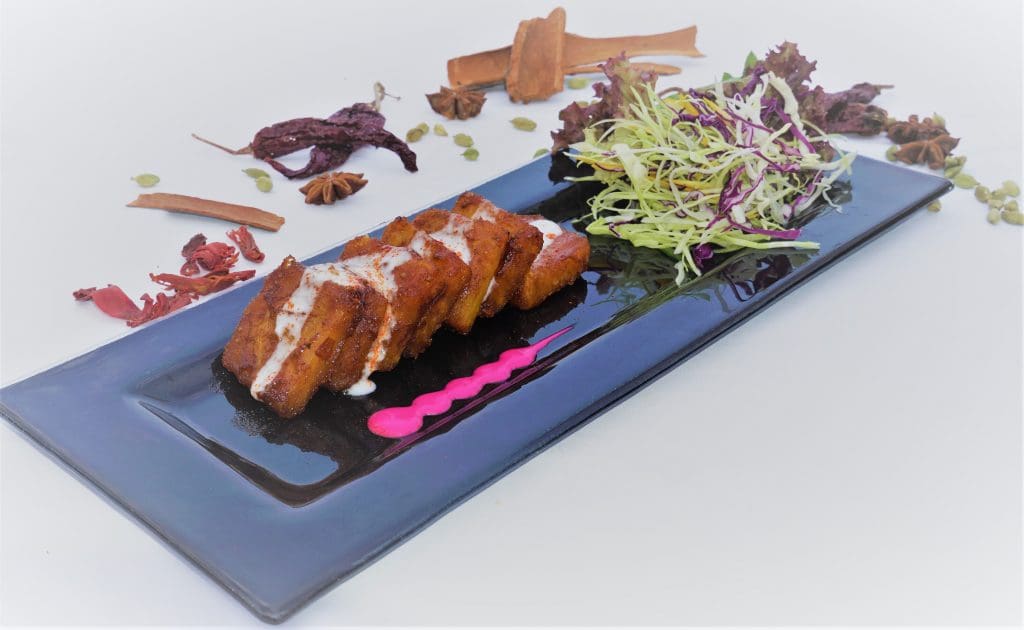 Abhay Pratap, Executive Chef, Fazlani Natures Nest says, "Healthy does NOT mean starving yourself EVER. Healthy means eating the right food in the right amount."
A recommended meal includes a Tandoori Sweet potato Chat which is Tamarind marinated clay oven glazed sweet potato served with mint yogurt and tamarind sauce and a Pan Seared "Scallop which is marinated seared scallops with quinoa and apple salad and butternut squash puree rounded off with a Cocoa Loco Chia Pudding which is a creamy dessert, a combination of chia seed, almond milk, and cocoa and sweetened with maple syrup.
Must Know
Wellness Menu starts from INR 75,000 for 3 nights and includes all meals.
YOUnion Season 2 Launches a Carnival Sunday Brunch
YOUnion, the all-day gastrobar, which is Zorawar Kalra's ode to the millennials, recently launched with 'Season 2' . Now, the fun and trendy venue has just launched a Carnival Sunday Brunch complete with an illusionist, a tattoo artist and a magician.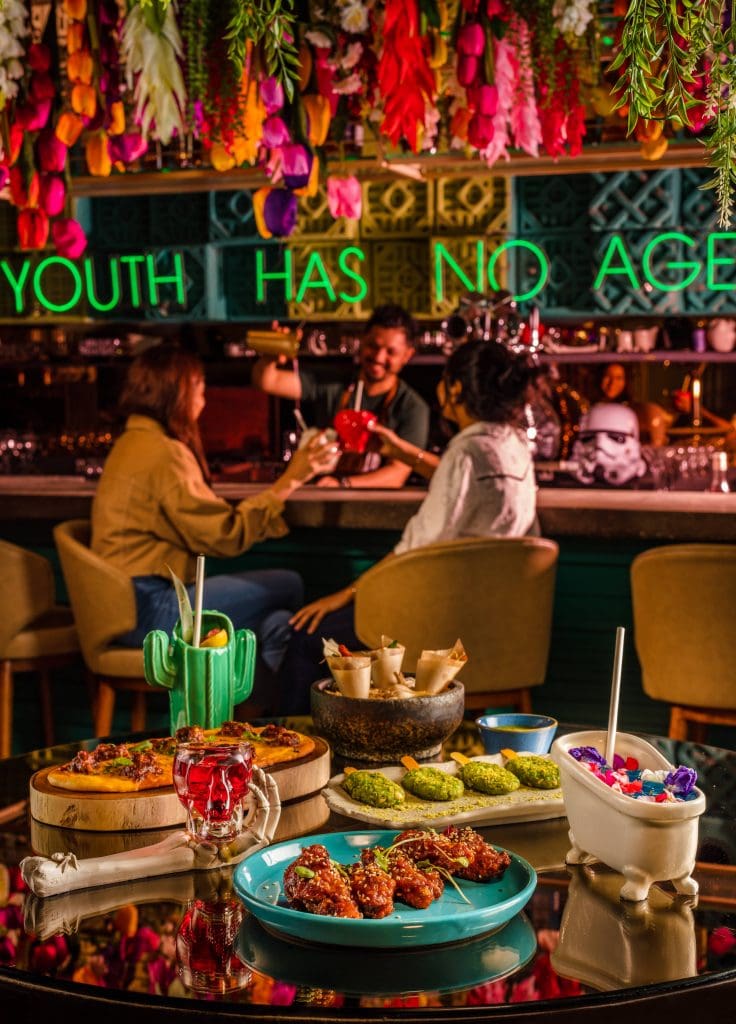 We made a beeline for the place and found it just as lively as anticipated. We decided to start with a mouth watering hot Pancake and Mini Waffle from the live station, followed by Magic Masala Scrambled Eggs and Sunny Side Up on Toast – an ordinary dish made extraordinary.
There is a lot more on offer depending on your mood – a Salad bar featuring a variety of different salads and dressings; pasta and risotto station; a Mezze & Tapas Bar, complete with Mediterranean dips and small plates; wood-fired oven pizzas; sandwiches; and dumplings.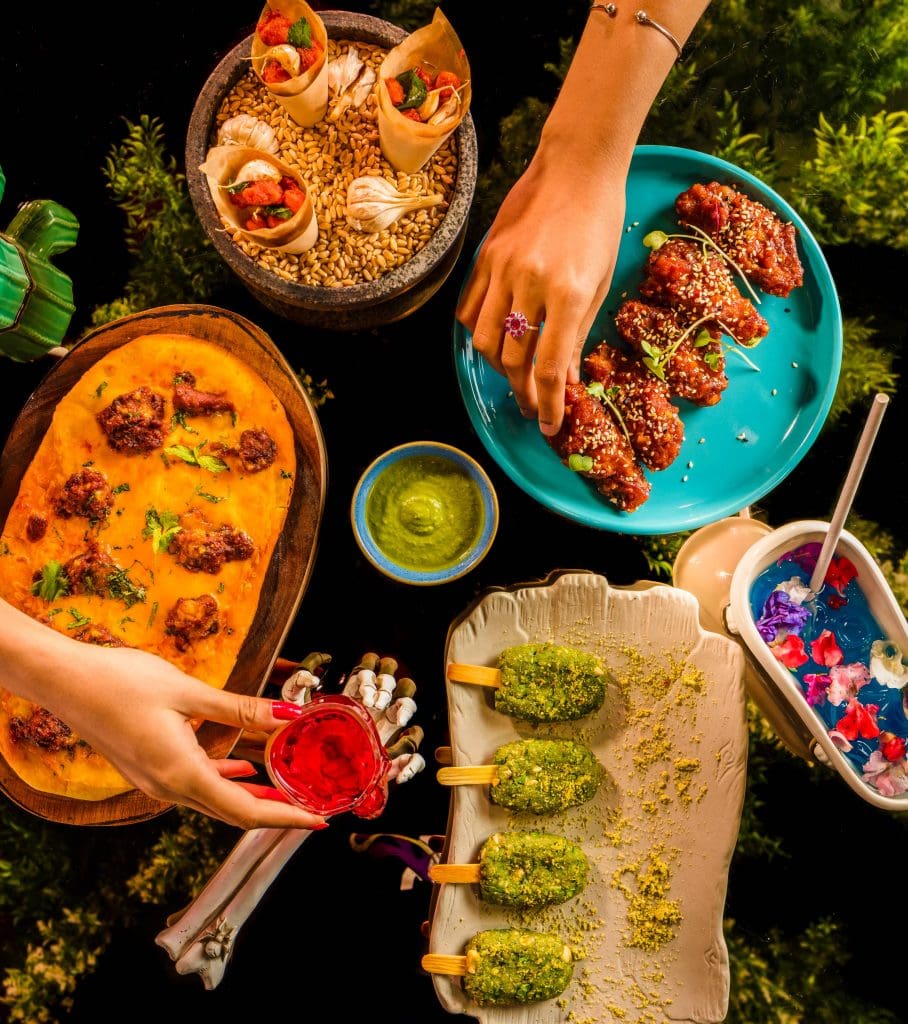 From the hot Main course we selected the Exotic Vegetarian Thai Curry with Garlic Rice and ended a great meal with with a super Chocolate Éclair from the Dessert counter
We loved the popcorn machine dispensing four different flavours of popcorn which you can nibble while you chat before settling for a meal.
Must Know
Brunch Timings: 12:00 pm to 4:00 pm, every Sunday
Meal for Two: Rs 1500 inclusive of drinks ( can be more if the selection is diverse)
Read More: Latest