The Thar desert in Rajasthan has a charm that is captivating. It can enthrall, thrill and mesmerize. Running through it all is the sense that the desert is also merciless and therein lies its siren call….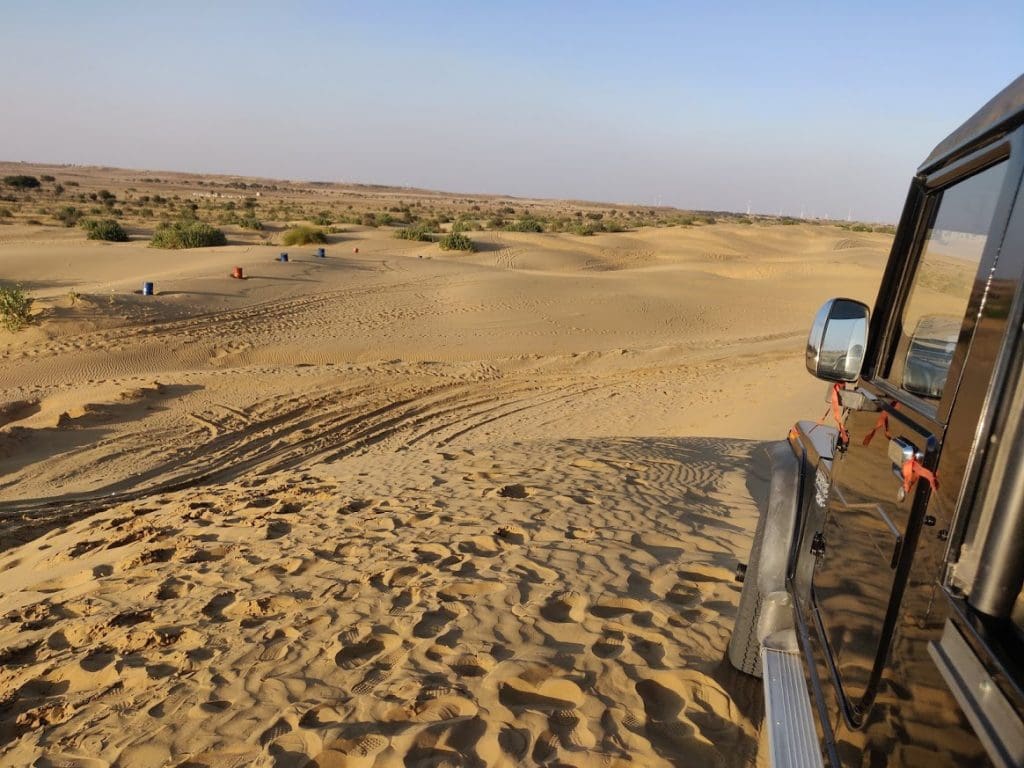 The Thar desert has held a fascination for us and finally we were on our way to this bucket-list destination in Rajasthan.
Having stayed in Jodhpur for 3 days, our next stop was Jaisalmer which is 286kms away in the heart of the Thar desert. We chose to travel by bus which was supposed to undertake a 4 hours non-stop journey. As we stepped on the bus, to our surprise, it was a sleeper bus. Though we were on the lower deck, sitting upright, the cabins above seemed claustrophobic.
Most of the travelers were locals, with some domestic tourists and a handful of foreigners. With several bus halts and new passengers boarding, our bus soon became like a swarm of bees, buzzing, yet colorful. While the journey inside the bus was a bit noisy, the one outside was mesmerizing.
Outside, our bus had left the throng of buildings behind. We were entering a landscape with a vast expanse of sand, little shrubs and trees here and there to make up for the lost houses and adding on some color to the uncolored space.
With light strokes of the wintery sun, the whole landscape was painted in shimmering gold. I wish, sitting on top of the bus was allowed. This experience was meditative.
After reaching Jaisalmer city, we moved our luggage to a taxi for another one-hour journey. Our desert camp was about 53.2km away in a small village called Kanoi. Kanoi is the only village that has  30-40 meter tall natural dunes called Sam.
Having worked hard at making the gold, the sun was retiring for the day. Our taxi moved on a small strip of a road carved inside the all-encompassing Thar desert.  Every few kilometers our taxi seemed to fall into an abyss before beginning a journey to another one. Every end had but a new beginning. The road undulated as if several humps of camel were put together. Yes, camels, the only companions of the desert, dressed in the same color as the sands were seen roaming every few kilometers.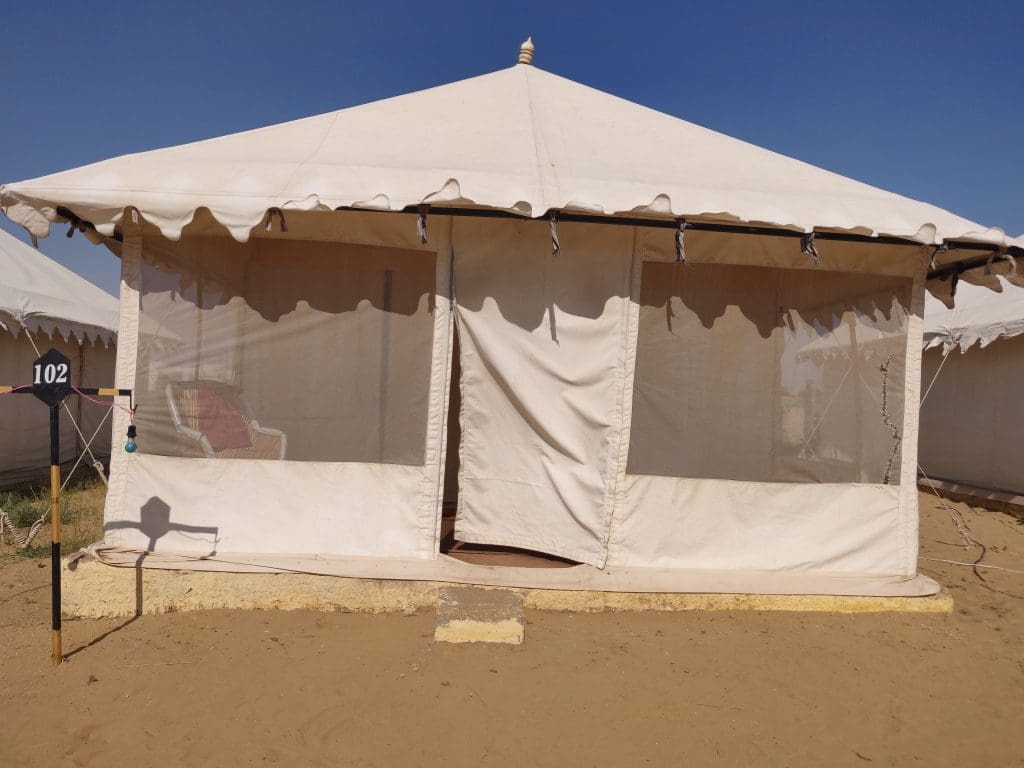 In a vast, dark and empty space, a host of white swiss tents were illuminated with tall white lights. We had reached our desert camp. The whole landscape was wrapped in the silence of the night.
As we entered, a woman clad in a traditional black angrakha (shirt) with a skirt motifed with patches of different colors outlined with silver embroidery, held an aarti ki thali to welcome us. She was accompanied by a man dressed in traditional white dhoti kurta with a colorful pagdi wearing folk dhol around his neck.
They gave us a traditional welcome into their land where culture was still intact. They hadn't been bitten by Westernization or perhaps here tradition was a way of life or else a source of tourism? Whatever the reason, the effect it had on us was as if we were entering the sacred space of tradition.
We were told that a cultural performance was soon to begin and we must freshen up. We stepped out to see colorful turban- clad folk musicians and performers of the Thar desert.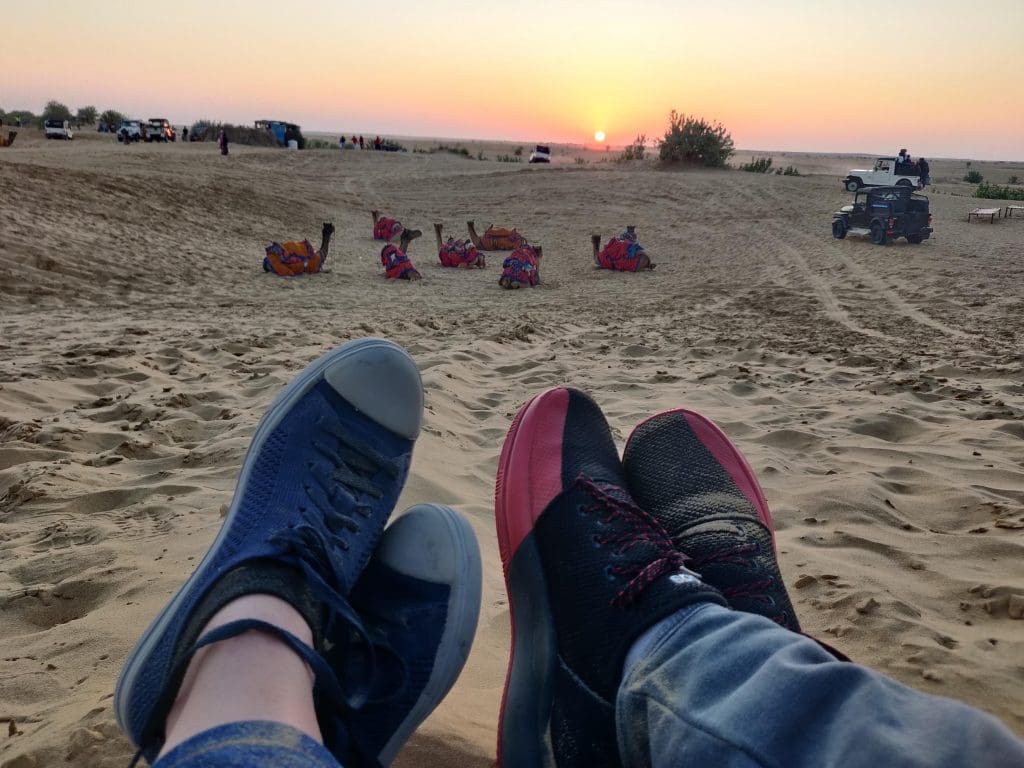 The fireman took the lead, he played with it like he had sold his fear in exchange for livelihood. His performance was accompanied by folk dancers dancing to the tunes of traditional Rajasthani folk music. The pair of Kalbelia folk dancers was followed by a solo singer in green pagdi and accompanying musicians.
The singer's strong voice reverberated in the depths of the sparkling night. An interesting instrument accompanying the singer was the Khartal – a hand-held, percussion instrument with two small planks of wood which when tapped against each other produced a unique sound, unheard before. As a team, they rivaled the silence of the night.
The heavens stood still and so did the sand – there was a unique sense of unity all around. Everything seemed to be in perfect harmony.
Dinner consisted of a traditional Rajasthani meal of Dal tadka, gatte ki sabzi, ker sangri and chapati. For dessert, we had bajre ka halwa. It was a simple meal and yet an extraordinary one.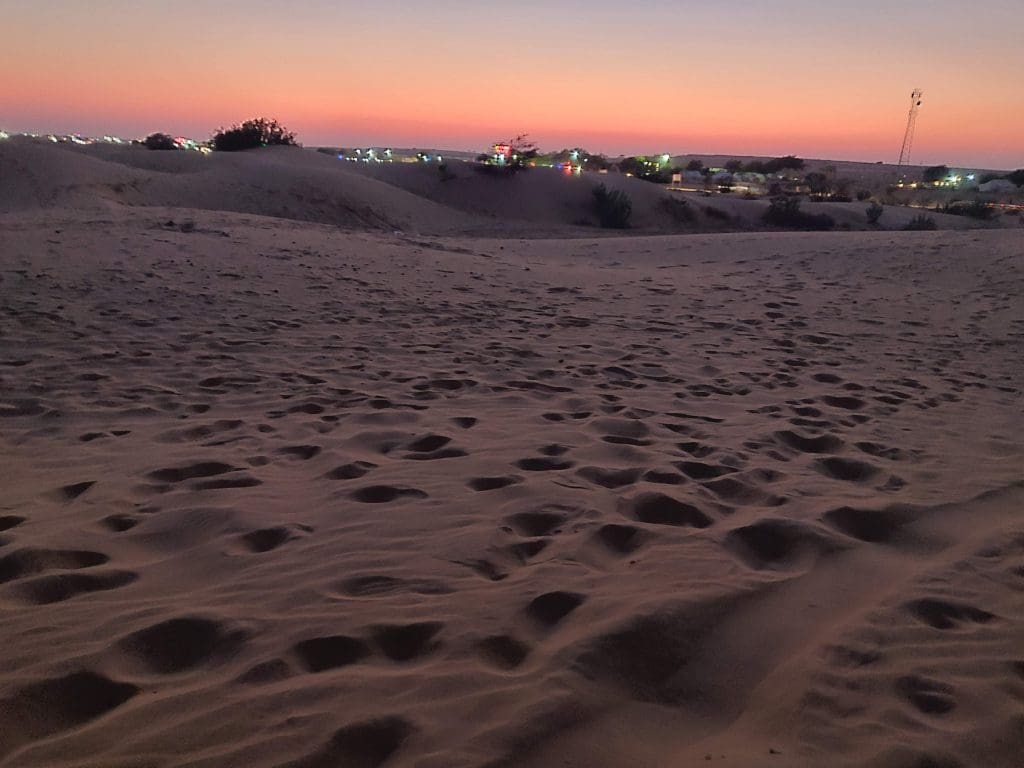 As night fell, we realised how unaccustomed we were to the dead-silence of the night, It felt like we were sleeping in a still river of sand and sleeping was difficult indeed.
The next day brought in a burst of caressing sunshine . Our camp manager dropped us at the start of the Thar desert where we could see camels dressed in colorful red fabrics that often matched those of their owners' colorful turbans. Our camel ride wasan unusual experience – with a back and forth sway and the occasional ups and downs and us feeling both scared and delighted at the same time.
After a joyful ride, we spotted a tea stall on the opposite side of the road. It had a thatched roof and some empty tables. We grabbed two seats and ordered tea and maggie. While we were waiting, the elderly owner of the tea stall sporting a long-twirled mustache and colorful pagdi spoke to us. Tau Ji told us how this beautiful landscape has given nothing to the natives. In summers the heat becomes unbearable especially with the hot winds rising from the sand. The arrival of winters brings back the colour to the desert.
Tourism is the major source of income in the Thar desert. All the natives have attached themselves to the needs of the tourists from small kids to adults. However little they might have, but the people here a big heart. Tauji told us, there was no crime here. You could leave your bag, come after an hour and it would still be where you left it. One would have thought less income would have made them greedy, but they had been wise enough to hold the big heartedness of the desert.
Another round of camel safari in the 30 feet deep dunes was awaited. This time, our driver was an 8-year-old boy named Dhanpat. We were scared, he seemed too small to handle 2 camels with 2 adults seated on them. But he was confident and so was the owner of the camels.
Dhanpat told us he had been in this trade since childhood. For as less as Rs. 50 he enjoys driving the tourists, is skilled at taking their photos, and is fond of conversations. He had never been to a school and called the Thar desert his only school, where he had picked up enough English to have a light conversation with foreign tourists. His confidence was well founded and we had an enjoyable ride indeed!
Soon, the sun was finally receding into the arms of the sea of sand and the feelings we experienced was surreal. But what came after was even more mesmerizing. With the departing twilight, the sand reflected a purplish hue. Soon the sky was studded with sparkling stars with a clear bright moon above a now-empty canvas of purple-brown. The whole landscape was dressed in a star-studded top with a sandy, dusty bottom.
The next day, we were to depart for the city. But before that, we thought of taking in a bit of sightseeing. About 121 km away was the Longewala border which was a living memory of the bravado of a handful of Indian soldiers . The journey took us 2 hours driving in the Thar desert with little trace of civilization in the form of a few small villages made of mud and cow dung. Some patches of trees added color to the sand. The entire land was left virgin for nature to take its course.
After just three nights and two days in the Thar desert, and our hearts were heavier than our bags. From the man at the reception to those helping us during our stay, to the one who gave us a biscuit-full of conversations along with the tea, to the man who drove us into the desert, we were leaving a bunch of friends behind.
While we were filled with enthusiasm when we entered the Thar desert, on our way back our hearts were still as sand, lips were sealed and eyes wanted to rest on the vast sandy stretches and nature in its purity. We were headed back to mortal life from the kingdom of peace.  
Read More: Discover your India