There's nothing more exhilarating than taking these awesome top 3 biking trails in India to explore some of the most scenic Himalayan and Western Ghats routes that the country has on offer.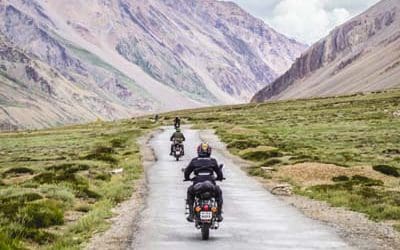 The Himalayan bulbul is a species of songbird that resides in the great Himalayan regions of India. One can hear its mating call on a particularly bright and cold day, sitting amorously atop vibrantly coloured rhododendrons. Now, imagine biking past its sweet call, against the backdrop of the majestic Himalayas that have stood since the beginning of time.
Our relentless work-oriented life especially during these days of Covid, whether it is WFH or in an office gives us scant time to observe the changing shades of nature, as we are lost amidst the urban legends of concrete and glass city scapes or closed homes where flowers come with a price tag.
But, on the mountains and hills of India, flowers of every hue await you. All you have to do is to get your bicycling gear ready and get set for a biking trip to some of the most exotic hill stations of India. Take a look at some of your best options.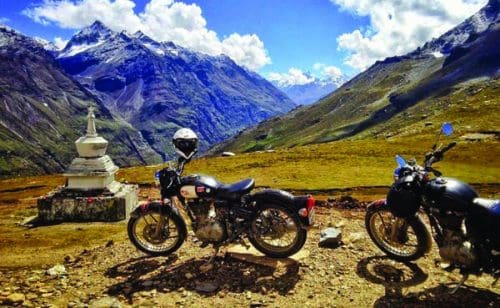 GANGTOK TO DARJEELING
On the eastern part of India lie two hill stations which are unexplored gems. While Gangtok is a treasure of the state of Sikkim, Darjeeling is the jewel in the crown of West Bengal.
A trip from Gangtok to Darjeeling will unfold with tea gardens, waterfalls, toy trains, and a plethora of rare flora and fauna, with the majestic Kanchenjunga range in sight.
While Sikkim has a rich monarchial history attached to the Namgyal dynasty, Darjeeling is a custodian of the British Raj. Together, they present a cultural and traditional diversity that is unparalleled.
A fun way to explore the countryside, you can always stop to treat yourself with a steaming plate of momos, found all across the two hill stations.
Route: You could ride through Martam, Temi, Tashidang, Yuksam, and Pemayangtse from Gangtok to finally reach Darjeeling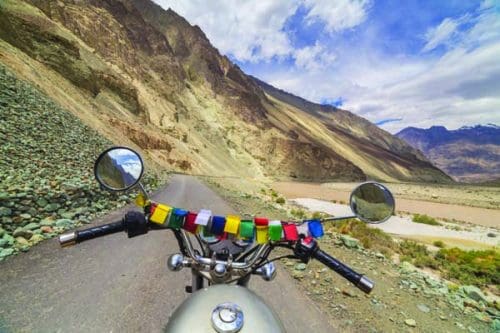 MANALI TO LEH
A difficult route to take, but it can be one of the best experiences of your life. Manali, located in Kullu valley, in Himachal Pradesh, is a great tourist destination, while Leh in the Ladakh valley, is every biker's dream.
Preparation is needed for this cycling route because of the need to acclimatize yourself to the high altitudes. Apart from the altitude, the road goes through unpredictable and rough terrain with hair-pin bends and difficult climbs. You will ride through the famous Rohtang and Tanglang La passes, pass by snow-capped mountains and even ride through Rumtse, a scenic little village tucked away in the Ladakh Valley.
You will pass through lush green meadows and sparkling rivers, through the majestic Rohtang and Tanglang La passes to reach the enormous cold deserts of Lahaul, Spiti and Ladakh, which are decorated with colourful Tibetan prayer flags.
Situated between the Karakoram Range and the Himalayas, Leh is a treat to the senses. Remember to stop by the tiny villages dotted across the hills ( perhaps pass through the tiny village of Rumtse) in the Ladakh Valley for a closer understanding of the people and the spirit of the hills.
Stop awhile in the midst of all-natural splendour and listen to the sounds of silence seeping through acres and acres of wondrous land.
Route: You will cross four very high passes to enter Leh; these are Rohtang Pass (3,900m); Baralacha La Pass (4,800m); Nakee La Pass (4,850m); Lachung La Pass (4,800m); and the Tanglang La Paa (5,200m).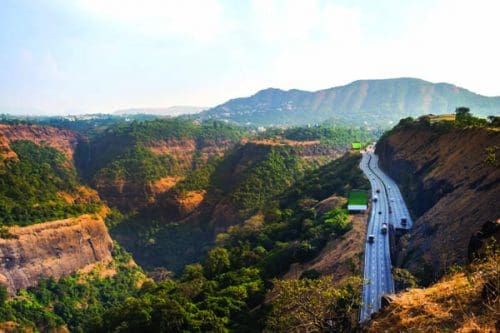 THE WESTERN GHATS
Going down to the south of India from the Himalayas, the mystic Western Ghats that run for 1,600 km, is a hotbed of biodiversity and an absolute treat for nature enthusiasts.
The Western Ghats run through the states of Maharashtra, Goa, Karnataka, Tamil Nadu, and Kerala, and are a UNESCO World Heritage Site.
You have wildlife sanctuaries, mountain ranges, forests, lakes, and rivers – a complete rider's delight. The Western Ghats are particularly sensitive to development, so nature is at its very best here. While riding through bumpy roads be sure to take in the mysticism of your surroundings.
Nature here is at its pristine best and resonates with a certain charm of its own. Also, it should be every visitor's responsibility to make sure that the Ghats remain untouched and unscarred.
Route: Pick the state of Karnataka for your cycling adventure. Start your trip from Bhagamandala in Coorg, then move to Bekal Fort, and reach Jalsoor. You will cover about 145km in two days.
Read More: Discover Your India