In a continued endeavour to offer authentic experiences and heartfelt hospitality, Shangri-La Muscat appointed frankincense sommelier, Khalid Al Amri.
He happens to be Oman's first accredited expert and leads a guided tour of the private frankincense garden at the resort.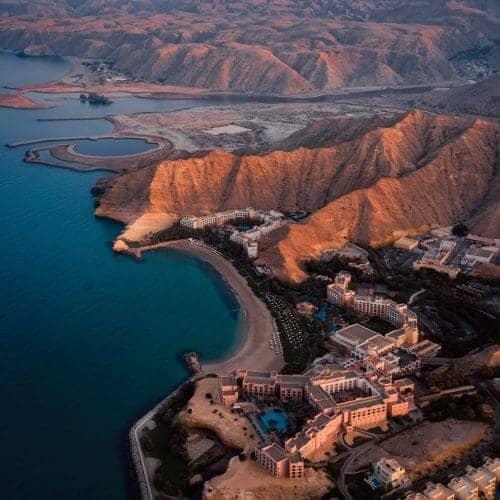 Frankincense or Luban as it is called in India has a unique history and mystical story behind it. The tale of the three wise men gifting frankincense to baby Jesus is widely popular, but do you know the origins, mystical story, and cultural connection? All this and more are revealed during this interesting tour.
The Frankincense Sommelier
Khalid has trained under Dr Patricia Groves who has spent over 20 years researching and writing books about Oman's heritage, art, and culture. Khalid embarked on a quest to visit Salalah in the Dhofar region, to learn how frankincense is grown and harvested, and to meet with local villagers to understand its purpose.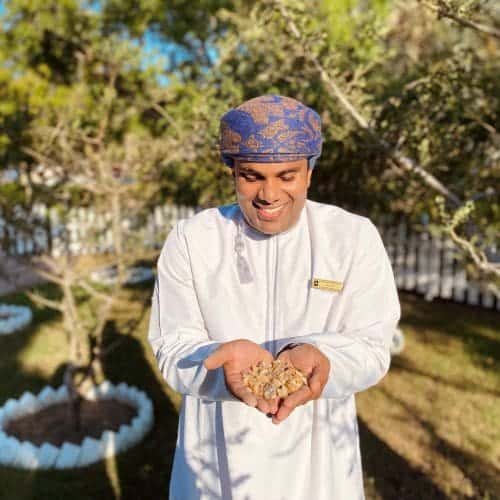 He also underwent an intensive training programme at the National Museum of Oman and Bait Al Zubair Museum to earn the official title of Culture and Heritage Ambassador at Shangri-La Muscat. His role involves bringing guests moments of joy by sharing stories and his knowledge of frankincense.
Frankincense Garden Tour
Khalid oversees the traditional Omani welcome and takes guests on an incredible route discovering the history, architecture, and art of the hotel that's deeply rooted in Oman's cultural heritage and the resort's private frankincense garden in the city of Muscat. Guests can touch, smell, and see frankincense in its natural form. The tour is complimentary for guests staying at Shangri-La Muscat and is held every Tuesday, Thursday, and Friday.
The resort's restaurants and bars feature cocktails and dishes infused with frankincense. Khalid recommends tasting Phoenix from the Flames cocktail that has limoncello, pastis, bourbon, orange, and frankincense. At the Luban Spa, guests can indulge in Arabian-Oriental treatments and massages that use frankincense oil.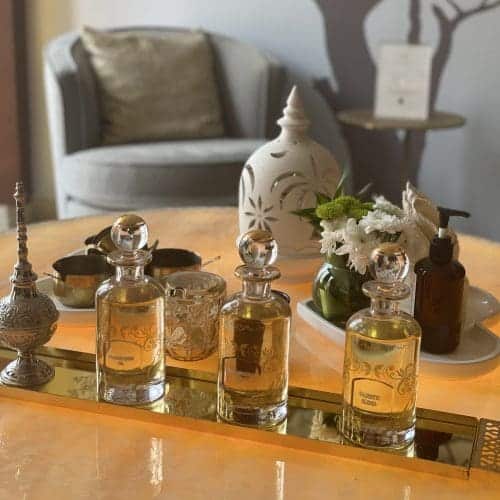 Traditional Omani Welcome
The guests are welcomed in an authentic Omani way at the resort. As soon as they enter one of the two resorts – Shangri-La Barr Al Jissah and Shangri-La Al Husn – which are side by side on Oman's beautiful coast, they can smell the sacred scent of frankincense wafting through the grand lobbies. They are greeted with Arabic coffee and dates.
The Origin of Luban
Frankincense is an aromatic resin that originates from two main species of trees, Boswellia sacra and Papyrifera. Used widely in making incense and perfumes, it has an ancient origin when Egyptians called it the 'sweat of the Gods'. In the ancient world, Frankincense was more valuable than gold, and southern Oman just happened to be rich in Frankincense.
The word for frankincense in Arabic is Luban, which is an integral part of Oman's heritage dating back to the 16th century. Decades ago, a mountainous area called Dhofar in southern Oman was renowned for its thriving import and export trade, exporting Arabian horses and frankincense. In ancient times the frankincense trail was the most important commercial route throughout southern Arabia. Frankincense was transported by camel along the spice trails from east to west and onto other empires across the globe.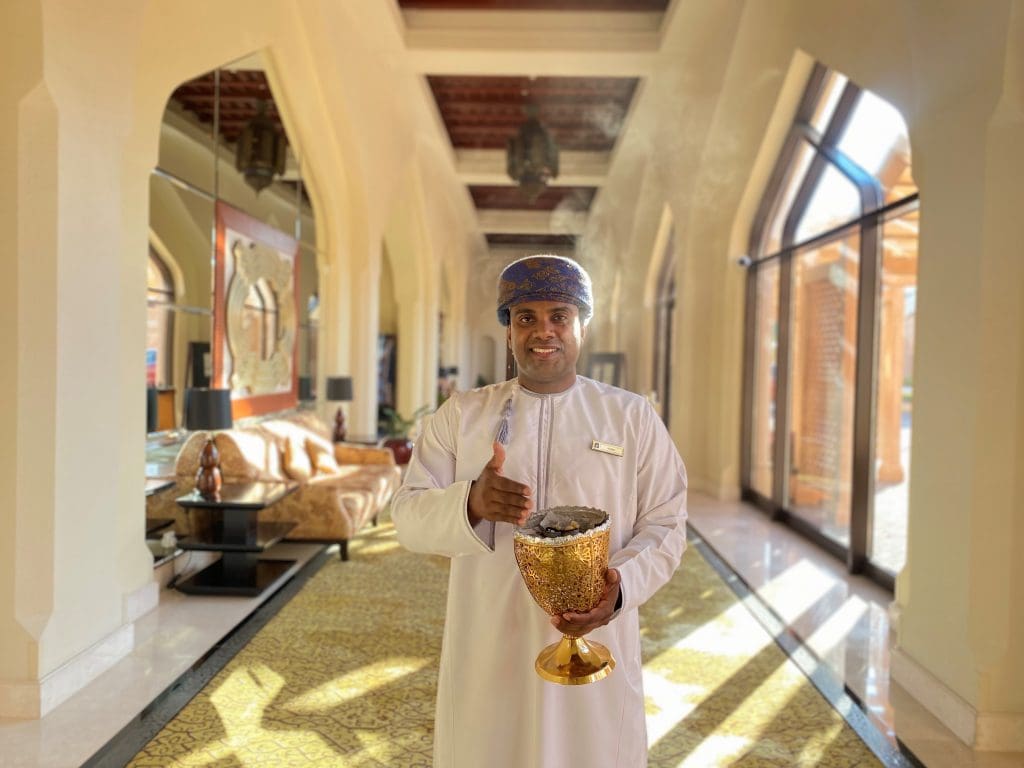 The Connection to Oman
Oman is home to the finest frankincense globally and it's also one of the most respected exporters of top-quality frankincense. Khalid grew up in Seeb, which is a coastal fishing village near Muscat, about a 10-hour drive to Salalah. It produces the finest frankincense in Oman. Salalah is shielded by a mountain that has created a wadi (dry valley or ravine) rich in minerals and soil, creating optimum conditions for the Boswellia sacra and papyrifera trees to grow.
There is a special technique used to harvest frankincense with a knife called a Manqaf. The Manqaf is used to make a cut in the tree's trunk and the sap slowly oozes from the cut and drips out in tear-shaped droplets. The aromatic resin then hardens and is cut from the tree bark.
One Luban, Many Uses
Luban is used as a room scent and wards off any negative energy. It is well known for its healing and restorative properties as well as a perfume note and an aphrodisiac. The aromatic resin is also used for ceremonial and celebratory occasions such as during prayer and at weddings, and to ensure good health for a mother and child during childbirth.
Khalid remembers his mother would burn half a kilogram of frankincense daily to create a warm and welcoming atmosphere in their house. She would boil Al Hojari frankincense in warm water, which is a high-grade frankincense that can be ingested for medicinal purposes.  
Luban is commonly burnt at sunrise and sunset and is a key part of the welcome experience in an Omani household. Guests are offered Arabic coffee and dates amid the wonderful scent of frankincense, which is recreated at the resort.
Shangri-La Muscat extends heartfelt Omani hospitality to each of its guests and offers unique experiences that stay with them for years to come.
Read more: Latest