Welcome to the land of sun, sand, and culinary delights! Goa, a coastal paradise on the western coast of India, is not only known for its pristine beaches but also for its waterfront cafes and vibrant food scene.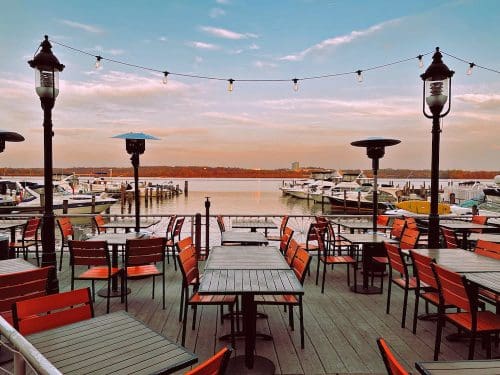 If you're a food lover seeking an extraordinary evening experience, look no further than the picturesque waterfront cafes that dot the Goan coastline. From laid-back shacks on sandy shores to elegant bistros nestled by serene rivers, these cafes offer not only mouthwatering cuisine but also stunning views that will leave you mesmerized.
Goa has a very high density of small and big size eating places or restaurants that serve local delicacies, seafood, and Continental and Indian Mughlai cuisines.
We bring you a curated list of the 10 best waterfront cafes in Goa, where you can indulge in great food while soaking in the beauty of the Arabian Sea, rivers, and tranquil lagoons in this tropical paradise.
The Fisherman's Wharf – picturesque and unforgettable
This famous riverside restaurant, on the banks of the River Sal in Cavelossim in South Goa, has been quite famous amongst tourists for a long time now. The place serves good food and has a beautiful river view to enjoy an evening with friends and family. The place also has ample parking space.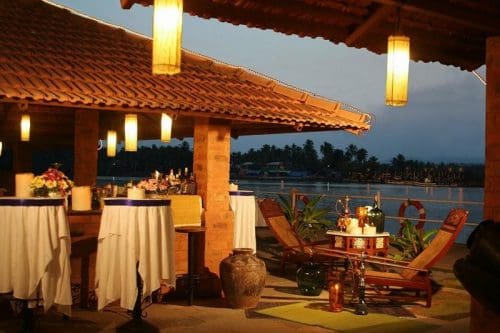 This picturesque waterfront café promises an unforgettable dining experience. The cosy eatery boasts a diverse menu featuring Goan, Portuguese, and international cuisines. Enjoy their signature dishes like prawn curry and grilled fish, while gazing at the serene river and the colorful fishing boats passing by.
Cafe Titlie – unique blend of rustic charm and modern flair
Situated on the picturesque shores of Vagator Beach, Cafe Titlie is a charming beachfront cafe that shares the bohemian spirit of Goa. With its vibrant and colourful decor, this cosy Cafe offers a unique blend of rustic charm and modern flair.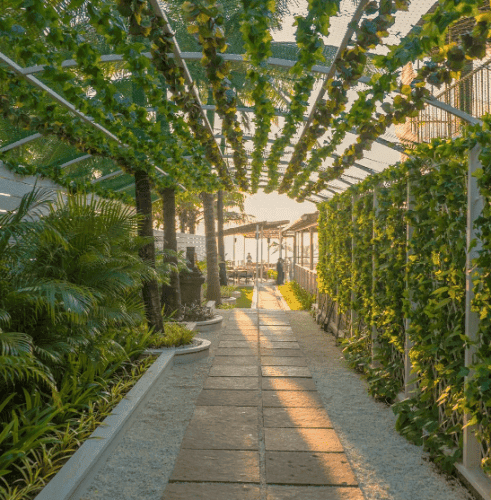 Cafe Titlie is renowned for its artisanal coffee and breakfast options, including freshly baked pastries and hearty sandwiches. The menu also has a variety of vegetarian and vegan dishes, for diverse dietary preferences.
Visitors can get breathtaking views of Vagator's lush green hills and beautiful Ozran beach at Cafe Titlie. This cool culinary bar seamlessly transitions from a refreshing daytime hangout to a groovy and sassy hotspot at night. The collaborative cuisine features a comforting mix of Indian and international recipes paired with killer cocktails.
The laid-back atmosphere at Cafe Titlie makes it a perfect spot for a relaxing morning coffee or a leisurely late evening by the beach. Be sure to arrive in time for sunset and indulge in Goan Chourico, Porcini French Toast, Chimichurri Goat Boti, and Grilled Snapper among other exquisite seafood delicacies.
Café Del Mar – soothing ocean views
Located on the picturesque shores of Calangute Beach, Café Del Mar is a beloved waterfront café in Goa. With its laid-back ambience, soothing ocean views, and vibrant décor, it has become a go-to spot for locals and tourists alike.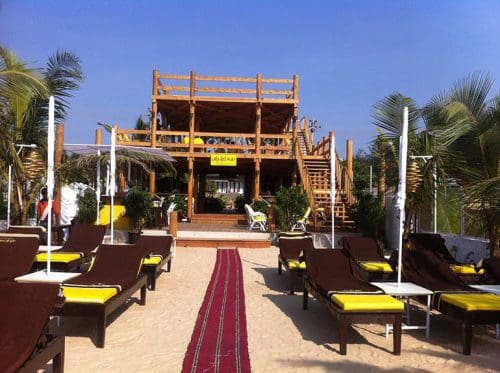 The café offers an extensive menu of delectable dishes ranging from fresh seafood to international cuisine, along with a variety of beverages and cocktails. Whether you're looking for a relaxing breakfast, a leisurely lunch, or a romantic dinner by the sea, Café Del Mar promises a memorable dining experience.
Martin's Corner – legendary waterfront café
Located in Betalbatim, Martin's Corner is a legendary waterfront café that has been serving delectable Goan cuisine for over three decades. It has a great location among palm trees and overlooks a scenic lagoon. This café is a must-visit for food lovers for mouthwatering seafood dishes and signature cocktails while enjoying the serene waterfront surroundings.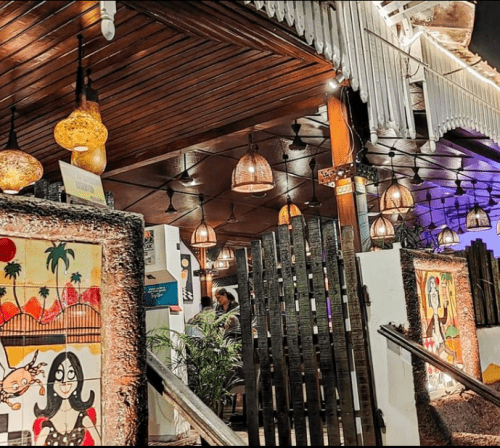 With its warm and rustic ambiance, this family-owned restaurant has been serving up mouthwatering Goan cuisine for decades. From succulent seafood dishes like prawn balchão to traditional Goan curries and finger-licking vindaloos, Martin's Corner offers authentic flavours of Goa. The restaurant features live music performances and remains a beloved haunt for both locals and tourists seeking authentic Goan delicacies in a vibrant setting.
Lazy Dog Lounge – charming and laid-back
Set on the banks of the picturesque Baga River, Lazy Dog Lounge is a charming waterfront café known for its relaxed and welcoming atmosphere. This laid-back café offers a diverse menu, including Goan, Mediterranean, and continental cuisines. Unwind with a chilled beer, enjoy live music performances, and take in the breathtaking river views from their spacious outdoor seating area.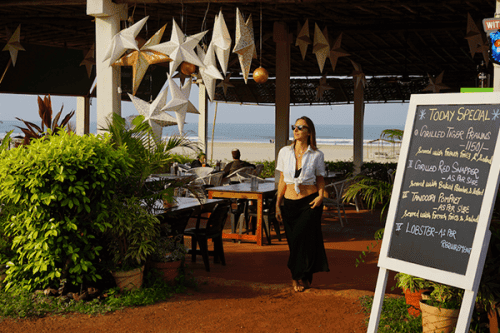 The cosy seating areas and hammocks create an inviting atmosphere to unwind and soak up the beach vibes. Lazy Dog Lounge is renowned for its refreshing cocktails, with a wide variety of signature drinks to choose from. Whether you're sipping on a classic margarita or enjoying a creative fusion concoction Lazy Dog Lounge is the perfect spot to kick back, relax, and enjoy the Goan beach lifestyle.
Purple Martini – Experience the best sunrise and sunset in Goa
The famous cafe in Anjuna has been amongst the favourite places to visit in Goa for years and has mesmerising views overlooking the sea. The cafe has great food options and has some high chairs overlooking the sea which can make up for a great time with friends and family.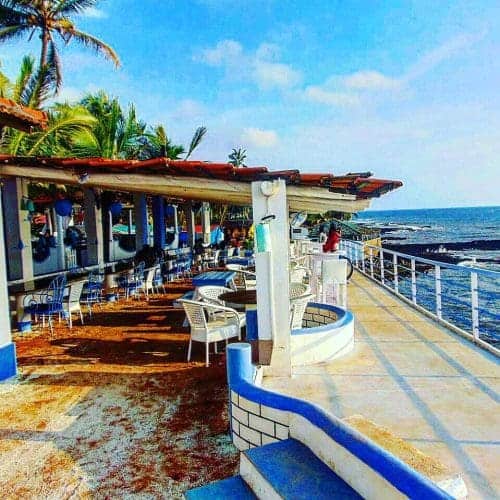 Experience the best sunrise and sunset in Goa along with great cocktails and Mediterranean delights. This breezy and casual dining restaurant offers a surreal view of the endless ocean and a chic-classic ambience. Relax to Buddha Bar music and enjoy a multi-cuisine menu featuring North Indian, Italian, Continental, Seafood, and Oriental dishes. With amazing outdoor seating, Purple Martini is the perfect location for chilled-out evenings and various occasions. For all you foodies out there, Purple Martini is a must-visit!
The Boho Box – famous bohemian-themed sports cafe
The famous bohemian-themed sports cafe of North Goa opened in 2022 and since then has been a favourite amongst youngsters who would love to enjoy a game of pool and lots of indoor games, all the while enjoying a serene river view of the famous Baga Creek.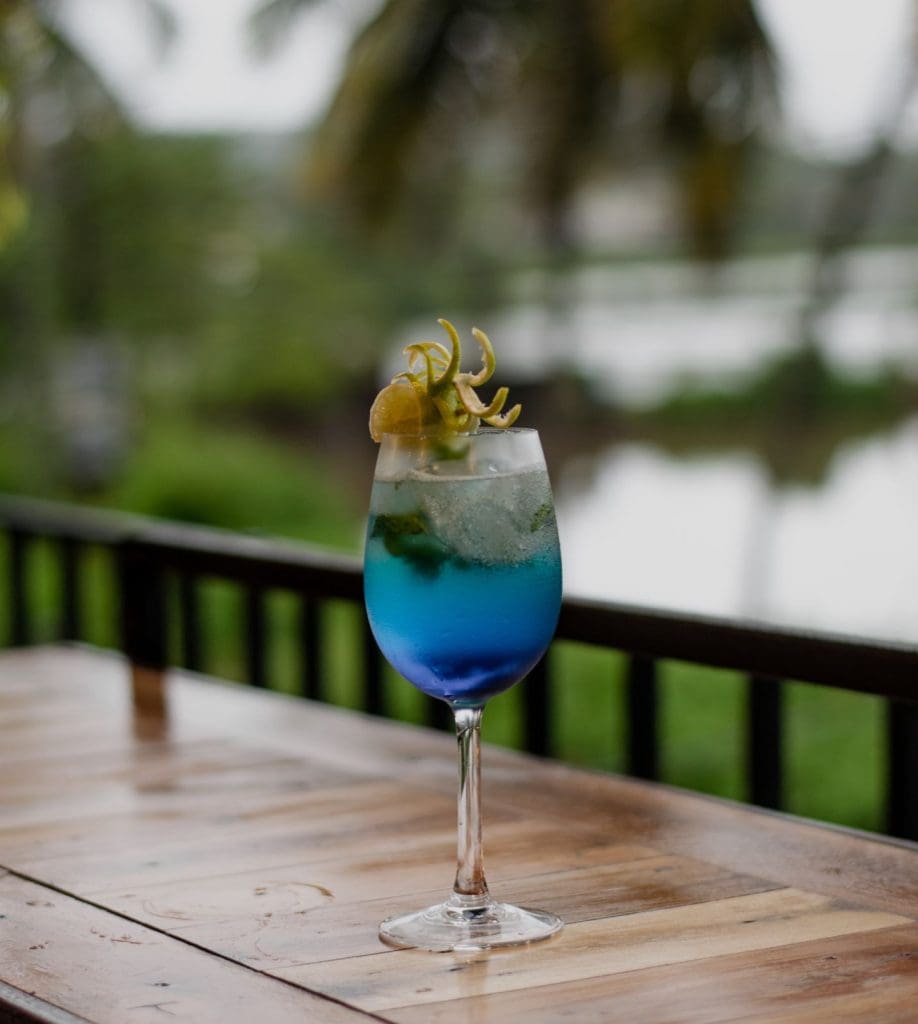 The sports cafe has been ranked amongst the best cafes in Goa with delicious Continental and Indian cuisine, many a time since its opening in 2022. The cafe boasts ample private car parking space in its backyard, which is a huge benefit. The sports cafe also screens most of the sports matches live on its screens.
Baba Au Rhum – memorable beachside dining experience
Located on the idyllic Ashvem Beach, Baba Au Rhum is a trendy waterfront café known for its bohemian vibes and fusion cuisine. The café's vibrant décor, with colourful furniture, beachside seating, and artistic touches, creates a unique and inviting atmosphere.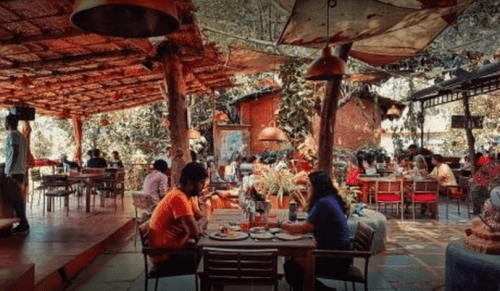 Baba Au Rhum serves an eclectic menu that blends global flavours with local ingredients, offering a diverse range of dishes from wood-fired pizzas to gourmet burgers to desserts. With its lively ambience, beachfront views, and lip-smacking food, this café has gained a dedicated following among travellers seeking a memorable beachside dining experience in Goa.
Boomerang Bar & Restaurant – Come for the sights, and stay for the good company
Boomerang Bar & Restaurant in Colva, Goa affords breathtaking views of the sea and a serene beach away from the crowds of North Goa. Enjoy stunning sunsets while indulging in delicious and affordable seafood and cold beer. The Cafe hosts lively karaoke and live music nights to keep the good vibes going.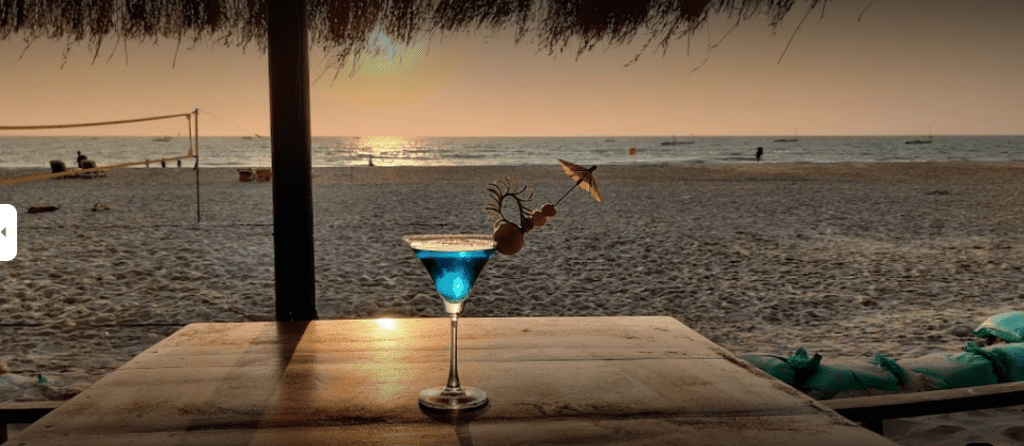 Come for the sights, and stay for the good company and great times at Boomerang can be the motto for Boomerang. With its prime location just steps away from Colva Beach, the Cafe offers great seafood dishes, including freshly caught prawns, fish curry, and Goan-style crab preparations.
Eva Cafe – Greek-inspired decor with stunning views
In a prime location with stunning views of Anjuna Beach, Eva Cafe offers the perfect spot for a breakfast bowl or a romantic evening with wine and a warm sunset glow. Its Greek-inspired decor, all in white with touches of crochet, wooden furniture, deck chairs, and a boho vibe, is an Instagram-worthy delight. Take a seat in the chairs overlooking the beach and enjoy hours of coffee sipping or go for a refreshing dip in the seawater just below the rocks.
The Cafe strikes the right balance between sun, sand and the sea and is known for its beautiful view and delectable food. Thronged by people staying near Anjuna and Vagator, the cafe opens early and closes early. With everything it has to offer, Eva Cafe is not just a cafe, it's an experience.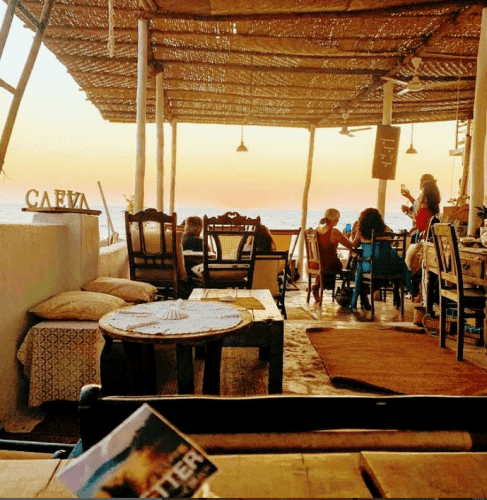 Waterfront cafes have always been loved by millions across the world, and when it comes to India, Goa offers beautiful cafes with a riverfront or seafront location that inspire visitors to embark on their own gastronomic adventure along the stunning Goan coastline. So, pack your appetite and head to these delightful and let the food flavours and landscapes create memories that will linger long after your visit to this tropical paradise.
Read More: Latest