The sylvan surroundings of Uttarakhand are the best bet for tourists who look for a respite from their hectic schedule.
And, with the extreme heatwave scorching most parts of the country, it will be a welcome break when the Valley of Flowers opens on 1st June 2022.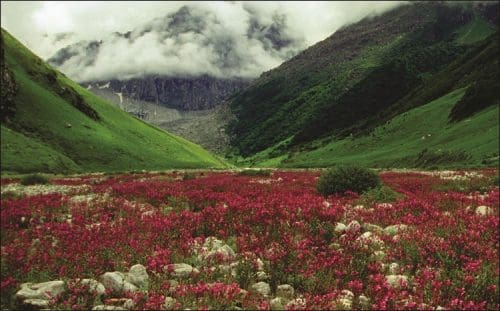 The state of Uttarakhand has been bestowed with nature's pristine beauty and the living proof is the Valley of Flowers, located in the higher Garhwal Himalayas, rich in floral and faunal wealth.
At a height of 3,000 meters, in the Chamoli district of Uttarakhand, the Valley of Flowers is accessible to the public from June to October.
And remains covered in a blanket of snow for the remaining six months beginning in October. 
It was an accidental discovery by an avid British mountaineer and a botanist, Frank S Smythe, when he was traversing through the region in 1931.
The valley today is home to over six hundred flowering species, including some exotic varieties like Brahmkamal, which is also the state flower of Uttarakhand.
Other varieties include Blue poppy, described as the Queen of Flowers, Bluebell, Primula, Potentilla, Aster, Lilium, Himalayan Blue Poppy, Delphinium, and Ranunculus.
The region also has a rich faunal diversity with species like the leopard, musk deer, and blue sheep.
Declared a National Park in 1982, the Valley of Flowers stretches over an expanse of 87.50 sq. km. It was declared a UNESCO World Heritage Site in 2005.
Accessible only on foot, it is a paradise for trekkers.
The valley has a seventeen kilometers long trek that begins at Ghangaria, situated at an altitude of 10,000 feet, which can be reached via a trek from Govindghat, a small township near Joshimath.
The valley of flowers in Uttarakhand in the Chamoli region holds an unbelievably lovely setting with rare and exotic Himalayan flora in front of the Zanskar ranges.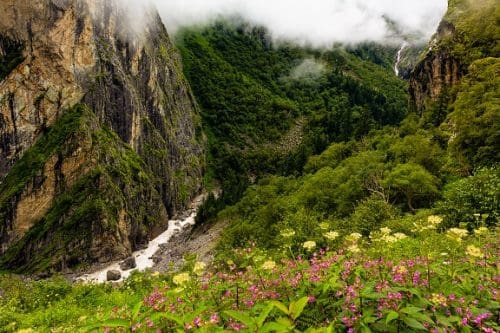 The valley stays shrouded in snow throughout the cold weather months. In summer, it transforms into a paradise with its endemic Alpine flower-covered meadows along with blossoms of every kind. The valley is a picturesque panorama of clear, little streams, elegant knolls, gentle waterfalls and cascades, wildlife, and meadows that stun visitors in their abundance.
 This spectacular valley is covered with exotic blossoms with over 600 flower species. This botanical paradise has primulas, marigolds, orchids, poppies, daisies, and anemones to name a few. The park is bordered by rich alpine forests, birch, and rhododendrons which lend further exotica to the park wonderland.
The valley has remained in pristine shape on account of its inaccessibility. The trek to the Valley of flowers finds its way through thick forests, along the Pushpawati river, crossing several bridges, waterfalls, and glaciers along the way. 
The best time to visit the valley is during the months of March to October. 
A permit is required from the state forest department to enter the Valley of Flowers.
Read More: Latest