If your idea of exploring the world involves more than just landmarks and landscapes, if trying local delicacies ranks among your top travel priorities, then welcome to a culinary adventure like no other – Culinary Experiences.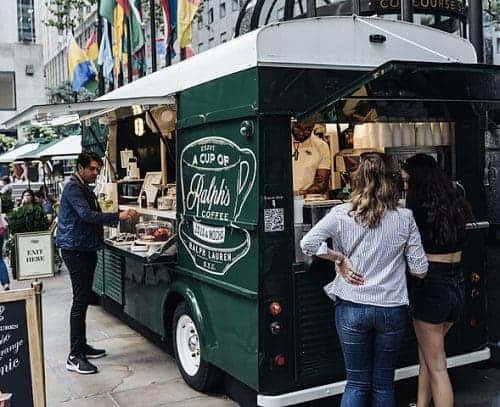 Food, more often than not, conjures up happy memories. It can nudge us into crossing miles for a Neapolitan pizza, Greek moussaka, or New York cheesecake. The aroma of street food in a bustling market or the elegant ambience of a Michelin-starred restaurant can transport us to different places and times, all through the medium of taste.
In this delectable journey, we've embarked on a mission to unearth 13 extraordinary experiences, each crafted to elevate World Food Day 2023 into a mouthwatering affair. From the aromatic spices of Indian street food to the rich flavours of Peruvian ceviche, we're here to tantalize your taste buds and inspire your inner foodie.
Join us as we embark on a global gastronomic odyssey, where every dish tells a story, every recipe is a piece of cultural heritage, and every meal is an invitation to explore the world through flavour. So, prepare your palate for a culinary journey that will leave you craving more.
We have curated six experiences perfect for making World Food Day 2023 a delicious affair.
Bagels & Pizza in New York City
When it comes to iconic New York foods, bagels and pizza are at the top of the list. There's no better place to indulge in these classic treats than in the heart of the Big Apple.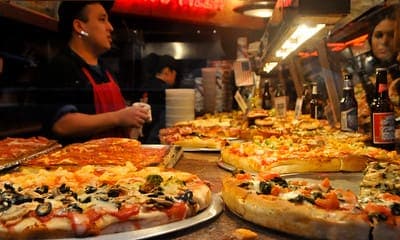 Start your day with a New York-style bagel, renowned for its chewy texture and crisp crust. You'll find bagel shops throughout the city, but some of the most famous ones include Ess-a-Bagel, H&H Bagels, and Russ & Daughters. Customize your bagel with a variety of toppings like cream cheese, lox, or a classic bacon, egg, and cheese sandwich.
For lunch or dinner, savour a slice of authentic New York pizza. The city is home to countless pizzerias, each with its unique spin on this beloved dish. Try a classic slice of cheese pizza or explore innovative toppings like artichoke and spinach at Artichoke Basille's Pizza or grab a traditional pie at Lombardi's, considered America's first pizzeria.
Insider Tip: Pair your bagel or pizza with a classic New York egg cream soda for a true taste of old-school New York City.
Goulash & Lecsó in Hungary
Do you know Hungarians call themselves a nation of soup eaters? There are many varieties to back their claim, ranging from goulash and palóc to fish soups. A must-try traditional preparation is a pottage made of lentils, potatoes, peas, beans, cabbage and pumpkin. Paprika, the national spice of Hungary, appears in various dishes, especially the slow-cooked chicken paprikash.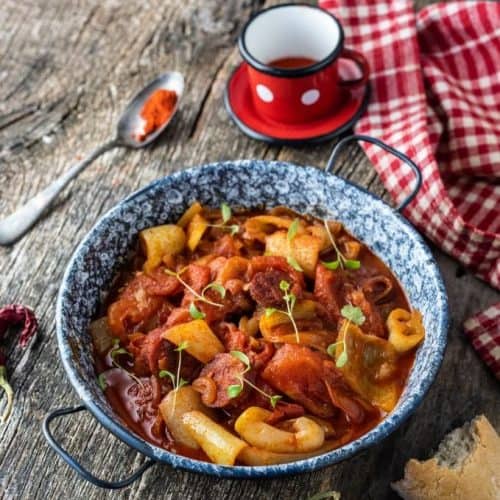 If winter calls for cabbage rolls stuffed with minced meat, then lecsó (a variety of ratatouille) takes the top spot in summer. You can savour these local fares at Gundel, one of the pioneers of Hungarian gastronomy or attend the Etyek Picnic to relish authentic dishes. Fancy fine dining? 75 restaurants in Hungary have been featured in the renowned French guide this year under the Michelin Star, Bib Gourmand, and Green Star categories.
Insider Tip: Complement your meals with a selection of Hungarian wines like Tokaji, Szekszárd, and Villány for an exquisite pairing.
Kimchi & Bulgogi in South Korea
South Korean cuisine is a harmonious blend of bold flavors and unique dishes. Start your culinary adventure with kimchi, a staple fermented side dish made from cabbage, radishes, or cucumbers. Explore the bustling markets of Seoul, such as Gwangjang Market or Namdaemun Market, where you can taste various types of kimchi and even witness kimchi-making demonstrations.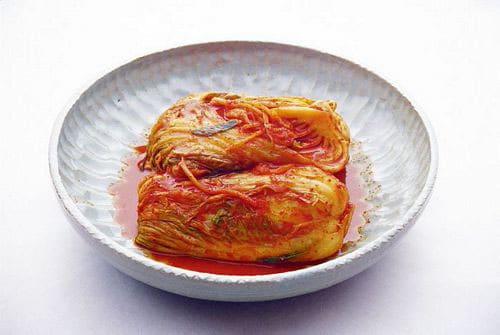 For a heartier experience, indulge in bulgogi, thinly sliced marinated beef or pork, cooked to perfection on a tabletop grill. Visit a traditional Korean barbecue restaurant to savour this savoury and sweet dish while enjoying the interactive dining experience.
To complete your South Korean food journey, try other iconic dishes like bibimbap, tteokbokki (spicy rice cakes), and samgyeopsal (pork belly), all washed down with a glass of soju or makgeolli, traditional Korean alcoholic beverages.
Insider Tip: Explore street food stalls for savoury treats like hotteok (sweet pancakes) and odeng (fish cakes) for a taste of authentic Korean street cuisine.
Ceviche & Pisco Sour in Peru
Peru is renowned for its fresh and flavorful ceviche, a dish consisting of raw seafood (typically fish or shrimp) marinated in citrus juices, such as lime or lemon, and seasoned with chili peppers and herbs. To experience the best ceviche, head to Lima, where you'll find world-class cevicherias offering a diverse range of ceviche variations.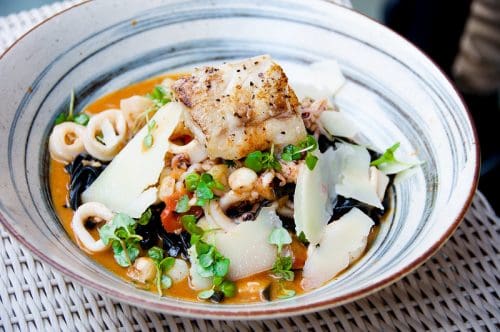 Pair your ceviche with a Pisco Sour, Peru's national cocktail. This tangy and frothy concoction combines Pisco (a grape brandy), lime juice, simple syrup, and egg white, creating a refreshing and slightly tart drink. Visit a Pisco bar to savor this iconic cocktail and learn about the history and craftsmanship of Pisco production.
While in Peru, don't miss out on other Peruvian culinary delights, such as lomo saltado (stir-fried beef with vegetables and fries), causa (a layered potato dish), and anticuchos (grilled skewers of marinated meats).
Insider Tip: Explore local markets like Mercado Central in Lima for a chance to try lesser-known Peruvian dishes and shop for unique ingredients and spices.
Nth Trang Nem Nướng & Kem Chuối in Vietnam
Despite the diverse cultural influences—French, East Asian, African, and Portuguese—Vietnamese cuisine has regional nuances. Consider Nha Trang, situated in the Southern Khanh Hoa Province, where The Anam Cam Ranh sits framed by lush mountains.
At Lang Viet, skilled chefs craft delectable dishes, including cơm chiên, tôm cháy bơ tỏi, bún bò huế, cao lầu, and cơm gà, using innovative techniques and locally sourced ingredients from rivers, farms, and coastlines. Whether it's home-style cooking, street food, or traditional favourites with a modern twist, you are in for a treat. The best part? You get to taste delicacies from north to south of the country within a picturesque beachfront setting.
Insider Tip: Plan a Vietnamese-themed party and showcase your newfound skill. Join on-site Mama's cooking classes conducted by five cheerful women to master traditional recipes.
Tacos & Tequila in Mexico
Mexico's rich culinary heritage is a fiesta for the senses, and no visit is complete without indulging in tacos and sipping on tequila. Start your culinary journey by sampling a variety of tacos from street vendors, where you can choose from fillings like al pastor, carne asada, or barbacoa. Explore the bustling markets of Mexico City or head to the coastal towns for seafood-filled delights.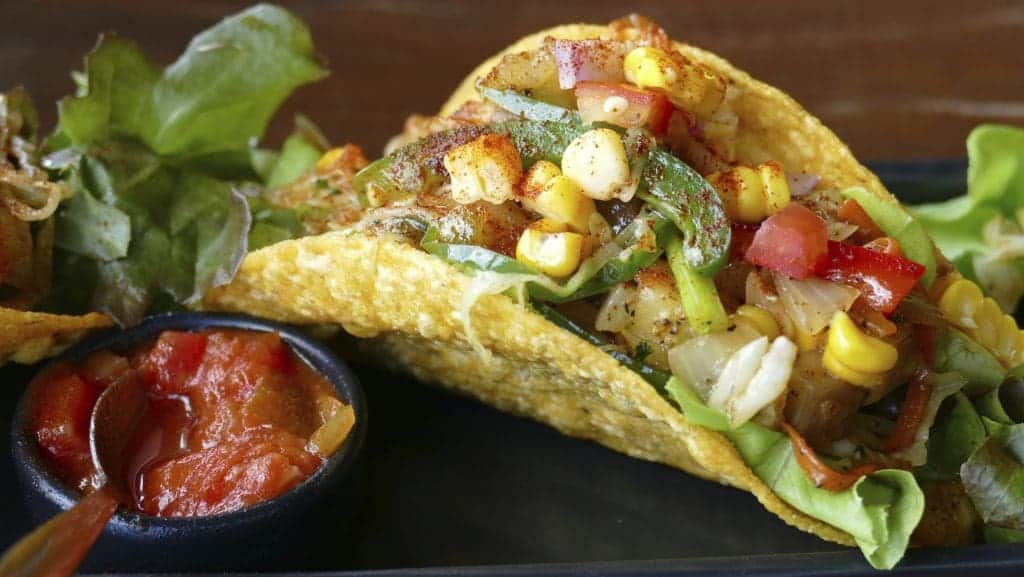 Pair your tacos with Mexico's signature spirit, tequila. Visit a tequila distillery in Jalisco, the heart of tequila production, to learn about the distillation process and enjoy tastings of this agave-based liquor. For an extra treat, try a margarita made with premium tequila and fresh lime juice.
Insider Tip: Don't miss out on regional Mexican dishes like mole in Oaxaca or ceviche in Baja California for a deeper dive into the country's culinary diversity.
Dim Sum & Bubble Tea in Hong Kong
Hong Kong is a food lover's paradise, and its dim sum and bubble tea scene is legendary. Dim sum refers to a variety of bite-sized dishes traditionally enjoyed with tea. Visit a local dim sum restaurant where you can savour classics like dumplings, buns, and rice rolls, all served piping hot from steamer baskets.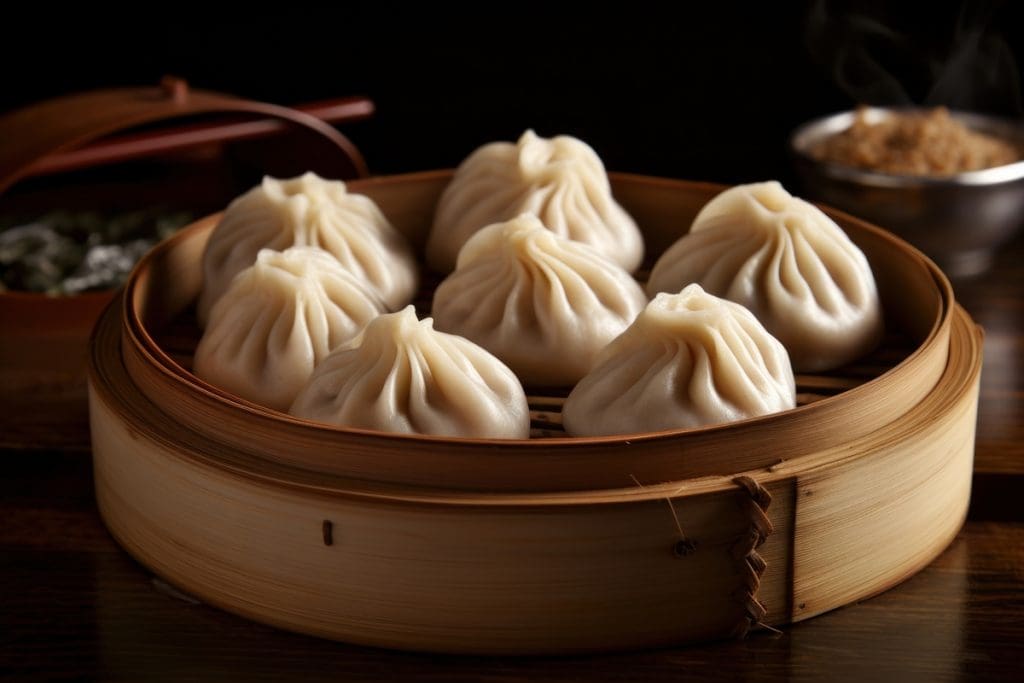 After enjoying your dim sum feast, cool off with a refreshing bubble tea. Hong Kong has a thriving bubble tea culture, with numerous shops offering a wide range of flavours and toppings. Whether you prefer classic milk tea with pearls or trendy fruit tea variations, you'll find endless options to quench your thirst.
Explore local markets like Temple Street Night Market or Mong Kok's street food stalls for additional culinary adventures, from stinky tofu to fish balls on skewers.
Insider Tip: Dim sum is a popular brunch option, so plan to arrive early or be prepared for crowds during peak hours.
Pasta & Gelato in Italy
Italy is synonymous with mouthwatering pasta and irresistible gelato. Immerse yourself in the art of Italian cuisine by indulging in freshly made pasta dishes like spaghetti carbonara, fettuccine alfredo, or ravioli filled with ricotta and spinach.
To truly appreciate the pasta-making process, consider taking a cooking class in a picturesque Italian village. Learn to knead dough, roll out pasta, and prepare delectable sauces from local chefs.
Cap off your Italian culinary experience with creamy, artisanal gelato. Explore the gelaterias of Florence, Rome, or Venice, where you can sample a myriad of flavours, from classic stracciatella to unique combinations like pistachio and fig.
Insider Tip: Pair your pasta with regional wines and explore Italy's diverse wine regions, from Tuscany to Piedmont, for a complete gastronomic journey.
Onigiri & Kushikatsu in Japan
The land of the rising sun has lots beyond familiar favourites (read sushi and sashimi), tempting travellers to extend their vacation solely for gastronomic exploration. Every region has restaurants, cafes, and street-side eateries serving vegetarian and non-vegetarian delights like soba, udon, takoyaki, buta-no-shogayaki, katsudon, okonomiyaki, yakiniku, miso soup, gyoza, karaage, and, of course, an array of ramen. Japanese cuisine is exceptionally satisfying, and the chefs display remarkable skill. It is no wonder that three Japanese cities (Tokyo, Osaka, and Kyoto) have the highest number of Michelin-starred restaurants.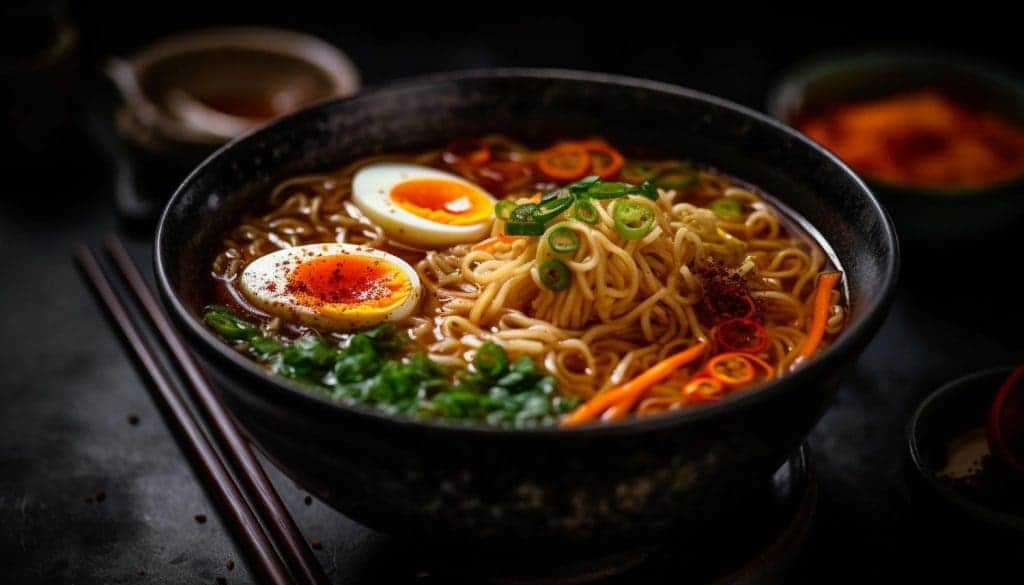 Insider Tip: Experience authentic teppanyaki (and the antics of a dedicated chef) at Misono in Kobe, the world's first teppanyaki joint. Don't miss Tokyo's Tsukiji Market if you are curious about Japan's food culture.
Lobster Bisque & Frankincense-Infused Chicken in Oman
What comes to mind when you think of Omani cuisine? Perhaps shuwa and kebabs? While these are must-try dishes, Oman offers a rich tapestry of flavours. One of the finest places to savour it all is Shangri-La Al Husn, which is featured among the top six hotels in Oman in the Michelin Guide. It embodies the essence of Oman within its opulent premises. Indulge in a live preparation of tuna rolls at Bait Al Bahr alongside fresh seafood, oven-baked seabream fillet, and grilled fish steak.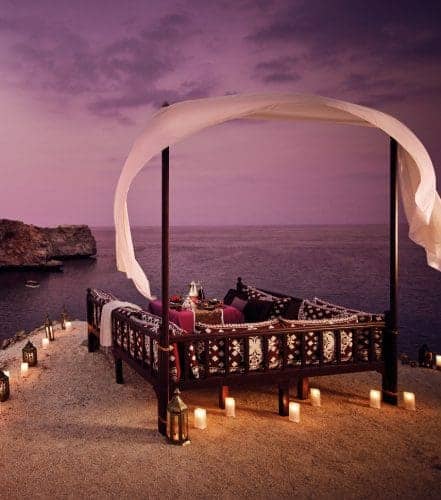 To taste other specialities, visit Sultanah, named after Oman's inaugural ship that sailed to the US circa 1833. You can order lobster bisque with caviar and cauliflower foam, tuna crudo, braised octopus with beetroot couscous, and pan-seared seabass with fennel cream. You can also dine on top of a cliff overlooking the Gulf of Oman.
Insider Tip: Since Oman is known for high-quality Frankincense (luban), we recommend the unique smoked Frankincense-infused chicken that the chefs have mastered.
Tapas & Rioja in Spain
Spain's culinary scene is a vibrant tapestry of flavours, and one of the most enjoyable ways to explore it is through tapas. These small, flavorful dishes are perfect for sharing, making them an ideal choice for World Food Day celebrations. In Spain, you'll find a seemingly endless variety of tapas, from classic Patatas Bravas to succulent Iberian ham.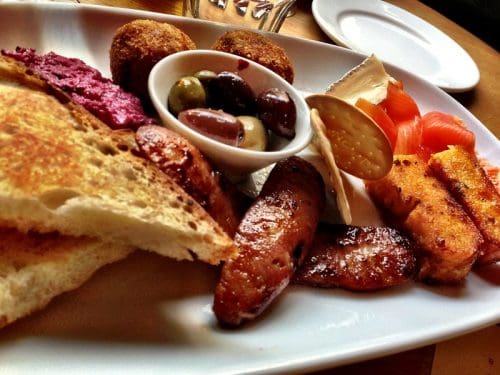 Head to the bustling streets of Barcelona or Madrid to embark on a tapas crawl, hopping from one tapas bar to another to savour a medley of flavours. For a unique twist on tradition, try avant-garde tapas at one of Spain's Michelin-starred restaurants.
Pair your tapas adventure with a glass of Rioja wine, one of Spain's most famous wine regions. Explore the vineyards of La Rioja to witness the winemaking process firsthand, or visit a local bodega for wine tastings and pairings that will elevate your culinary experience.
Insider Tip: Keep an eye out for seasonal tapas specials, as Spanish cuisine embraces the freshest ingredients available.
Luqaimat and Saloona in Qatar
Qatar is a melting pot of flavours. It blends local traditions with influences from India, Persia, Lebanon, and North Africa. You should definitely taste traditional Qatari dishes like machboos, saloona, madrouba, and hares. Those with a sweet tooth can try luqaimat and ragag at Souq Waqif, a traditional market in the heart of Doha. Shawarma at Mashawi Al Arabi in the Old Airport area and stuffed or baked falafel at Ard Canaan in Katara are unforgettable fares.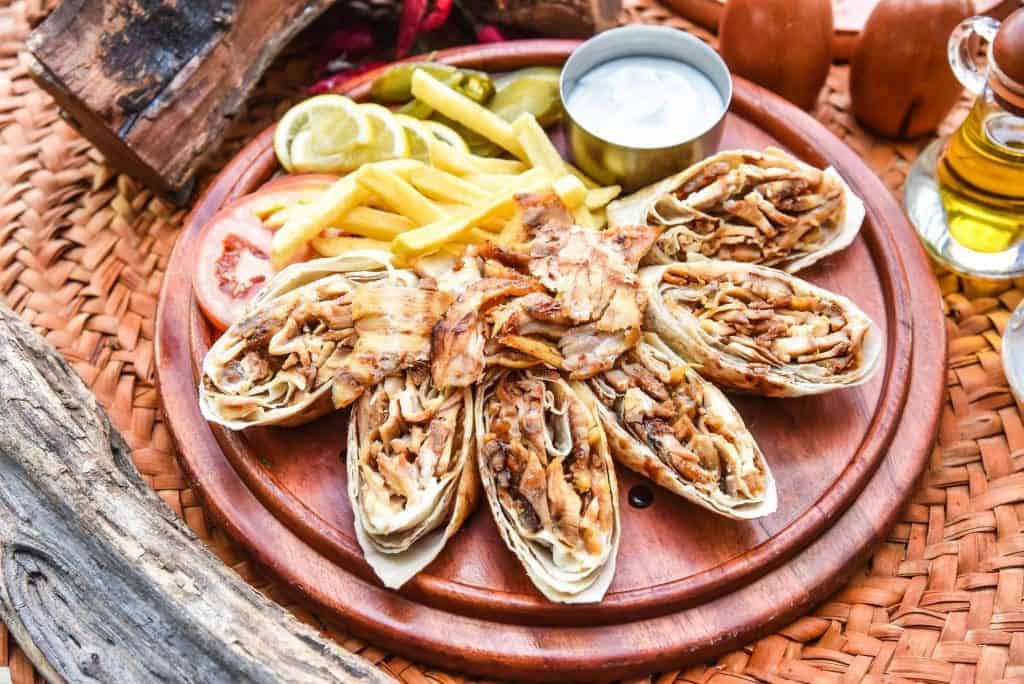 Insider Tip: Doha also has numerous world-class dining spots that need to be on your list of must-visit restaurants, including Jiwan, Carbone Doha, Boho Social, Sugar and Spice, Morimoto Doha, Bayt El Talleh, IDAM, and IZU.
Creole Cari Poule and Bol Renversé in Mauritius
One way to immerse in the Mauritian way of life is through its cuisine. Traditional Mauritian cooking is heavily influenced by Creole. What brings the twist is exotic native spices that add depth and richness to it. There are Indian, Chinese, and European influences too, which is why you would find Sino-Mauritian spring rolls, chop suey, halim, briani and dholl puri along with diri frir, bol renversé, boulettes, vinnday, and sept caris.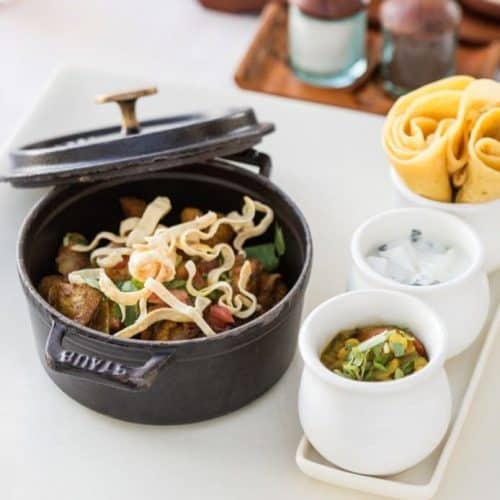 The most popular dish is the Creole cari poule (chicken curry) usually served during festivals and Hindu wedding ceremonies. Set in a planter's house by the beach in The Residence Mauritius, the chefs at the Plantation use an original approach and traditional blend of hand-crushed spices to cook Creole cuisine.
Insider Tip: Explore the bustling markets of Mauritius while picking fresh ingredients. Cap off your day with a traditional Mauritian dinner at the home of a local host.
Read more: Latest