Go shopping in the street markets of Pondicherry that sport a distinct architectural style that sets them apart from other cities in India.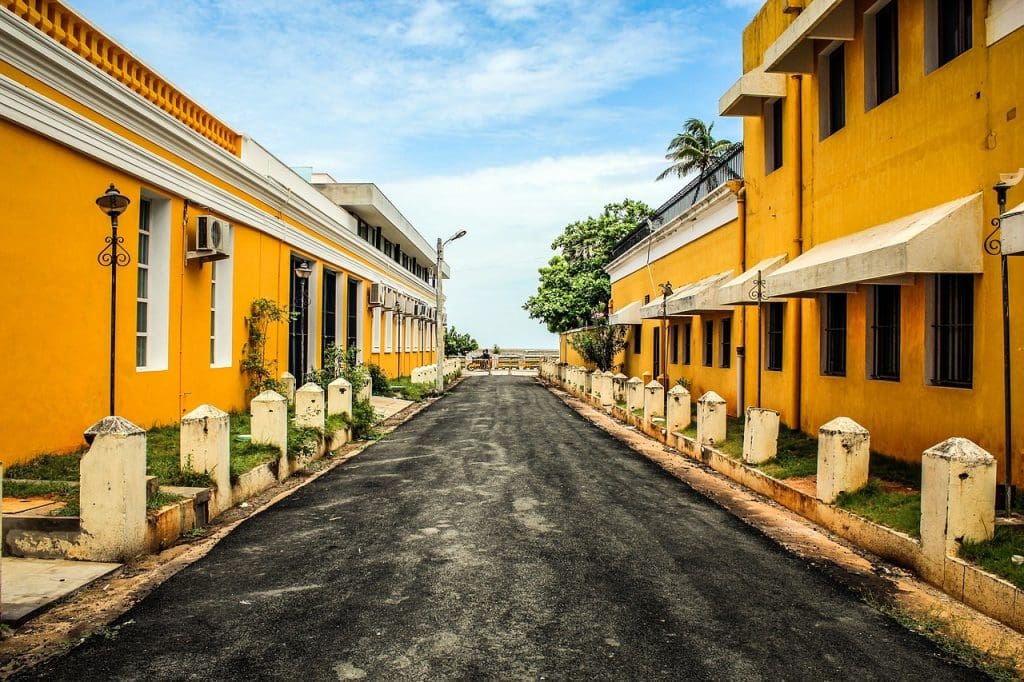 Most buildings in Pondicherry are built in the traditional French colonial style, with high ceilings and arched doorways. Many of the streets are lined with small shops selling everything from handmade crafts to clothing. The atmosphere in Pondicherry is bustling and vibrant, full of life and energy.
The sights and sounds of the market are colourful as vendors call out their wares while shoppers haggle over prices. There is an abundance of fresh produce available, along with spices and pickles that give off a pungent aroma. Handmade items such as baskets, jewelry, bangles, and slippers line the stalls while artisans make intricate wooden carvings, jute mats, and brass lamps, often creating handcrafted items in front of their shops.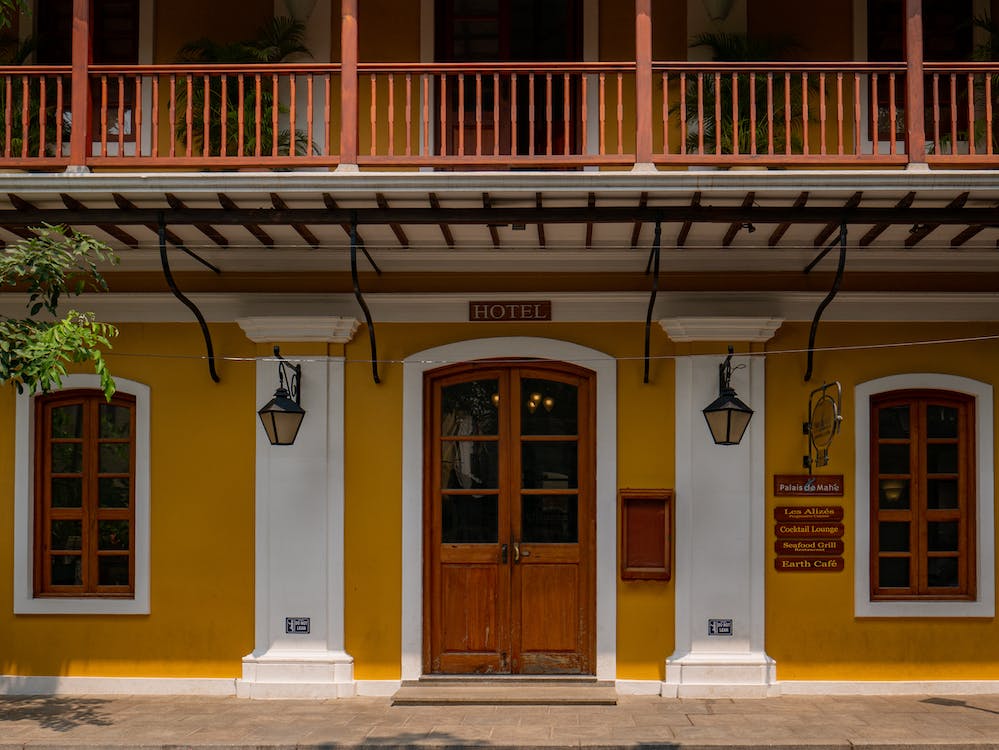 The markets of Pondicherry are teeming with activity as locals buy and sell goods. The air is full of conversations in Tamil, French, and English as people mingle. Children weave in between the narrow alleys playing games while street performers entertain the crowds. There is a certain charm to these bustling markets that gives off a warm and welcoming vibe. Visitors can easily get lost among the myriad sights, sounds, and smells while they explore this enchanting city.
Unique handicrafts of Pondicherry
The quaint and colourful town of Pondicherry is known for its unique handicrafts. From terracotta figurines to papier-mache dolls, the craftsmen of Pondicherry bring a splash of vibrant culture to everyday life.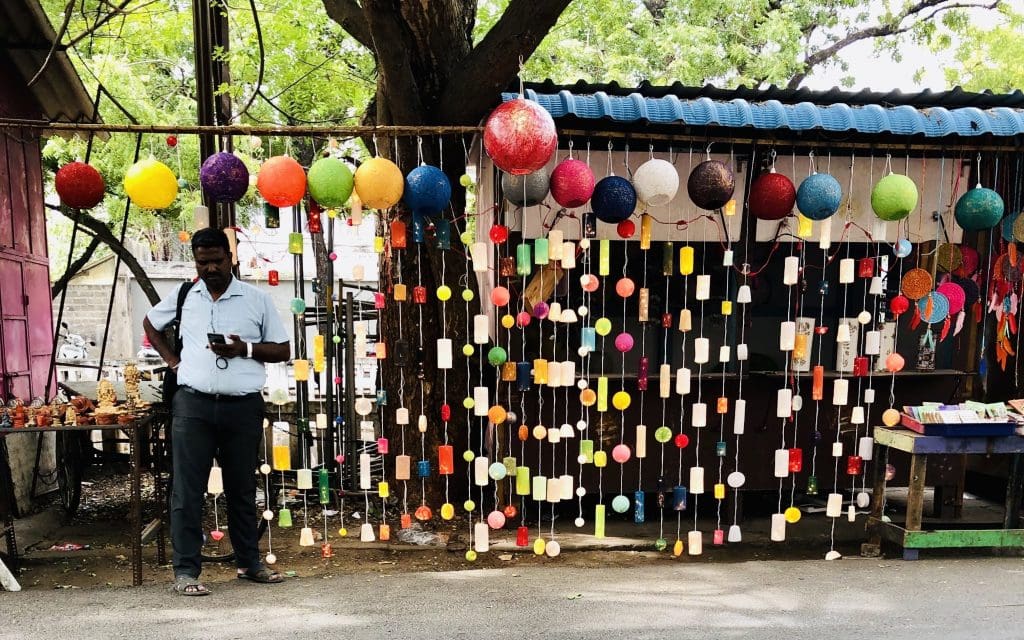 Terracotta is the most popular craft in this French colonial town, with figures ranging from gods and goddesses to animals, birds and even everyday objects. Craftsmen are also adept at making delicate papier-mache dolls, depicting characters from local folklore. These dolls come in a variety of colors, sizes, and shapes.
The most iconic craft is the plaster of Paris doll, known as 'PuducherryBommai'. This doll is a representation of the beloved Lord Ganesha, and it has become an integral part of local festivals and celebrations. The craftsmanship involved in making these dolls is truly remarkable, with each doll painstakingly crafted to perfection.

The artisans of Pondicherry are also masters at creating traditional clay crafts, such as ornamental containers, pots, and figures. Stone carving is another traditional art form, with intricate designs and carvings found on various objects like stone pillars, walls, and doors.
Pondicherry craftsmen also specialize in making grass baskets, leaves, reed, and fiber. These are often used for storing food items and other items of daily use. Leather craftsmen turn out stunning wallets, handbags, belts, and sandals, while woodcarvers create intricate sculptures and carvings for use in homes as well as temples.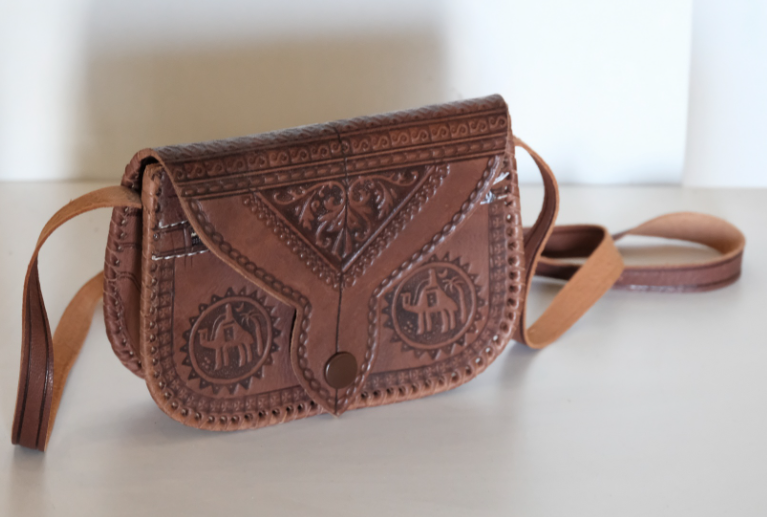 The handicrafts of Pondicherry have attracted tourists from all over India and the world who often marvel at the exquisite craftsmanship and attention to detail on display. From terracotta figurines to papier-mache dolls, these crafts are a testament to the skill of the artisans and their passion for making beautiful objects. The handicrafts of Pondicherry truly bring alive its rich cultural heritage, making it a must-visit destination for anyone visiting India.
10 best street markets to shop in Pondicherry
Get ready for a shopping spree and discover the best of Pondicherry in the vibrant street markets
Pondicherry's Gandhi Market: Located in the heart of the city, this market is loaded with a variety of shops selling everything from books and jewellery to clothes and footwear. The architecture of the market is colonial-style buildings made from red bricks that give off a vintage vibe. You can also find some traditional South Indian souvenirs here like terracotta figures, wooden toys, brass lamps, and more.
Bharathi Park Market: This colourful night market is one you don't want to miss! With its active atmosphere and wide range of items for sale, it's no wonder why many people flock here every evening. Not only can you purchase clothes and knickknacks at this market, but you can also find unique items like handmade jewellery and antiques.
Bazaar Street Market: Located near the French Quarter of Pondicherry, this vibrant bazaar street has been around since the 17th century! Here, you can find a variety of goods such as spices, vegetables, fruits, and even fabric for traditional Indian clothing. It is also known for its delicious street food; don't forget to try out some of the local delicacies.
Nehru Street Market: This busy street market is full of small shops selling everything from textiles to electronics and books. The atmosphere here is always bustling with activity as bargain hunters flock to get their hands on great deals. Be sure to check out the traditional items found here like kurtas, sarees, and salwar-kameez sets.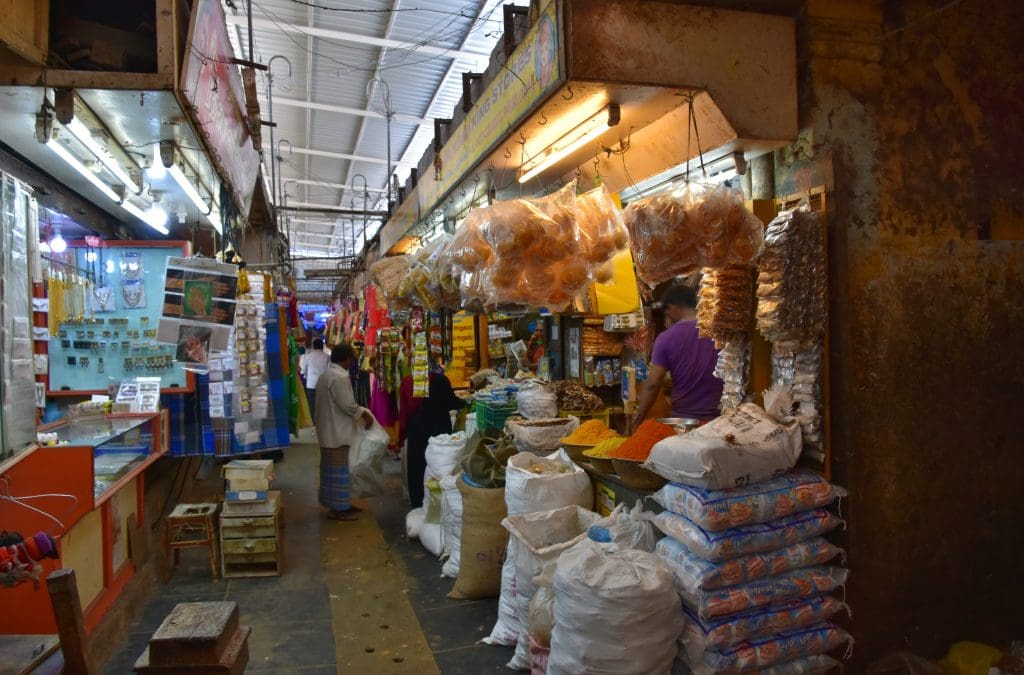 Pondicherry Promenade Market: This popular shopping area is located on the banks of the Bay of Bengal. There are a variety of shops selling jewellery, clothes, accessories, and souvenirs for visitors to take home with them. It's also worth mentioning that this market has some great food stalls too!
Bharathi Park Night Bazaar: A charming night bazaar that lights up in the evening, this lively market sells everything from clothing to toys and books. It is lined with small shops selling everything at very reasonable prices so you can shop without breaking the bank!
Mission Street Market: This vibrant market is a great spot to pick up some local handicrafts, home décor items, and interesting souvenirs. It's full of shops selling everything from handmade artwork to clothes and jewellery at reasonable prices. Be sure to check out the antiques as well!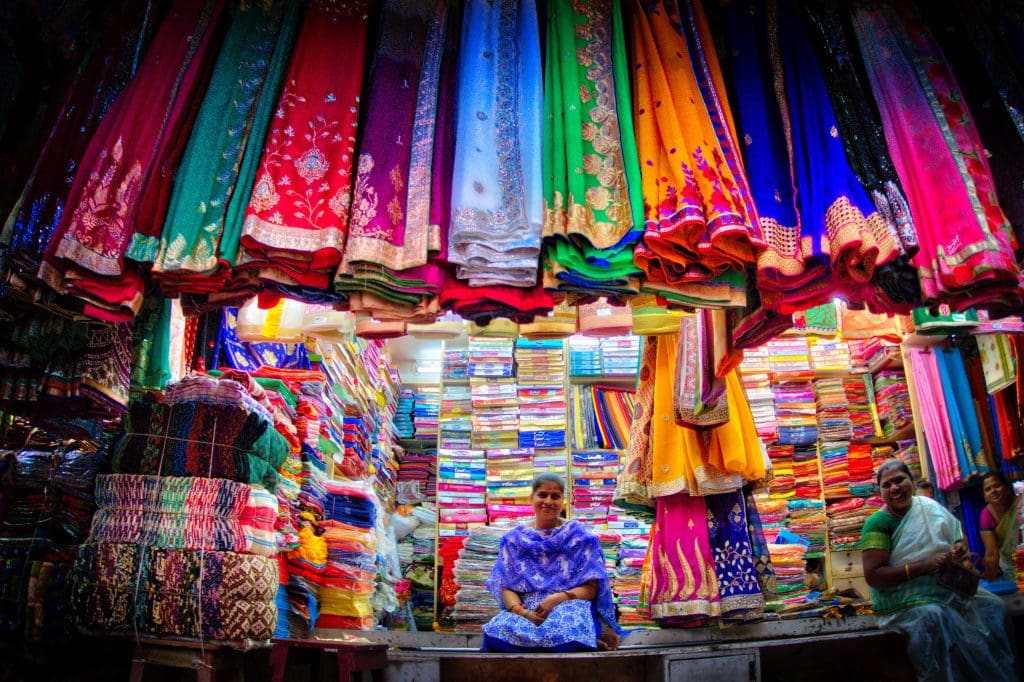 Karaikal Market: This bustling street market is an ideal spot for bargain hunters looking for traditional Indian wares such as spices, fabrics, and handicrafts. Here you can find plenty of stalls with cheap yet unique items that make for perfect gifts or souvenirs for your friends back home.
Haddows Road Market: This narrow but busy street market has been around since the 18th century and is a great place to find unique items such as handmade jewellery, antiques and furniture. It's worth going down this street just to admire the architecture of the buildings too!
Sri Aurobindo Ashram Market: Located near the famous ashram in Pondicherry, this market is popular for its bookshops that sell books about spirituality and philosophy. Here you can also find handicrafts, incense sticks, spices and ayurvedic medicines at reasonable prices.
Local street food in Pondicherry
The traditional Pondicherry cuisine is a beautiful combination of Tamil and French flavours. It is an amalgamation of the vibrant traditions of this place with its colourful history. There are various dishes that have originated in Pondicherry, like 'Kadugu Bonda', a version of 'Masala Dosa', and many more.
Be sure to try some of the delicious local street food while you're here! The vibrant streets of Pondicherry are filled with delightful smells and flavors that locals and visitors alike cannot resist. From traditional South Indian dishes to fusion plates, the local street food in Pondicherry is sure to tantalize your taste buds.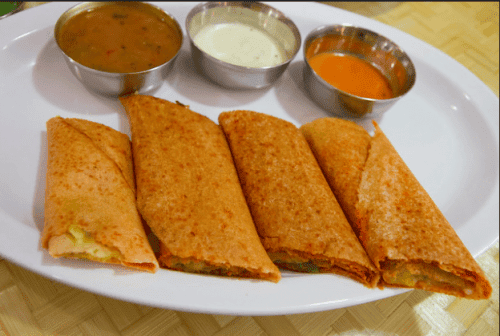 One of the most popular dishes in Pondicherry is the 'Kadugu Bonda' which is basically a fried snack made from Bengal gram flour. It is served with coconut chutney and it has a crunchy outer layer, with a soft inner texture that melts in your mouth. The dish has an earthy flavour, thanks to the generous use of spices like cumin, chilly powder, and curry leaves.
Another famous dish from Pondicherry is the special version of 'Masala Dosa', which is a crepe-like pancake filled with potatoes and onions. The pancakes are made using rice and lentil flour and they are served with sambar and chutney. It is a spicy and flavourful dish, with its unique taste coming from the addition of spices like mustard seeds, fenugreek seeds, asafoetida, and curry leaves.
There are many other traditional delicacies in Pondicherry that you must try. There is 'Kari Kuzhambu', a gravy-like dish that is prepared with tamarind and aromatic spices. There is also 'Vathal Kuzhambu', which is a tangy gravy, made with dried vegetables and spices. In addition to these, there are many other dishes like 'Fried Rice' and 'Vadai' which are also very popular.
Pondicherry cuisine is truly a unique and delightful experience that you won't find anywhere else. So, if you ever visit this beautiful place, don't forget to try out its unique culinary delights!
Start your journey by tasting one of the most popular snacks – vada pav. A delicious snack made from a spicy potato patty encased in bread buns smeared with butter, this dish is great for a quick bite on the go. Another classic delicacy from Pondicherry is masala dosa, which is served with side accompaniments like sambar and chutney. The thin crispy rice crepe filled with mashed potatoes makes it an irresistible snack!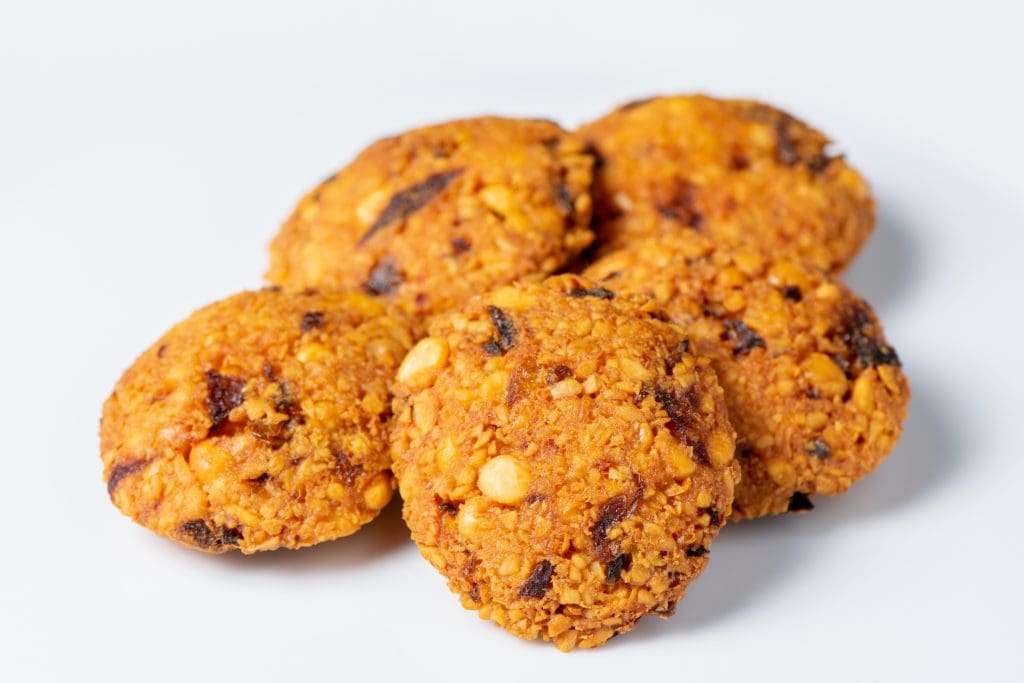 If you are looking for something a little more indulgent, the biryani at Pondicherry is to die for. The flavorsome combination of basmati rice, mutton, and vegetables cooked in clay pots make it one of the most popular street food dishes around. It's best enjoyed with a side dish of raita or curd to balance out all the spices and flavors.
For those with a sweet tooth, there's nothing better than jalebi – deep-fried spirals made from refined wheat flour and soaked in sugar syrup. The succulent treat is often served hot with cold ice cream or rabri – creamy milk custard that has been thickened by simmering over low heat.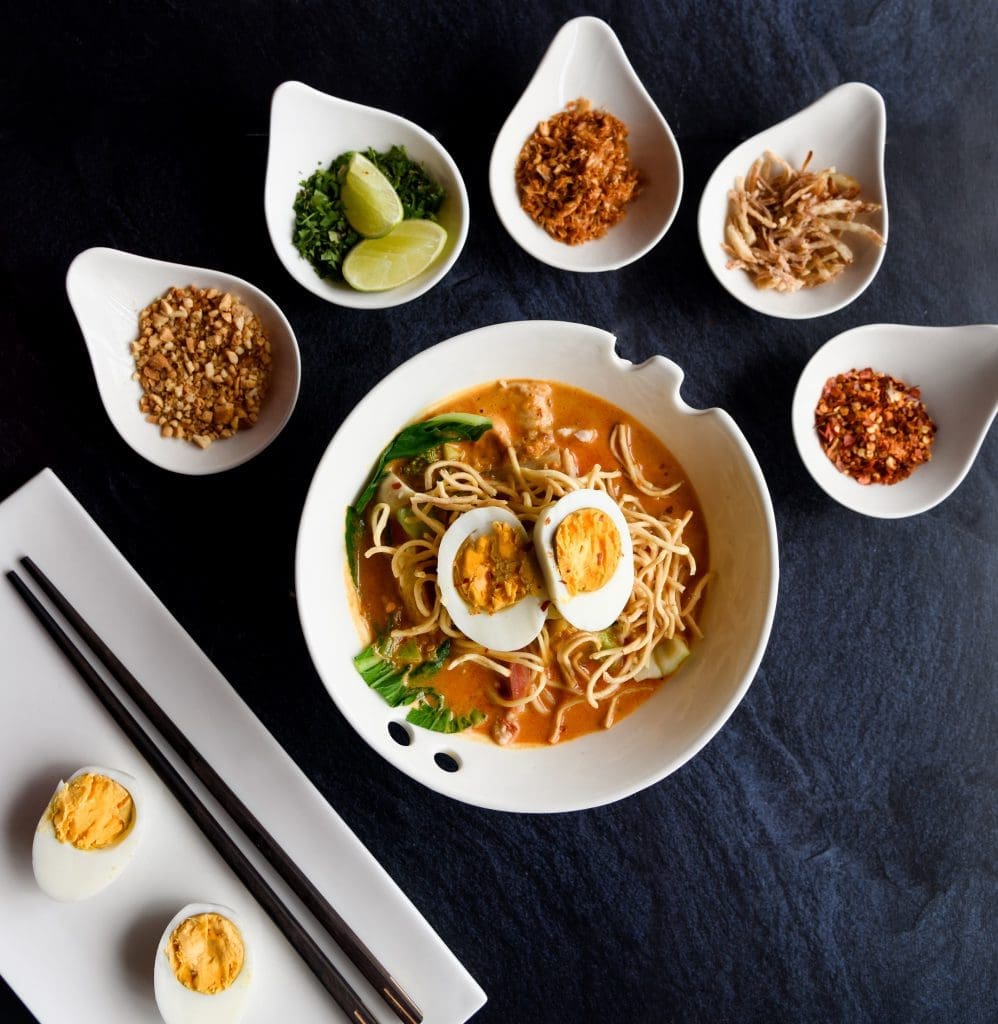 Try out Pondicherry's popular local dish – Khowsuey which has its roots in Burmese cuisine. It is a street-side delicacy that has been embraced by locals and tourists alike. The dish consists of thick vermicelli noodles, cooked with spices like turmeric, red chilli powder, coriander powder, and cumin powder, cooked in a coconut-based gravy. It is often garnished with roasted peanuts, fried onions, chilli flakes, lemon juice, and fresh coriander leaves.
Khowsuey has an irresistible aroma of spices combined with the comforting taste of coconut that lingers in your mouth. The best part about Khowsuey is that it can be enjoyed as an individual dish or with accompaniments like vegetable curries, fried fish, or chicken. The noodles are served in a clay bowl (kulhar) which adds to the rustic charm of this street-side delicacy.
All in all, the markets of Pondicherry are a kaleidoscope of sights, sounds, and smells that give off an unmistakable charm.
From the French colonial architecture to the vibrant conversations being held by vendors and shoppers alike, there's something special about these bustling markets that draw locals and visitors alike.
The array of traditional items like spices and handmade crafts, souvenirs, clothing, and accessories, give the markets of Pondicherry a unique flavour that is not to be missed.
Read More: Latest