The temples in Gujarat have always been recognized for their magnificence and splendour and the great following that they have in the spiritual domain.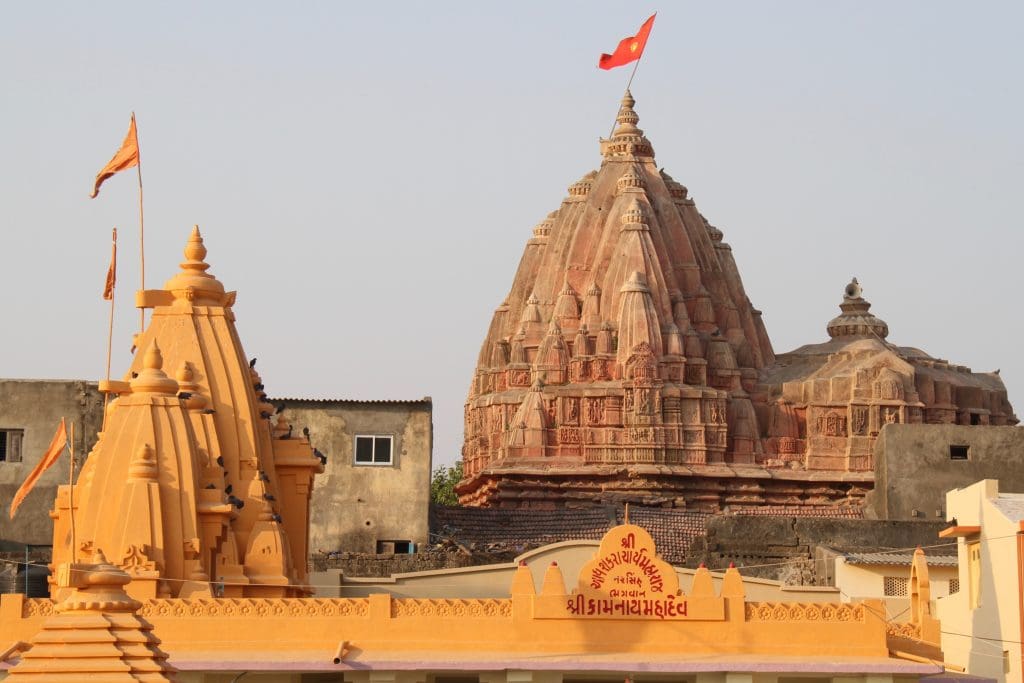 Gujarat is one of India's most holy regions since it is the birthplace of Lord Krishna, Dayanand Saraswati, Bapa Sitaram, Jalaram Bapa, and many more saints. This region has significant historical importance in Hindu mythology and is also known as the country of monks.
The state is home to a plethora of magnificent temples that showcase the rich cultural and architectural heritage of the region. These temples, steeped in spirituality attract devotees and tourists alike. It is astonishing how countless temples adorn the landscape of Gujarat, each with its own unique architectural style, religious importance, and cultural significance.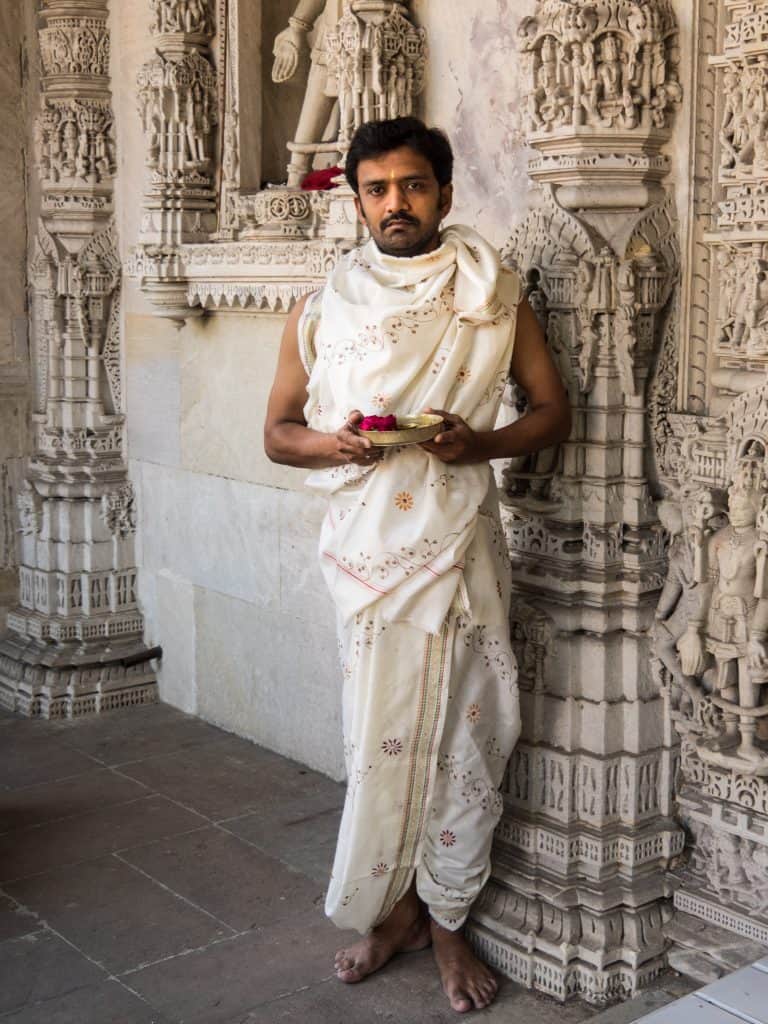 The temples in Gujarat are not only places of worship but also architectural wonders that capture the hearts of visitors, providing a spiritual sanctuary and insight into the rich religious heritage of the state.
Gujarat shrines with Hindu saints have influenced Indian history through their prayers, devotion, and commitment to their followers. There are several historic temples in Gujarat, each with magnificent architecture evocative of past regal eras.
Akshardham Temple, Gandhinagar – the power of faith
The Akshardham Temple, situated in Gandhinagar, Gujarat, is one of the biggest Hindu temples in India and overseas. The main god honoured within the temple is Bhagwan Swaminarayan. In addition, there are displays, studies, and historical structures spread around the 23 acres of grounds. This magnificent temple is around 28 km from Ahmedabad in Gandhinagar.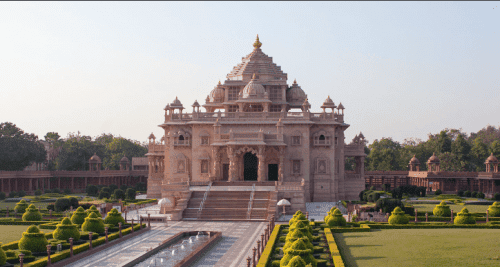 The Akshardham Temple is a marvel of craftsmanship and devotion, showcasing intricate carvings and breathtaking architecture. It serves as a spiritual and cultural centre, promoting peace, harmony, and the teachings of Swaminarayan.
The mandir, the exhibits, and even the grounds reverberate with holiness in Akshardham. Around two hundred murtis (idols) symbolize religious stalwarts through many centuries at the temple. Akshardham's heavenly basis is that every soul can be almighty. A trip to Akshardham is a rewarding experience whether it is comprehending the power of faith, experiencing the intensity of nonviolence, realizing the global nature of ancient beliefs, or just appreciating the beauty of 'God's home on Earth' – each aspect is significant.
Somnath Temple, Saurashtra – iconic and magnificent
An iconic temple is the Somnath Temple, located in Prabhas Patan. It is believed to be one of the twelve Jyotirlingas (manifestations of Lord Shiva) and holds immense significance for Hindus. Somnath Temple, one of India's ancient temples is located at the archaeological site of Veraval city in Saurashtra on Gujarat's west coast.
The temple exemplifies the magnificent Chuka contemporary design and is one of the most famous Shiva temples in Gujarat. The town of Veraval is around 412 km from Ahmedabad, and most visitors to Somnath temple come from Rajkot.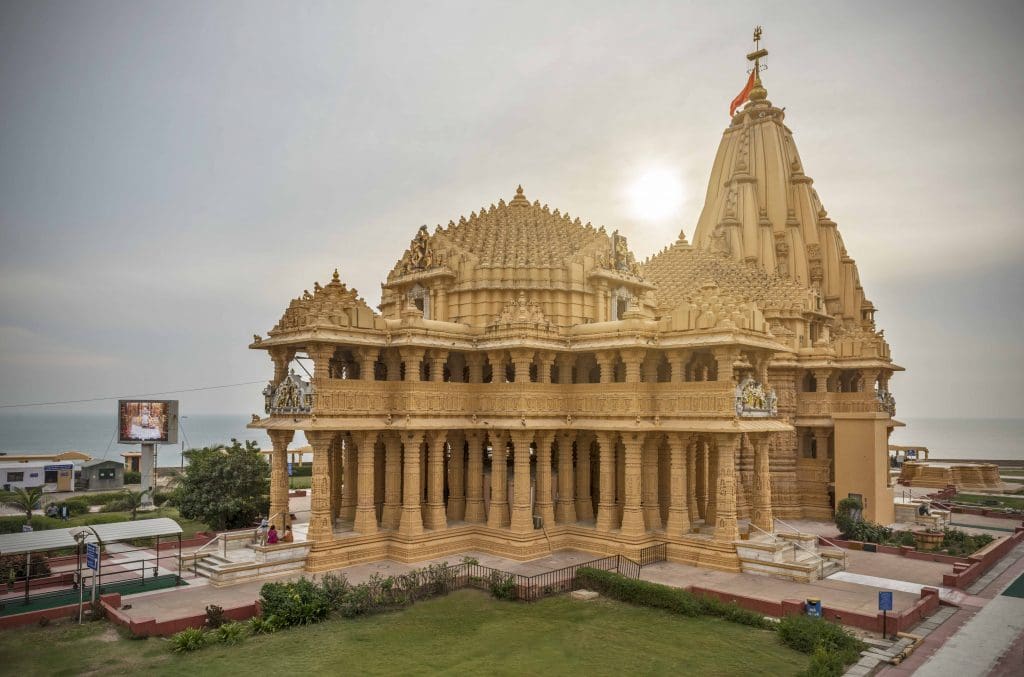 Somnath temple's history and folklore contribute to its magnificence and religious significance, and it has always long piqued the imagination of tourists who head to the temple every year. While at Somnath, visit the Triveni Sangam Temple and the Pancha Pandava Gufa, as well as the Parashurama and Suraj temples to get a full spiritual experience.
Dwarkadhish Temple in Dwarka – a sense of deep spirituality
A notable temple is the Dwarkadhish Temple in Dwarka, dedicated to Lord Krishna. This ancient temple stands as a testimony to the devotion of Lord Krishna's followers and offers a serene ambience for spiritual seekers.
Built on the site believed to be the ancient kingdom of Lord Krishna, the temple showcases exquisite architecture and intricate carvings that mesmerize. The sanctum sanctorum houses the magnificent idol of Dwarkadhish, a beautifully adorned form of Lord Krishna. The temple's ambience is filled with divine energy and echoes with devotional chants and prayers.
The architectural marvel of the five-storey temple is supported by seventy-two pillars and crowned by a towering spire of 170 feet. Constructed entirely of pristine limestone, it boasts intricate carvings on its exterior with an awe-inspiring display of mythic continuity and design.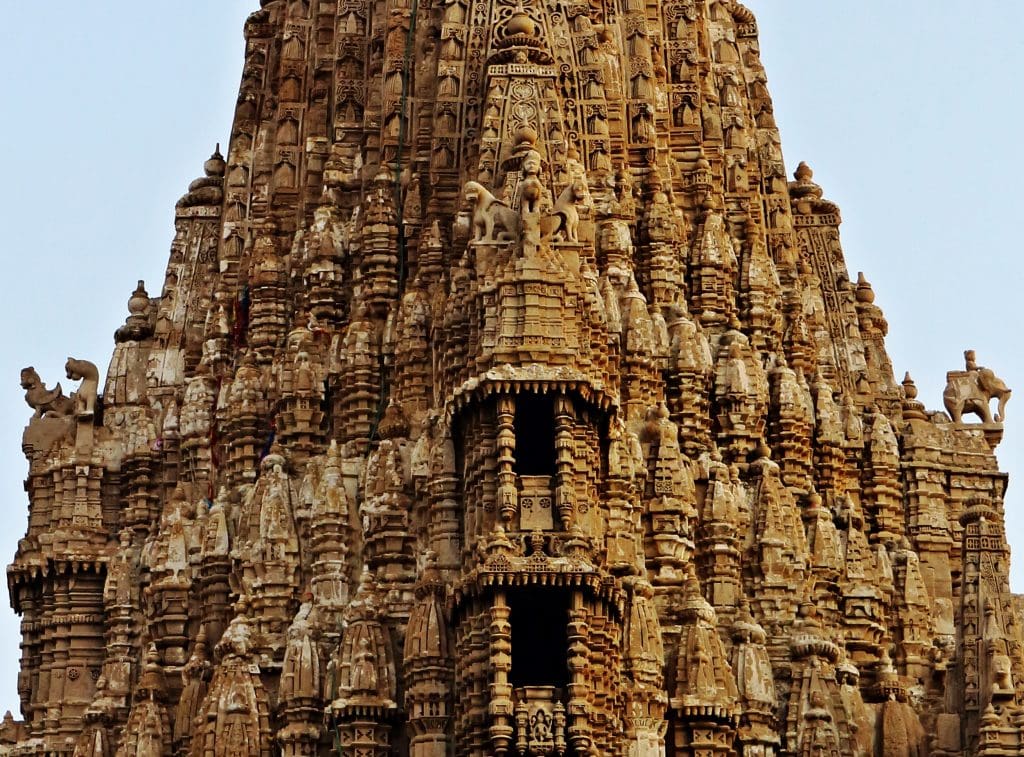 Devotees flock to this sacred site to seek blessings, offer prayers, and experience a sense of deep spirituality. Dwarkadhish Temple holds a significant place in Hindu mythology and serves as a vibrant centre of religious and cultural activities, leaving a lasting impression on all who visit.
Nageshwar Jyotirlinga, Dwarka – a major spiritual site
Nageshwar Jyotirlinga is an equally important Jyotirlinga as a Kedarnath pilgrimage. It is thought to be the first among India's 12 jyotirlingas. Nageshwar is situated in Saurashtra, Gujarat, near Dwarka.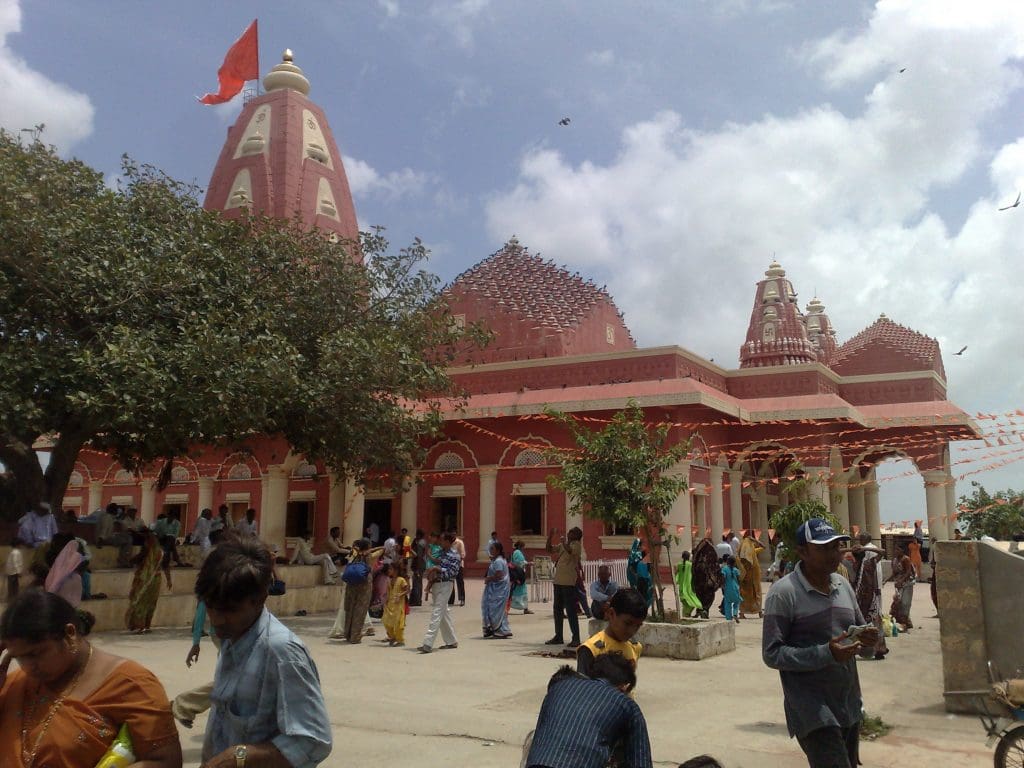 It is said that the devil Daaruka trapped Shiva worshipers, who then began to recite the Shiv chant, causing Shiva to come and destroy the evil. He decided to live here as a jyotirlinga. A voyage to this place is equally honourable as one to Kedarnath but without the challenges of travelling the rugged rocky terrain. Another major spiritual site near the temple is Gopi Talav Tirth, a lake associated with tales of gopis meeting Lord Krishna and finally surrendering their life to blend with the earth therein.
Hutheesing Jain Temple, Ahmedabad – a peaceful retreat
The Hutheesing Jain temple is a peaceful retreat amid Ahmedabad's hectic business district. Lord Dharamnath, the 15th Tirthankara, is the major idol at the temple. There are also 11 more Tirthankaras in the main temple complex, which is flanked by a courtyard and an arcaded gallery with 52 smaller shrines devoted to other Jain Tirthankaras. Each one is wonderfully carved. In the temple's huge courtyard, there is a tower, known as a Kirti stambh.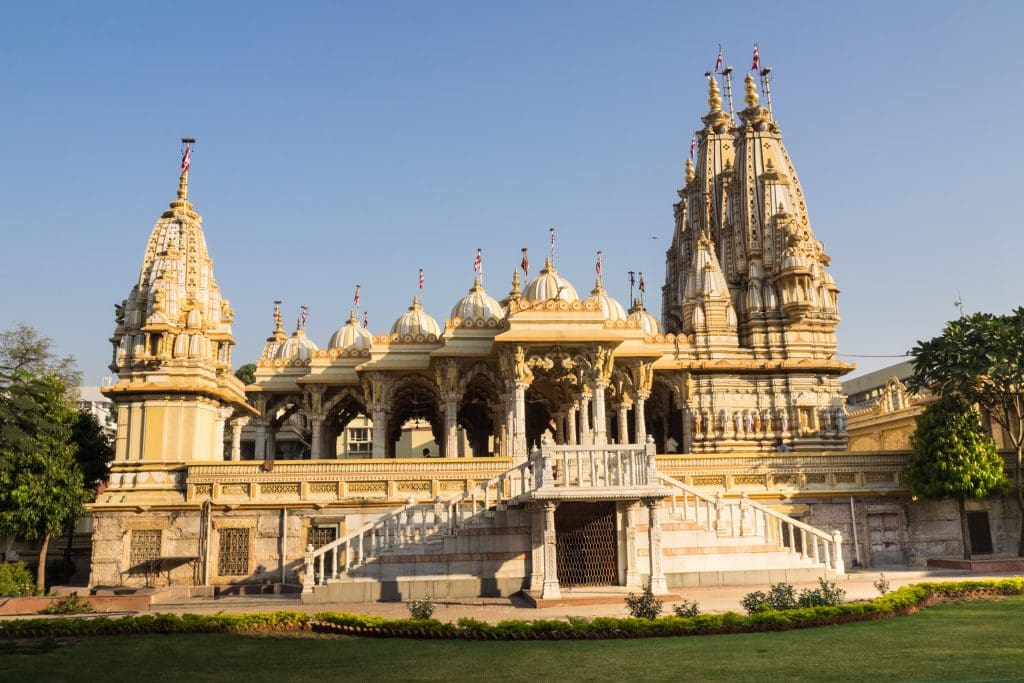 Hence, Hutheesing Jain Temple is a white marble iconic landmark embellished with exquisite stone sculptures. This respected property has an excellent layout that includes a garden surrounded by cloisters.
Navlakha Temple, Ghumli – majestic craftsmanship
Ghumli is a little village 45 km from Porbandar, in the foothills of Barda. It was the center of the Saindhava dynasty, which ruled the state from the eighth to the tenth centuries, before becoming the seat of the Jethwa dynasty. According to historical facts, Rana Bhanji Jethwa lost a battle in 1313 when Sindh's Jadeja Ram Unaji attacked him, and he subsequently fled to Ranpur, leaving Ghumli in ruins. ​​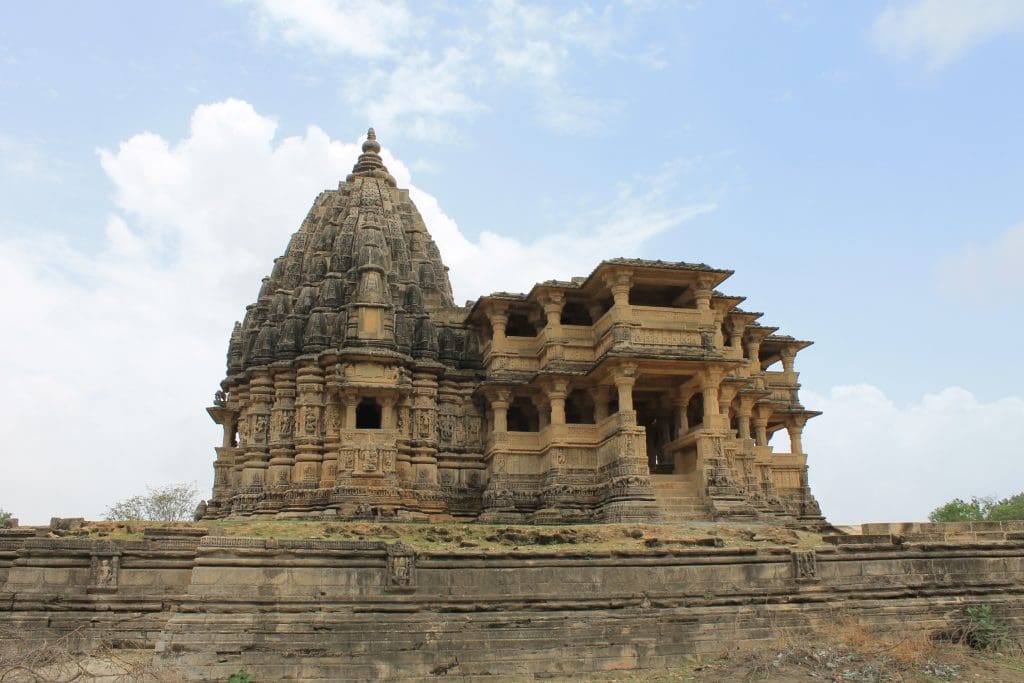 The temple is 30.48 meters by 45.72 meters in size, with a magnificently sculpted entrance and crafted walls and pillars on both ends.
With its beautiful craftsmanship and complicated construction, it rivals the Modhera Sun temple.
Sun Temple, Modhera – timeless beauty
Modhera's Sun Temple, belonging to Surya Deva, is located 25 km from Mehsana. It was built between 1026 and 1027 AD by King Bhima I of the Chalukyan dynasty.
The temple's pillars are artistically carved with images of many divine beings.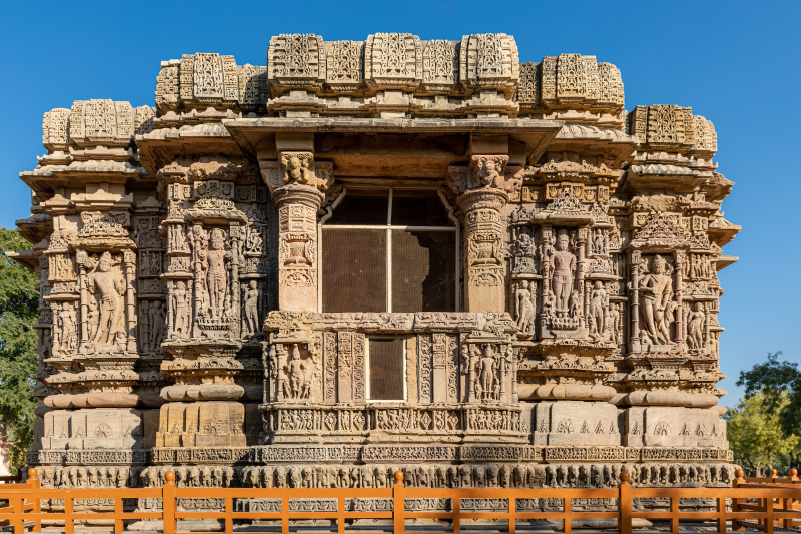 The shrine has the normal hall, the assembly hall, and the garbha griha, which once held Surya Deva's sculpture but is now absent, and the chamber is shuttered. The assembly hall, unlike some other temples, is a unique structure with its own dome and beautifully carved pillars.
The inner and outer hall domes are each richly carved. Alongside the main temple, there is a big water tank with steps that lead down to the river body in all directions. Mostly along with the steps, there are little shrines devoted to different gods. Furthermore, there is a tiny step well next to the grounds that are currently in disrepair but represents the monarchy of the time with a finely designed mandap. The Uttarardh Mahotsav, a three-day festival, brings the temple to life in the third week of January.
Bileshwar Shiva Temple, Porbandar – unlock ancient history with faith
Bileshwar is a tiny village in the Ranavav taluka of Porbandar, Saurashtra, Gujarat, where Shiva worshipers attend the Bileshwar temple. Lord Krishna is supposed to have concentrated on Lord Shiva for seven months while offering leaves from the Bili tree. Lord Shiva arrived and gave him his request to get the Parijat tree so that he might delight Satyabhama.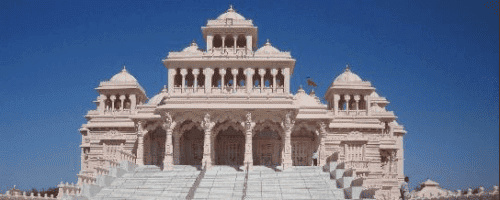 The inhabitants have a great belief in Lord Shiva, and festivals are conducted here throughout the month of Shravan and on Shivratri when it is best to head to Bileshwar. Travelling from here to Bagwadar on Khambhalia Road in Porbandar would bring visitors to the Bagwadar Sun Temple, which is remarkable in that it contains nine planet temples around the primary one devoted to the Surya god.
Mallinath Temple, Girnar – intricately crafted and ornamented
Girnar Hill was formerly a haven and refuge for sages and saints seeking peace to reflect. There are both Hindu temples as well as Jain temples here, one of which is the renowned Mallinath temple on Girnar.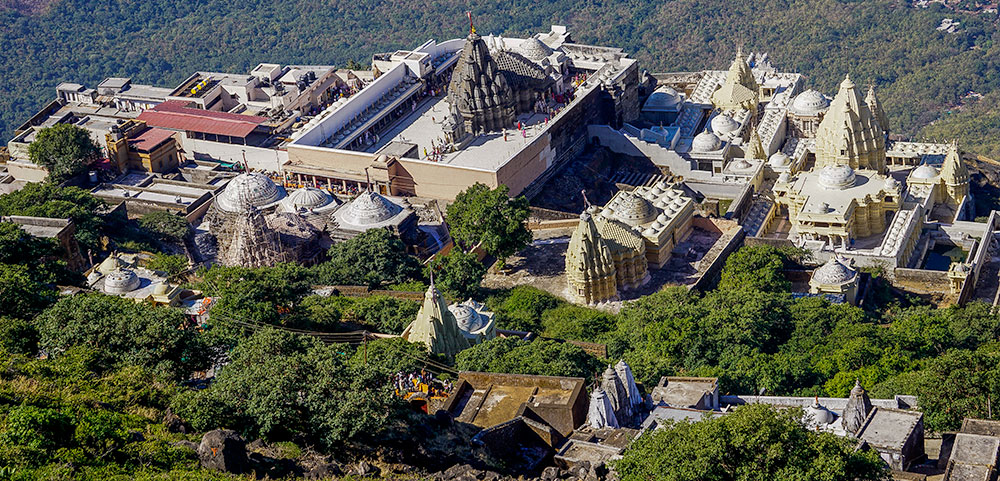 This temple is around 600 meters tall and has five peaks, each of which is intricately crafted and ornamented. It takes ninety minutes to ascend 2000 stairs to approach the temple reported to have been erected by Vastupal and Tejpal, who are also attributed to the architecture of the Dilwara temples. There are temples devoted to Lord Neminatha and Amba Devi nearby, and also a Kalika Devi shrine a little further out. Mallinath is regarded as the 19th Tirthankara. He is claimed to have been born into the princely Ikshvaku dynasty but embraced meditation and then became an enlightened being.
Bhadreshwar Jain Temple, Kutch – an ancient wonder of architectural brilliance
The Bhadreshwar Vasai Jain temple is situated in the Mundra Taluka of Kutch and is one of the earliest Jain temples worldwide. It is only 69 km from Mandvi, a beautiful beach and port city.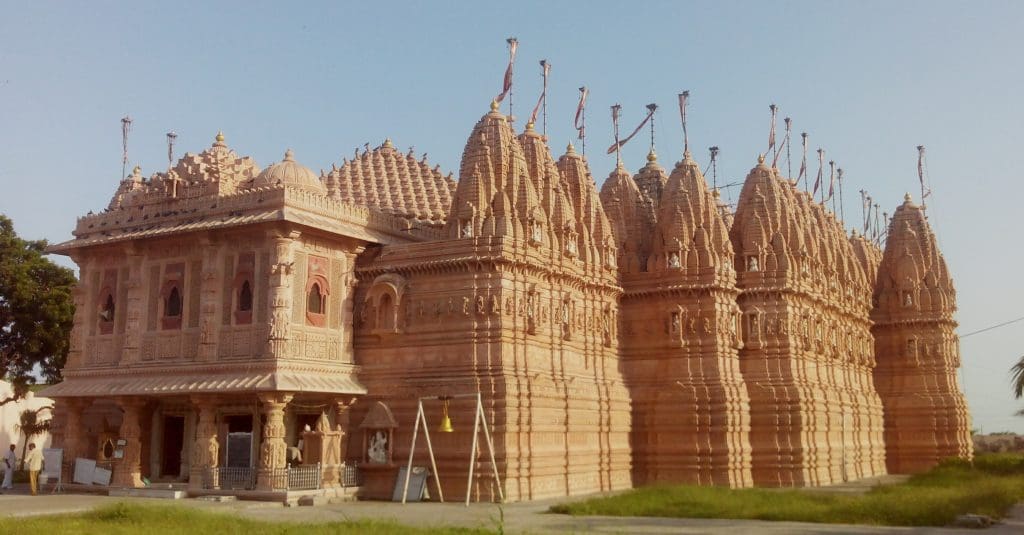 Devchandra, a courtier, built the foundation for this temple, which was later enlarged by King Sidhsen in 449 BC and refurbished by Jagdusha in 1125 AD. According to a few, the temple was built in 516 BC. This temple is similar to the Jain temples of Dilwara, with an 85-foot-by-48-foot courtyard encircled by a gallery of forty-four statues. Ajitnath, the second Tirthankar, is the principal deity, accompanied by Lord Parshwanath and Lord Shantinath. Earthquakes ruined the ancient temples, but each time it was repaired.
The temples of Gujarat stand as remarkable testaments to the religious fervour, architectural brilliance, and cultural richness of the state.
From the awe-inspiring Somnath Temple to the divine Dwarkadhish Temple and the exquisite Akshardham Temple, each temple holds a unique place in the hearts of devotees and admirers.
These sacred sites not only inspire spirituality but also captivate with their intricate carvings, majestic structures, and serene surroundings.
Gujarat's temples offer a glimpse into the vibrant tapestry of Indian traditions and continue to attract people from all walks of life, fostering a sense of unity, devotion, and cultural appreciation.
The temples of Gujarat are sure to leave an indelible impression, making them an absolute must-visit for anyone seeking a historic, spiritual and cultural journey.
Read More: Latest