Bengali food is rooted in truly authentic and legendary traditions. We have cuisine from Bengal to thank for amazingly delectable dishes.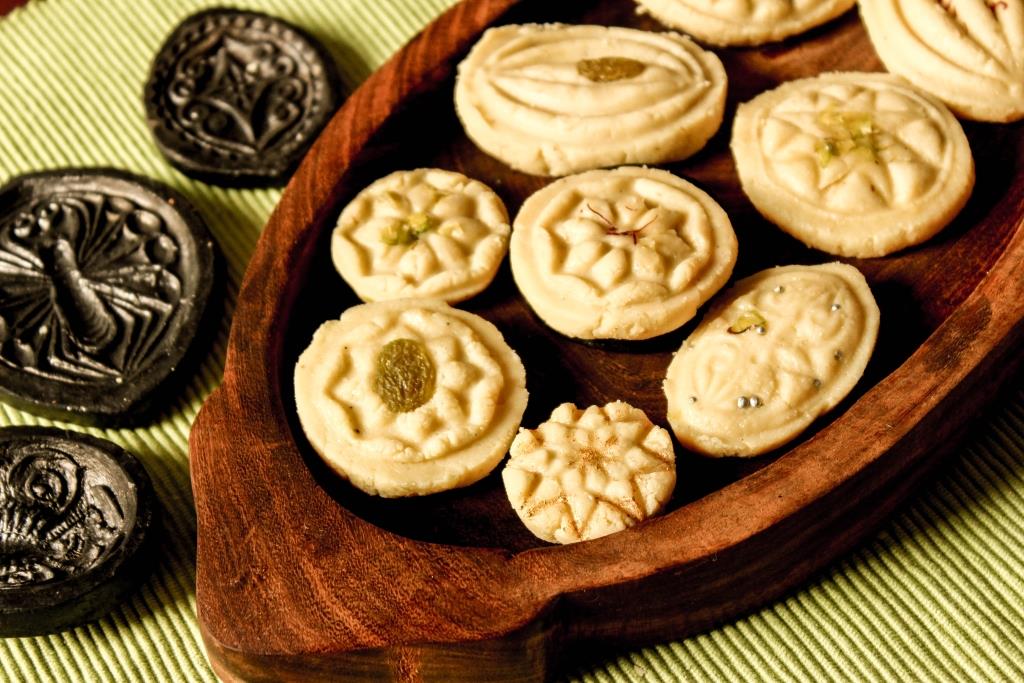 Bengali cuisine is recognized for its diverse flavor combinations as well as the variety of confectioneries and sweets available. It has the only multi-course Indian subcontinent cuisine history that is fundamentally similar to the modern service à la russe style of French cuisine, in which food is served in courses rather than all at once.
Here are 10 dishes that can be classified as delicious Bengali food that you can savor, among India's legendary cuisine. The Bengali food list we have put together is by no means a complete insight but a glimpse of this great cuisine.
Tangra Macher Jhol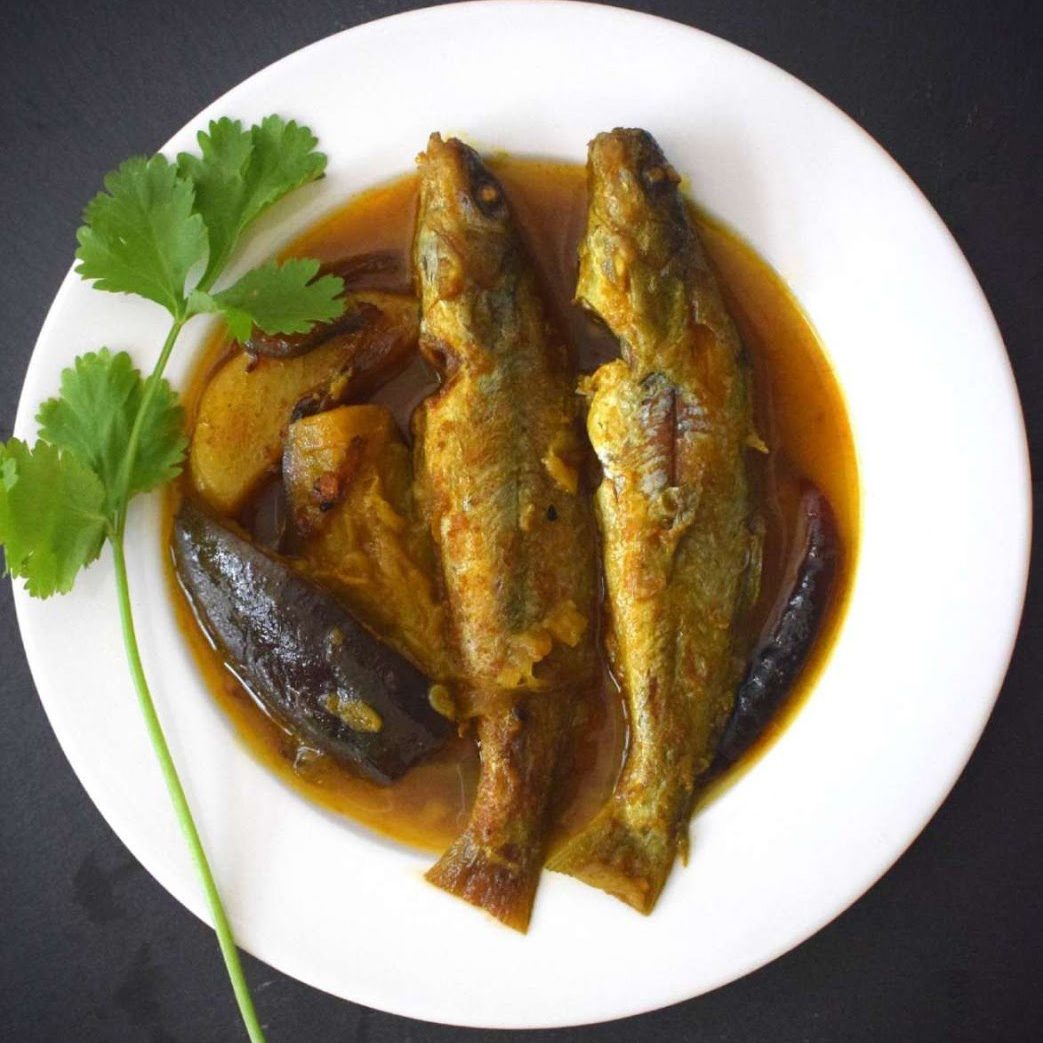 Tangra Macher Aloo Peyaj Diye Jhol is a classic Bengali fish preparation that can be prepared on any given day. Bengalis are known for their ability to prepare fish curry. Tangra mach (Cat Fish) is used in a variety of tasty recipes, including Shorshe Tangrar Jhal, Tangra Macher Chorchori, Tangra Posto, Tangra Macher Aloo Peyaj Diye Jhol, Thangra macher Bhuna, and many others. It's a delectable comfort dish that pairs beautifully with cooked Basmati rice.
Shukto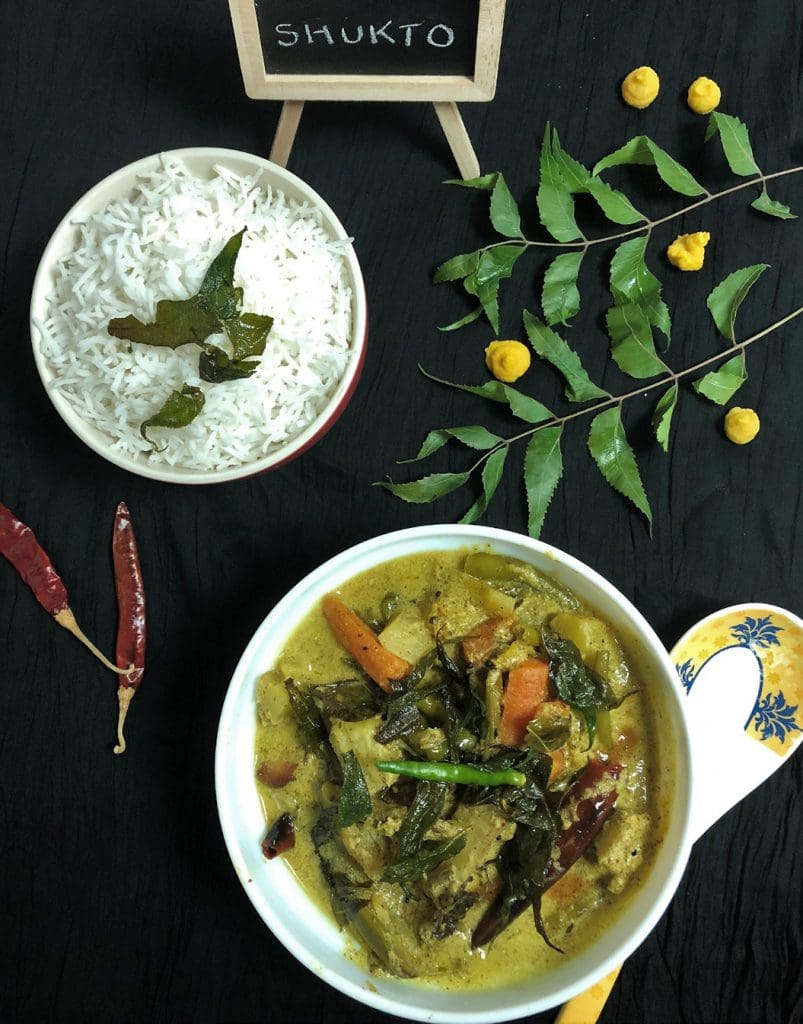 Shukto is a delectable dish of mixed vegetables cooked in mustard and poppy seed masala with panch phoran and milk. This meal has a strong mustard flavor that takes some getting used to. The bitter gourd, along with raw banana, potatoes, carrot, and drumstick, is one of the main vegetables used in this dish. For a delicious lunch, serve the Shukto with Puri, Cholar Dal, and Begun Bhaja.
Alur Dom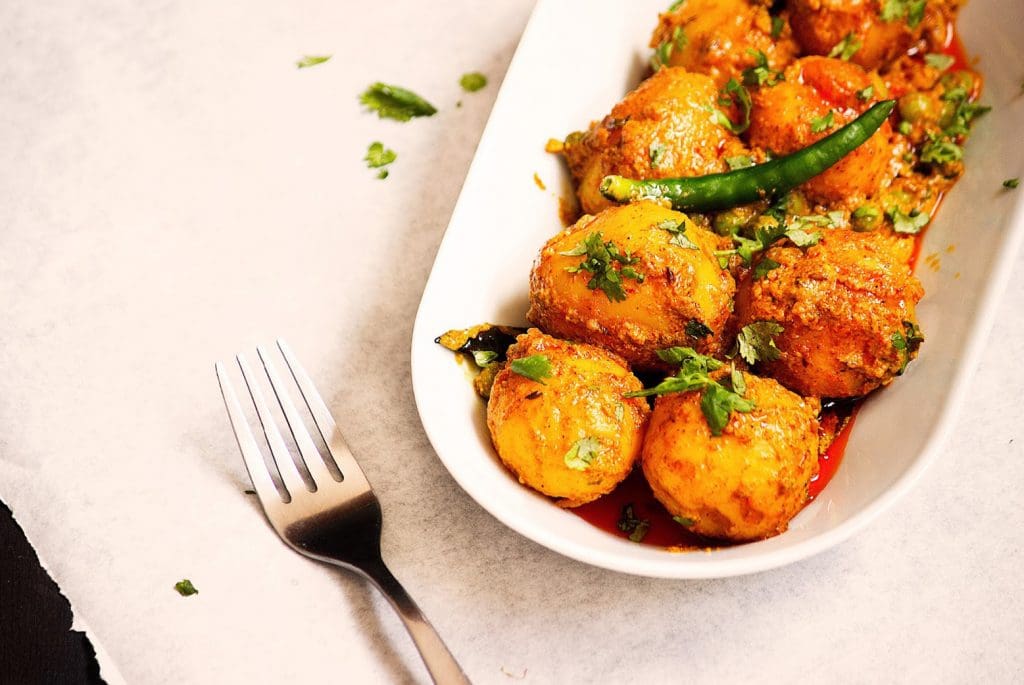 Made with onions, tomatoes, and spices, it's a gently spicy and slightly sweet potato curry. This dish can be prepared in a variety of ways, such as Mughlai style or restaurant-style Dum aloo.
The greatest combination is alur dom and luchi. They are like a made-for-each-other couple. The second-best options are Koraishutir kochuri, Radhaballavi, and Poori. Last but not least, regular chapatis or rotis can also be served with alur dom.
Ilish Macher Jhol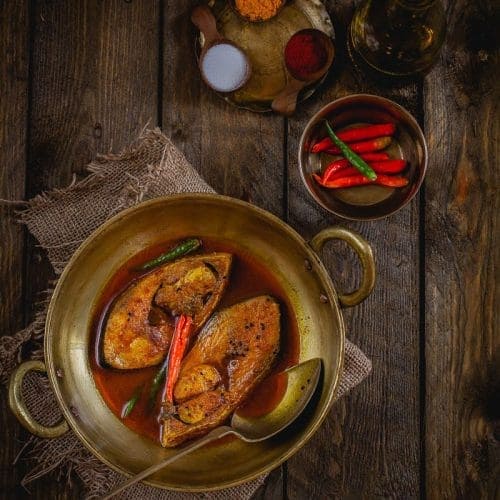 A runny Hilsa gravy perfumed with kalonji and turmeric powder is Ilish Er Tel Jhol. Green chilies are added to this sauce, which is finished with a drizzle of mustard oil.
When you want to eat something wonderful in Bengali food but don't want to put in a lot of effort, Ilish Er Tel Jhol is a great option. For a simple weekday lunch with your family, serve Ilish Er Tel Jhol with Steamed Rice and Kachumber Salad.
Aloo Potol Posto
Aloo Potol Posto Recipe is a traditional Bengali vegetarian meal cooked with potato and "Potol," also known as "Parwal". Poppy seeds, grated coconut, dry green chilies, cloves, cardamom, fennel seeds, cumin seeds, and methi seeds make up the masala, which is roasted and crushed separately to add depth to the complete meal and tops the Bengali food chart.
With stacked Lachha paratha, serve your delicious and spicy Aloo Potol Posto.
Jhal Muri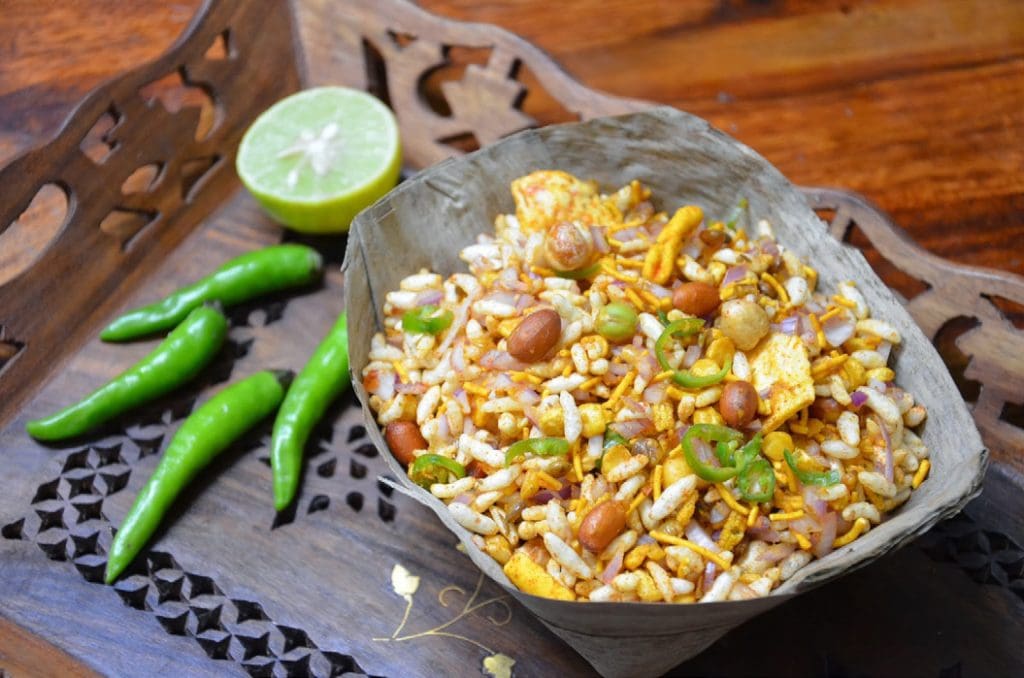 Jhal muri is a tasty and popular Kolkata street food snack. Puffed rice, roasted peanuts, onions, tomatoes, boiled potatoes, spice powders, and herbs are used to make this vegan snack. 'Jhal' means spicy in Bengali, and 'muri' means puffed rice.
Jhal muri, like most street food snacks, has a spicy, tangy flavor. Jhal Muri should be served immediately after making.
Begun Bhaja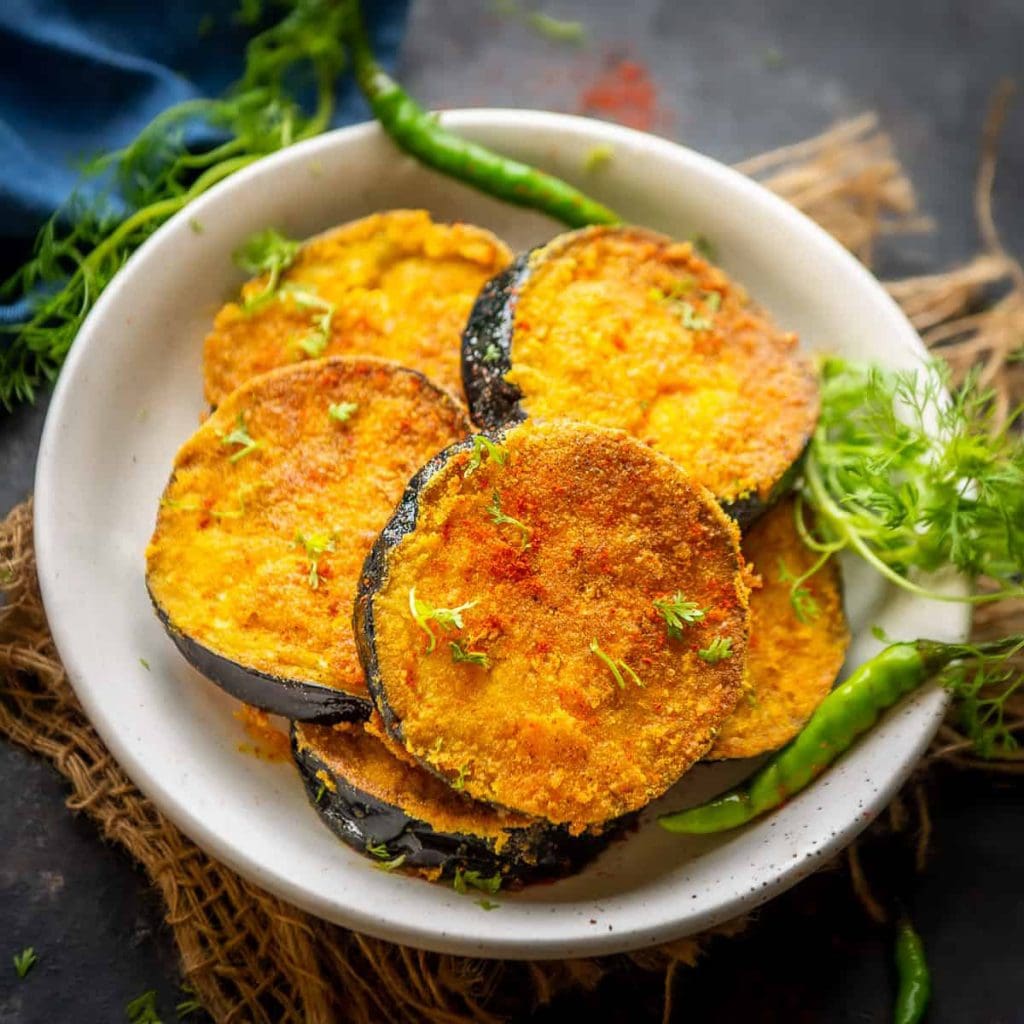 Begun Bhaja, also known as Baingan Bhaja, are marinated Aubergine slices that are pan-fried or shallow-fried. It's a Bengali dish with a plethora of variations. When the flesh is cooked, it becomes tender and has a slight sweetness to it.
Simply serve them as a side dish with dal-rice, khichdi, or any other Indian meal. You can eat them with roti or bread, or sandwich them between two slices of bread.
Kanchkolar Kofta
Kanch kolar Kofta Gravy (Green Plantain Kofta Curry) in Bengali Style is a classic Bengali meal made with soft and crispy koftas immersed in a thin, acidic curry. Vitamins, minerals, and fiber are abundant in raw bananas.
Serve the Bengali Style Kanch kolar Kofta Curry Recipe with hot Phulkas and steam rice (Green Plantain Kofta Curry Recipe).
Bhetki Macher Paturi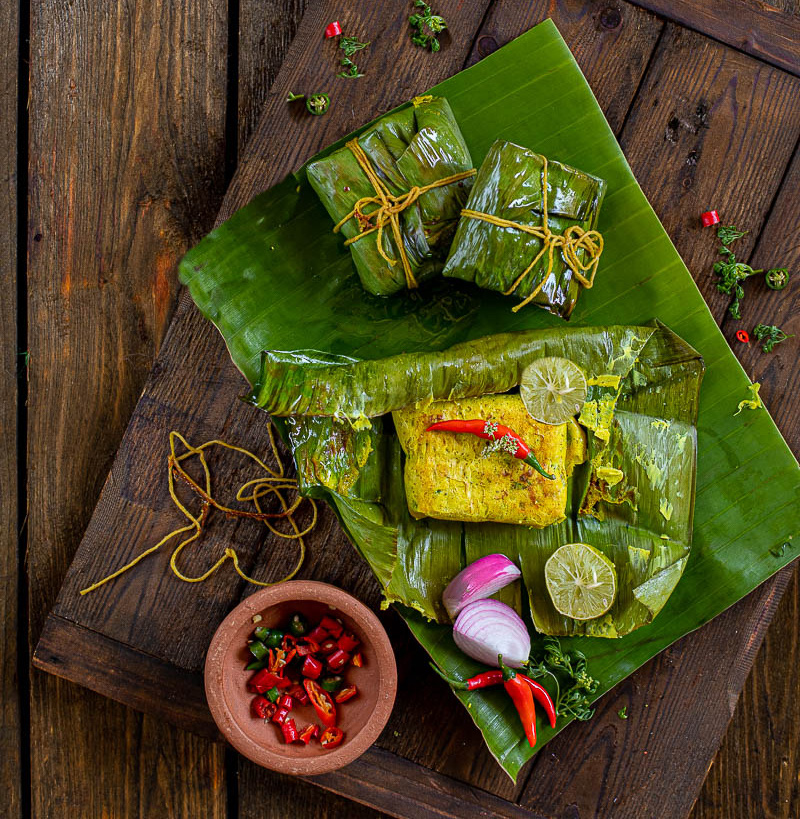 Bengali Bhetki Macher Paturi is a recipe for Bengali Barramundi Fish wrapped in banana leaf and is considered a traditional Bengali food. The bhetki fish pieces are marinated in a spiced mustard paste before being individually wrapped in banana leaf and slow-cooked until tender.
In Bengali, the word "Paturi" means "leaf." With Bengali Style Cholar Dal Recipe and Sweet and Spicy Tomato Chutney Recipe. Serve this dish with plain steamed rice or Pudina Rice Recipe (Spicy Mint Pulao).
Mishti Doi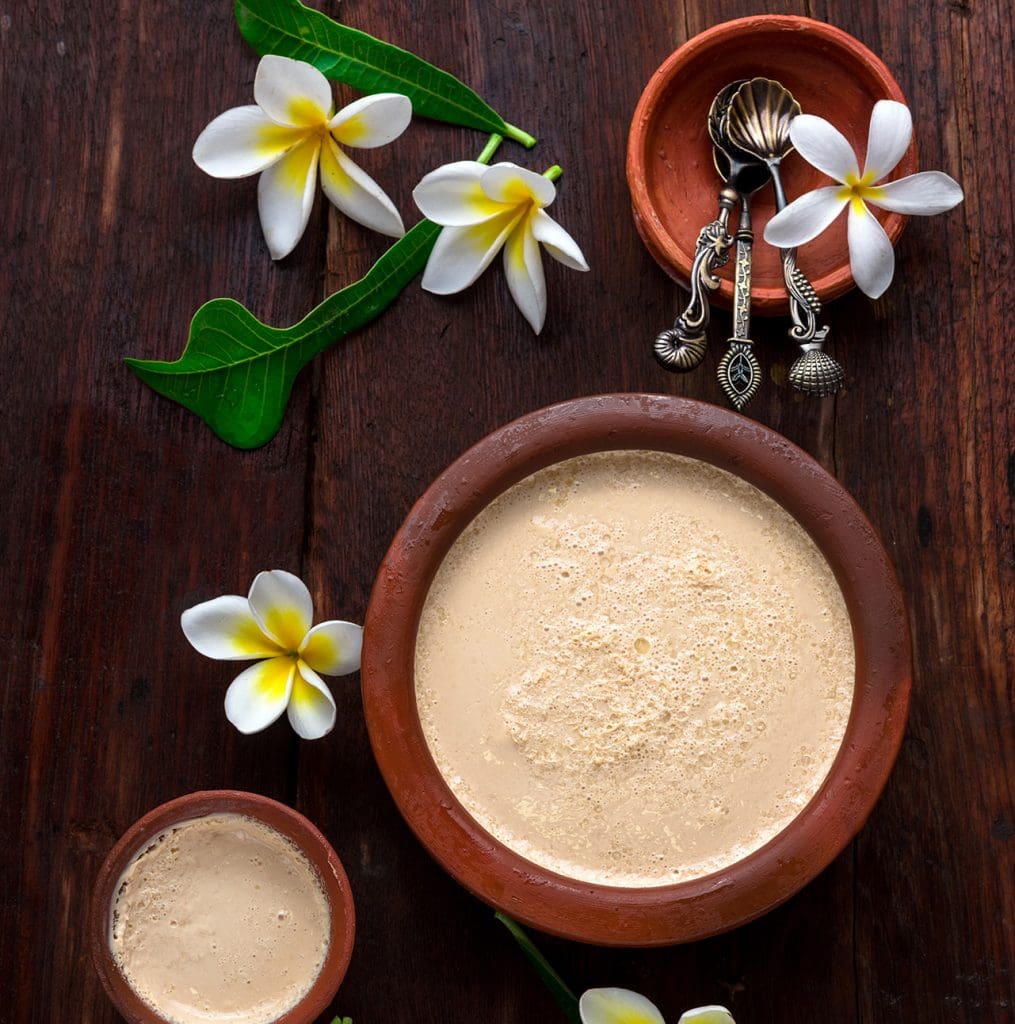 Mishti Doi is a traditional Bengali sweet made from milk, curd culture, and sugar or jaggery. Palm jaggery is the type of jaggery traditionally used to make mishti doi.
'Mishti' means sweet in Bengali, and 'doi' means curd. Mishti Doi is referred to as meetha dahi in Hindi. Mishti Doi can be served as a side dish or dessert.
Read More: Latest