Non-vegetarian or meat dishes have a very dear relationship with food lovers.
Over the ages, chefs and gourmets of good food have developed and improvised creating scrumptious, mouth-watering meat dishes. The first bite into a juicy, and tender meat fills you with satisfaction.
The bombarding flavour makes your vision go dark, the mind just takes in all of the food flavours sending a dopamine rush. You take the next bite and go on and get depressed when you finished the whole thing. You take a look at your wallet to check if you can buy one more, and then enjoy some more. 
Here are some great non-vegetarian Indian dishes that come under the meat category and include mutton, chicken, fish and pork :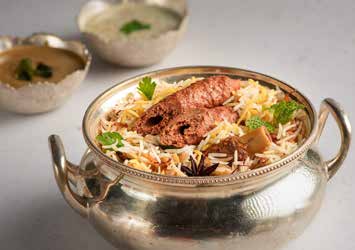 Hyderabadi Biryani is famous all over India and even outside the country. It is preferably cooked with mutton, but also has a chicken variation. It was the food of the Nizams and the Mughals, which is now enjoyed by the country. A plate of this aromatic dish would cost around Rs 20-30. 
 Hyderabadi dum biryani is a bombardment of flavours that becomes more complex with saalan ( a spicy gravy). Many people come to Andhra Pradesh to delve into the authentic taste of Hyderbad Dum Biryani. The speciality of this biryani is that while cooking it, the process of layering is adopted. There will be a layer of the mutton/chicken and then a layer of rice.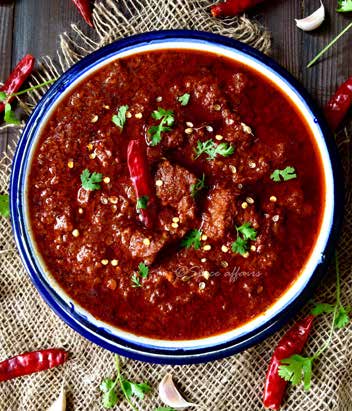 Laal Maas is a very famous mutton dish from Rajasthan. It is a mutton curry with lots of hot chillis and spices in it. It is served with bajra roti is in general but you can have it with plain rice. So assuming you need something zesty in non-veg with Indian style in it, at that point, you should evaluate Laal Maas without a doubt. However, you must be a bit cautious with regards to the searing taste. 
You can also try a spicier version of the Laal Maas which is called Jungli Maas. Prepare to cry out because of the hot spiciness.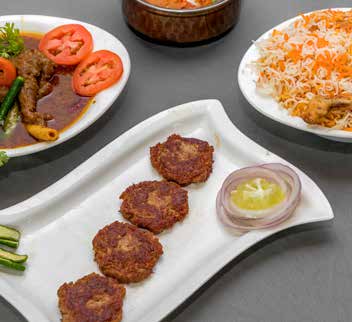 Tunday Kabab (Uttar Pradesh, Lucknow)
Tunday kabab is a very famous dish from Lucknow in India. It is an old dish which goes back 100 years. It is named after the creator of this mouth-melting dish, a man named Murad Ali who lost his arm flying a kite. A handicapped person is called 'tunday'. This is the most well-known kabab in India that you can dig into. It is available in practically all the kebab shops which can be found in the streets of Lucknow.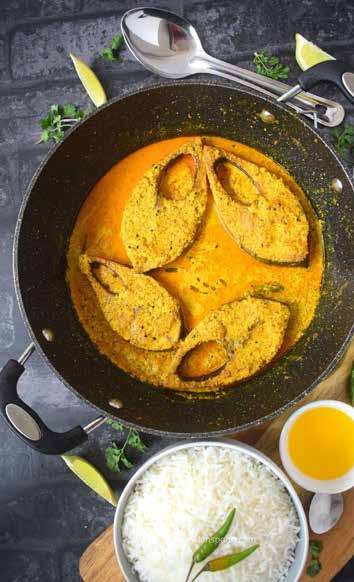 One of the most famous fish dishes in India is Bhapa Ilish from Bengal. Bhapa ilish is cooked with hilsa which is considered the king of all fishes for Bengalis. It is a family dish in Bengal and is available in Bengali eateries all through the nation or even outside the country.
The flavour of the hilsa fish is sublime yet it is time-consuming to eat this fish. It has lots of thin bones in it which makes it difficult to eat. People who have not eaten a boney fish before may have a hard time. In West Bengal, you can try dishes like Kosha Mangsho with luchi, Chicken Kobiraji and Mutton Ghooghni, and every one of them is tasty.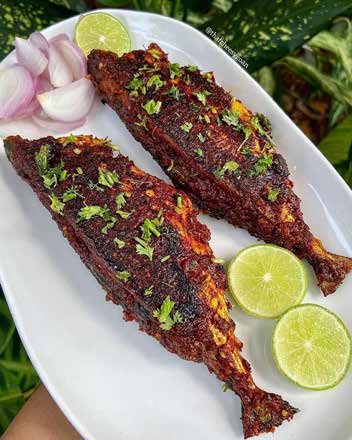 Fish Recheado (Goa)
If you admire the taste of fish and need to taste a famous Goan delicacy then Fish Recheado is an excellent choice. It is a zesty and crunchy fish from Goa. By and large, ocean fishes are used to make it. Ocean fish traditionally have a salty taste to them, so people who eat freshwater fish may take time to acquire the taste. Normally this dish is dry but some variations include gravy which allows it to be eaten with Rice/ Chappati.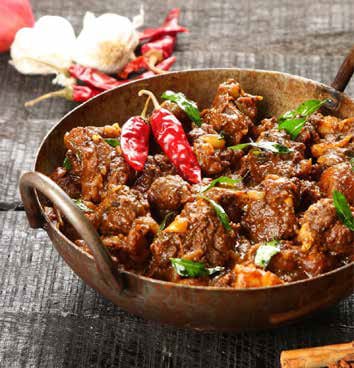 Pork Vindaloo (Goa)
If you are partial to Goan food, then vindaloo is a one-of-a-kind dish that will leave you wanting more. It is marinated with a dry paste, a bit of garlic, vinegar, and Kashmiri bean stew. The foundation of it is for the most part is pork. Individuals who love to eat non-veg can also try chicken/ lamb variations. So pork vindaloo is another delicacy that will blow your mind, assuming you need to taste Indian-style non-veggie creations from Goa.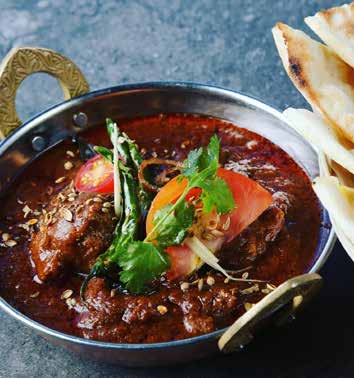 Chicken Kolhapuri is somewhat of an 'explosively hot' dish in India. In any case, there is a colloquialism that you need to keep a full glass of milk with you while eating this dish since it has such hot chillies in it. Assuming you need to taste something extremely spicy in India then Chicken Kolhapuri is the most ideal dish for you. What's more, it isn't just accessible in Kolhapur as its name suggests. It is accessible all through India given its popular preference.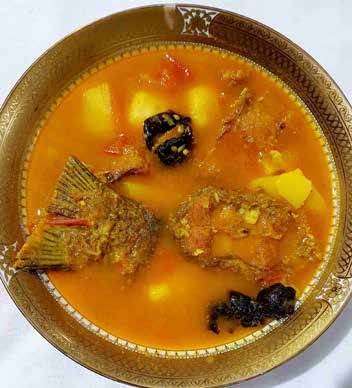 Fish Tenge (Assam)
Assamese favour fish and Fish Tenge is a staple dish in the state. It is viewed as the staple food in Assam. Practically everyone in Assam prefers rice over the roti and the fish is a necessary ingredient for them to get the vital protein. This dish is wonderful as it is somewhat of a light curry which makes it the perfect non-vegetarian dish for summer. So Assamese people prefer to eat this light flavoursome dish during the day, as the heat may be punishing.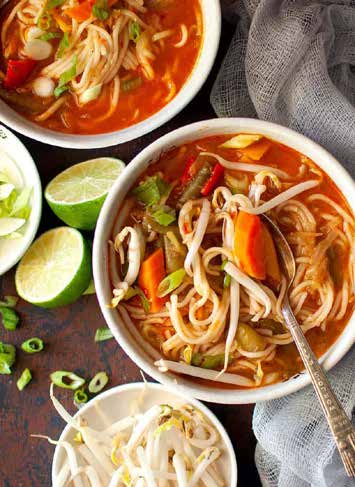 Thukpa is a complete meal with noodles, served in a chicken/ mutton broth which gives a fatty and heavy feel to it, topped with chicken/mutton chunks and vegetables. Here is a dish that is perfect and enjoyable to eat during winters.
A Tibetan dish loved so much by Indians, that slowly and steadily many restaurants specializing in Tibetan cuisine have started to open up. The best place to eat would be in their home state which is Himachal Pradesh. Under the starry sky, shivering from cold, a bowl of thukpa is the best meal before ending your day.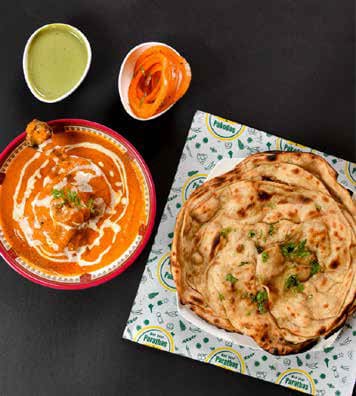 Butter Chicken and Lachha Paratha (North India)
Butter Chicken better known as Murg Makhani is a classic non-vegetarian Indian dish where grilled chicken (Tandoori chicken) is simmered in an aromatic curry. It is the most popular dish in North India as north Indians love their butter and the tandoori chicken is cooked in a buttery spicy gravy.
The curry preparation of butter chicken is interesting as it is fully flavoured with ginger, garlic, green chilies, cinnamon, cloves, cardamom, and hung yogurt or melted butter. That is not all, the Lachha Paratha completes the dish which makes it the perfect combination. 
An alternative to Butter Chicken would be trying out a south Indian non-vegetarian dish i.e Chaitinaddu Chicken with Malabari Paratha that tastes brilliant. Chaitinaddu Chicken is different as it is fiery with Gundu chillies and made with coconut, Indian shallots, and fresh ground spices and herbs. It gets its name from the Chettinad region in Tamil Nadu state in India and is so popular that you can order it anywhere in restaurants across the country.
Read More: Latest