Traditional wedding in Kerala have unique wedding rituals that make the ceremony an enjoyable experience.
India is recognised for its glamourous wedding events, and its is interesting how distinct each state's wedding rituals are.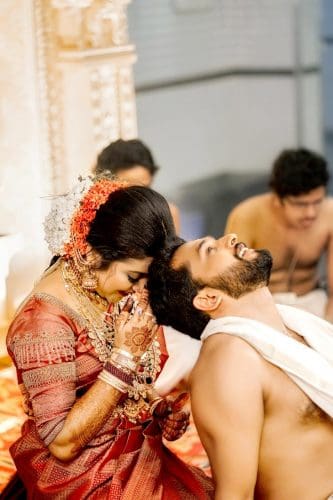 Every Kerala wedding reflects the state's very character, allowing you to sample the cultural essence of God's Own Country.
Nischayam – A traditional engagement ceremony is performed in this rite. It's called Nischayam, and it's been a feature of Kerala wedding celebrations for decades, with practically all of the state's communities participating. This is the day when two families meet for the first time and prepare the wedding customs together. The horoscopes of the bride and groom are matched, and the Mothiram Maattal is performed. The official traditional ring is this one. Bridal presents, such as jewellery and other items, are given.
Dakshina Kodukkal – The bride and groom do the Dakshina Kodukkal just before leaving for the major wedding ceremony. They seek for blessings from all of the house's elders here. Dakshina is a Sanskrit word that denotes blessings from the elders. This is a lovely and loving ceremony.
Wedding Rituals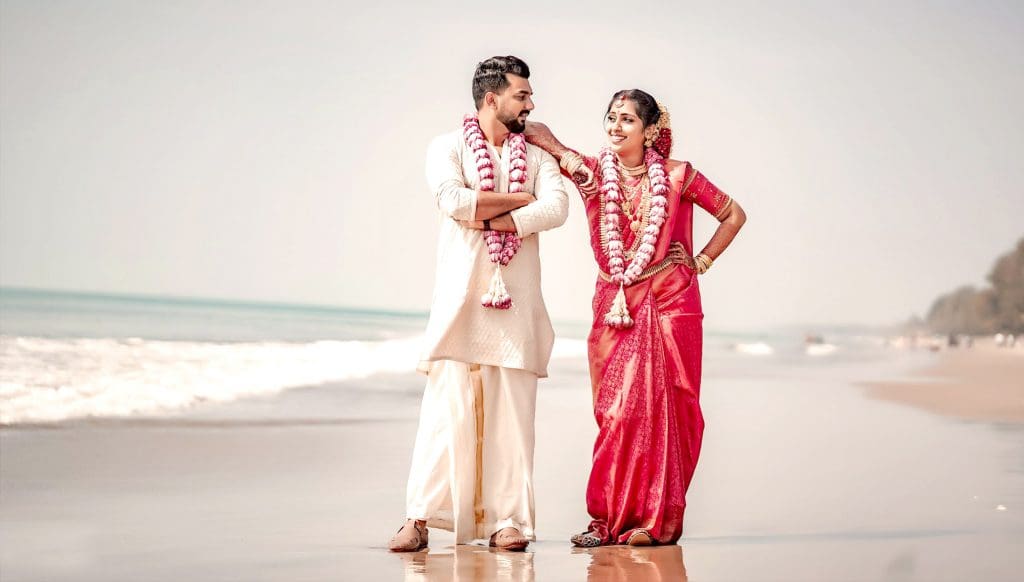 Post- Wedding Rituals
Kudivep – Following the completion of the wedding rituals, the newlyweds are taken to the groom's home, where they are greeted with lit oil lamps by the groom's mother. Kudivep is the name given to this welcoming ceremony.
Grihpravesh – This is the post-wedding tradition of the bride entering her new house for the first time.
Wedding Attires
The brides wear a traditional saree as well as a plethora of gold jewellery.
A Kerala Hindu wedding bride wears traditional jewellery such as the Kasumala, a lengthy necklace constructed by delicately connecting gold coins. The Palakka Mothiram is the next item of jewellery, which is a gold necklace with motifs that resemble mangoes and is often green in colour.
The Oddiyanam is another piece of jewellery that a bride wear. An Oddiyanam is a saree-tying belt worn by brides to keep their sarees in place. Jhukis are another another item of jewellery worn by brides, and they frequently display temple jewellery. The bride completes her ensemble with an Elakkathali, a gold necklace.
A Kerala Hindu wedding groom's traditional wedding dress screams respect for the colours white and gold. The grooms wear a white Mundu with a zari border as their dhoti/lungi, as well as a matching Melmundu scarf. However, as the times change, many grooms are opting for alternative western clothing for their wedding attire. The Mundu is typically worn by men with a Kurta or a white shirt.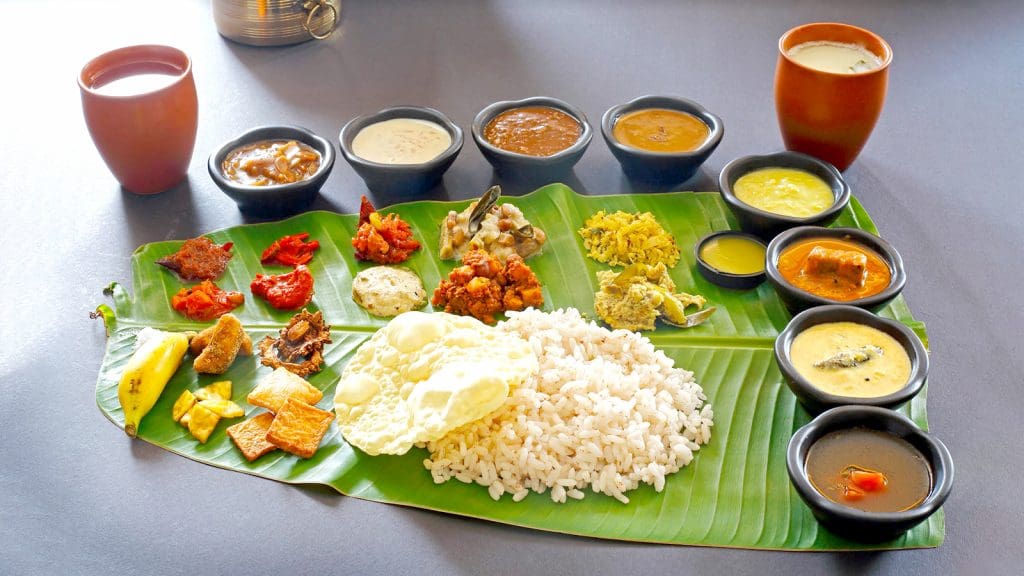 Kerala Marriage Sadhya is prepared in a unique manner.
To begin with, the banana leaf is positioned so that the thin portion of the leaf points to the left. The servers then begin placing each dish in a specific order, starting at the top left corner of the leaf.
They start with a little banana stuffed with sarkara upper, upperi, and papadam. Then there's a medley of pickles and a ginger-curd mixture. They're followed by thoran, olan, avail, pachadi, kichadi, erissery, kalan, and kootukarry, among other meals.
Rice is served in the bottom centre after all of the accompanying foods have been served on the upper half. The dal dish with ghee is served first, followed by the Sambhar. To allow Sambhar to stay and prevent it from spilling over the leaf, people drill a small hole in the midst of the rice mound. Rasam is served after the rice. After your rice is finished, you'll be served a variety of Payasams.
Thoran
Thoran is a really important and straightforward dish that is offered with almost every meal in most homes. Coconut shavings, mustard seeds, curry leaves, and turmeric are stir cooked with finely chopped veggies at a high temperature. This meal has a lot of grated coconut in it, which gives it a distinct flavour.
Avial
This mixture of veggies is cooked in curd and ground coconut, seasoned with curry leaves and coconut oil, and is one of the most well-known members of the sadhya family.
Pachadi and Kichadi
This is a curd-based appetizer, similar to raita in other regions of India. The pachadi and kichadi, unlike many raitas, are seasoned with spices in coconut oil. The pachadi uses both grated coconut and curd, whereas the kichadi solely utilises curd.
Sambhar
The quality of Sambhar, the most significant portion of the Sadhya, determines the overall merit of the Sadhya. It's made with tur dal (yellow pigeon peas) and veggies like tomatoes, onions, and carrots. Other vegetables that are used include ash gourd, pumpkin, potatoes, ladies' finger, and drumstick. It's seasoned with mustard seeds, dried red chilies, and coriander and curry leaves before serving.
Paruppu
The paruppu is a delicacy cooked from yellow pigeon peas, also known as toor dal (thuvaram parrupu in Malayalam), and a dollop of ghee. This is served with choru, or par-boiled rice in the Kerala way.
Rasam
The rasam is a crucial component of the entire meal. It's a thin spicy soup that's savoury but acidic at the same time. It's made with tamarind juice as the basis with seasonings like tomato, chilli pepper, black pepper, cumin, and other spices.
Paal Ada Pradaman/ Payasam
This delicate milk kheer with rice flakes, known as ada, is best served at large gatherings, when the dish's exquisite pink tint comes from hours of cooking in enormous pots and wood-fired ovens. Sadhyas include a brown kheer in addition to the trademark payasam or pradaman. This could be lentil-based paruppu payasam or wheat-based wheat payasam.
Read more: Latest