Delicious Kebab, Samosa and Vada for Navratri by Exec Chef Avinash Kumar, Ramada Lucknow is the wonderful spread you can look forward to this Navratri.
We asked India's top Chefs " What is your favourite dish to cook during Navratri? and pronto! We received a wonderful response of dishes and recipes for Today's Traveller's readers to try out in their kitchens.
India's top Chefs shared their Favourite Dish to cook during Navratri along with the recipe, so all food lovers can make it in their home for their loved ones.
We wait all year for celebrating food during the ongoing Navratri festival coming up in mid-April 2021. The 9-day of festivities puts a spotlight on what is traditionally known as Navratri fare but these meals are probably some of the most nutritious and diet-friendly meals in the world.
Exec Chef Avinash Kumar, Ramada Lucknow shares his Favourite Dish to cook During Navratri
Happy Navratri! Happy Cooking with the recipes of Delicious Kebab, Samosa and Vada for Navratri by Exec Chef Avinash Kumar!
Arbi Seekh Kebab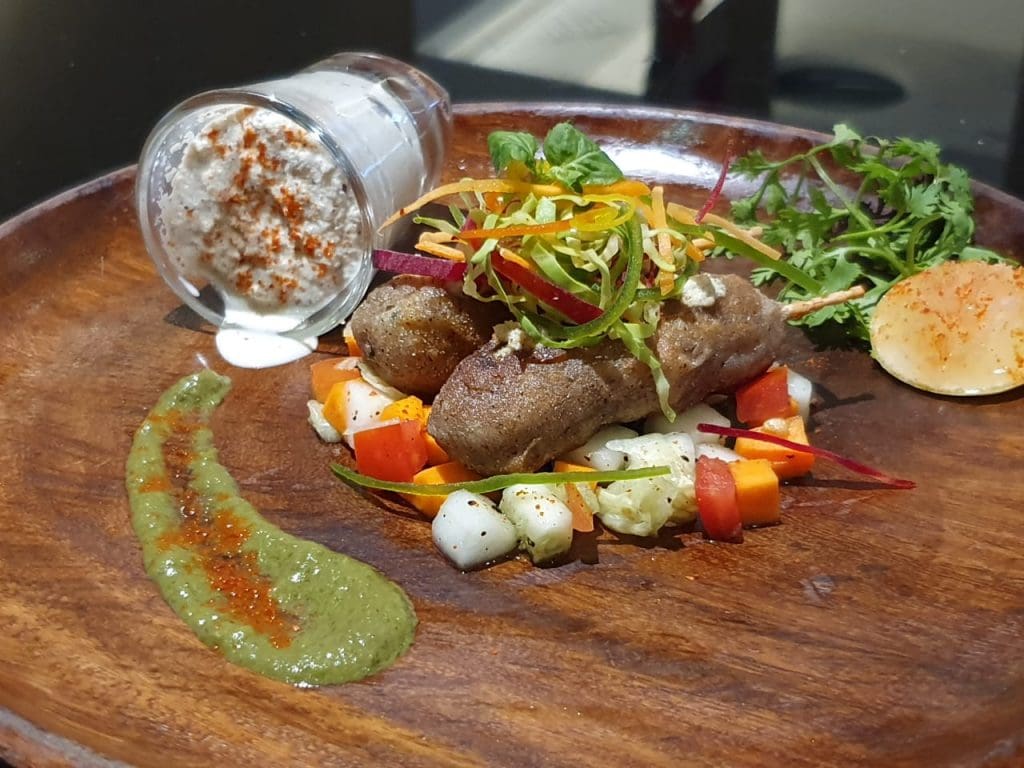 Method of Preparation
Boil the arbi in a pressure cooker or in a pan till it becomes soft.
Peel them all and add the rest of the ingredients.
Mash well and mix everything uniformly.
While shaping the kofta, you can apply some oil on your palms as the mixture is sticky.
Shape into cylinders and pan fry them with some oil till golden brown.
Prepare Mint Yogurt Dip
Hang yogurt to drain excess water.
Mix chopped mint and cucumber to the yogurt.
Serve Arbi Kofta hot with mint yogurt dip.
Ingredients For Preparation
250 Gram Arbi/colocasia roots
3-4 Tbsp Water chestnut flour (kuttu ka aata)
1 Green chili
1/2 inch Ginger, finely chopped
1 tsp Carom seeds
As required Rock salt
2-3 tsp Oil
For the dip
Few sprigs Mint
100 Gram Curd
50 Gram Cucumber, finely chopped
For garnishing Pomegranate
Singhare Ke Atte Ka Samosa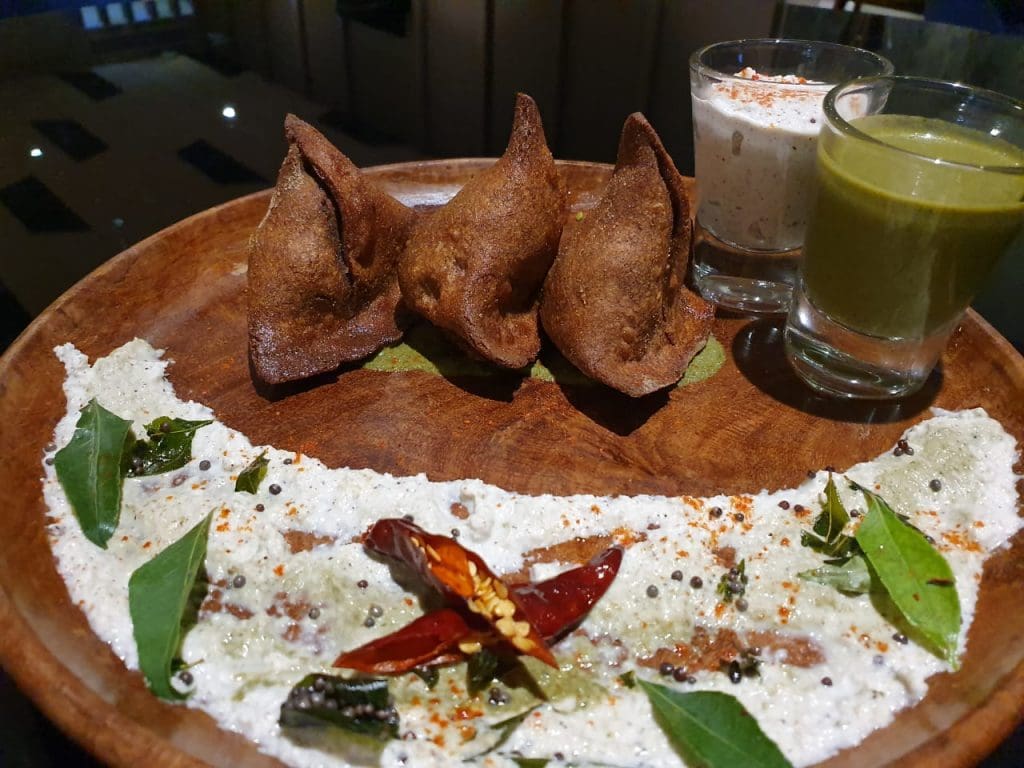 Method of Preparation:
To make the dough, place the water, ghee and salt in a pan, and heat it. Once the water comes to a boil, add the Atta and arrowroot. Cook the mix over a low heat till it starts to collect in the Centre of the pan. Take the mix off the heat, and set it aside to cool and harden into a dough.
To make the stuffing, heat the ghee in a pan. Add the Jeera, and let it splutter. Then add the ginger and green chillies, and cook everything for a while. Finally add the potatoes, and cook everything till the potatoes turn slightly brown. Take them off the heat. Add the toasted peanuts, and mix well.
To make the samosas, roll out a portion of the dough into a disc. Cut the disc in half, and make a cone out of each half. Fill the half with the potato mix and seal the edges. Prepare all the samosas through this process.
Heat oil in a wok or Kadhai. Fry the samosas till they turn golden-brown. Serve hot.
Ingredients For Preparation
For the dough
1 cup water chestnut flour
1/4 cup arrowroot
2 cups water
3 tbsp ghee
Sendha namak or rock salt, to taste
For the stuffing
3 medium-sized potatoes, boiled
3 green chillies, chopped
2 tsp ginger, finely chopped
1 tsp jeera
2 tbsp ghee
Toasted peanuts, as per taste
Sabudana Vada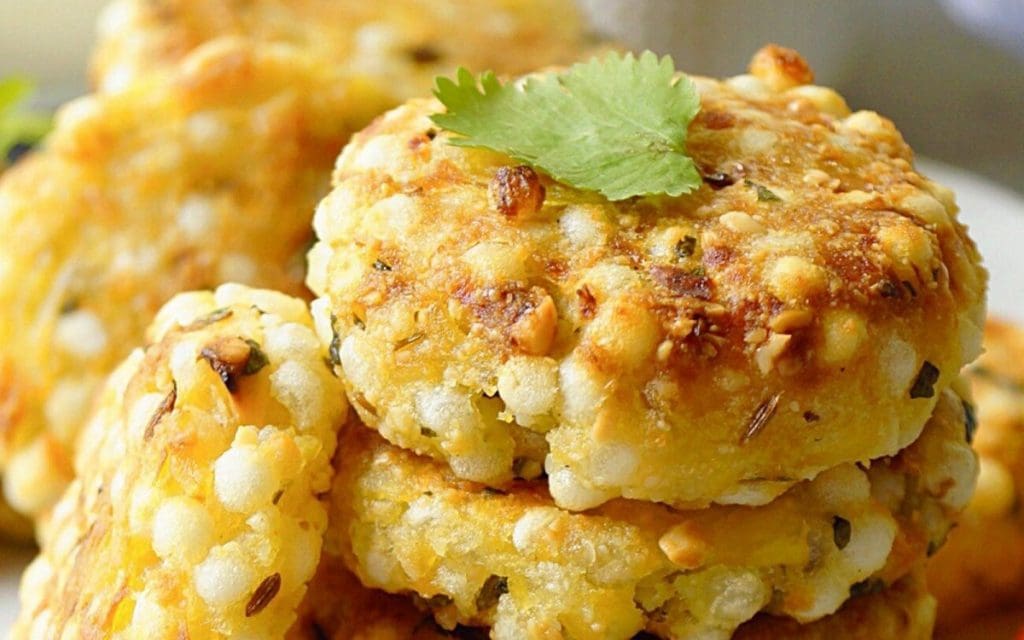 Method of Preparation:
Soaking Sabudana
Add 1/2 cup Sabudana to a wide bowl. You can optionally rinse them well twice.
Then pour 1/2 cup water and soak Sabudana for overnight.
Once they are soaked, take few pearls in between your thumb and forefinger press down to check if they have softened. The pearls must get mashed well. Drain them completely to a colander set aside.
Other Preparation
Meanwhile roast peanuts until golden and aromatic. Cool completely. Coarsely crushed the peanuts in a blender keep aside.
Wash and peel potatoes and boil them just until done and not too mushy or soggy.
Mix together Sabudana, boiled grated potato, peanuts, green chili, salt, cumin and coriander leaves. Add lemon juice and mix well. If the dough turns sticky, then just grease your finger lightly.
How to make Sabudana Vada
Make 10 to 12 balls and then slightly flatten to make the patties or Vada.
Do not make them too thin as they may break. Making then too thick will not cook them from inside. Heat oil in a Kadhai until hot enough on a medium flame.
Drop a small portion of the dough to check if the oil is hot enough.
Next take 1 tsp of the mixture in your hand and roll it to a small Vada. Slide it to the hot oil to check if it doesn't disintegrate. If the ball breaks, then add 1 tablespoon kuttu ka atta to the mixture and mix it well. Then shape them to Vadas.
Slide the Sabudana Vada to hot oil after the other. Do not crowd them all at one time.
After adding the Vadas, let them deep fry on a medium flame for a few minutes. When they firm up and become slightly golden, flip to other side. Fry until golden and crisp.
The Vadas will puff well and turn golden & crisp on the outside. Drain them to a kitchen tissue. Serve Sabudana Vada with green Chutney.
Ingredients
1 /2 Cup Sabudana (Tapioca pearls)
1 cup Potatoes
1/4 cup peanuts
1 tbsp coriander leaves chopped
1/2 tsp cumin or Jeera
1.5 tbsp lemon juice
1 tbsp Kuttu ka atta
1 to 2 green chilies chopped
Rock salt powder as needed
Read More: Food Voyager