What is your favourite dish to cook during Navratri? we asked and pronto!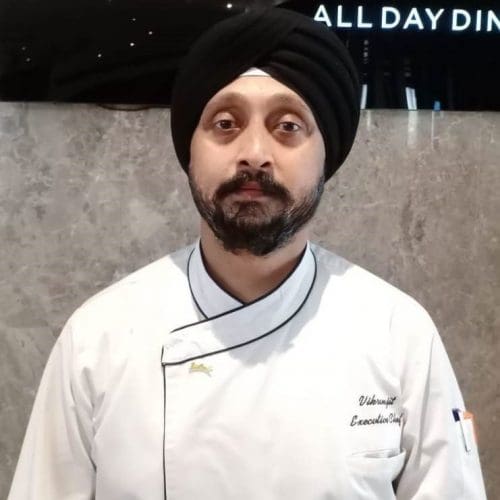 India's top Chefs shared their Favourite Dish to cook during Navratri along with the recipe, so all food lovers can make it in their home for their loved ones.
We wait all year for celebrating food during the ongoing Navratri festival coming up in mid-April 2021. The 9-day of festivities puts a spotlight on what is traditionally known as Navratri fare but these meals are probably some of the most nutritious and diet-friendly meals in the world.
Chef Vikramjit Singh Ahluwalia, Radisson Gurugram, Udyog Vihar shares his Favourite Dish to cook During Navratri
Happy Navratri! Happy Cooking!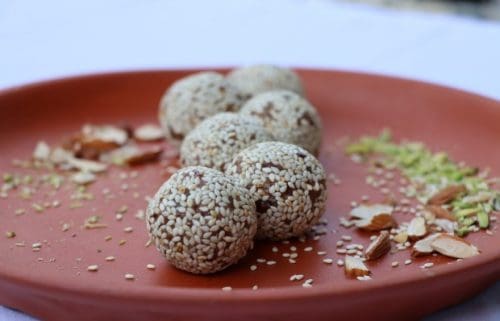 Khajoor Aur Till ke Ladoo
Ingredients
Dates ( Khazoor), 500 Gms
Khoya, 100 Gms
Ghee, 50 Gms
Green Cardamom, 10 Gms
Sesame Seed ( White), 100 Gms
Method
Take seedless dates and chop roughly.
Heat a pan and add white sesame seeds for roasting.
After cooling sesame seed, add green cardamom and the sesame seeds in a grinder.
Grind till the mixture is coarsely grounded.
Heat khadai, add ghee and saute the khoya.
Take a mixing bowl; add sesame-cardamom powder, chopped dates and Khoya mix.
Roll the mixture into round balls and coat them with roasted sesame seeds.
Ladoo are ready and can be served.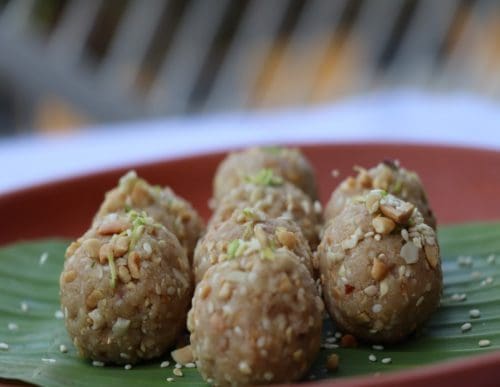 Moongfali Aur Till ke Laddoo
Ingredients
Peanuts (without skin), 200 Gms
Ghee, 100 Gms
Khoya, 100 Gms
Green Cardamom, 10 Gms
Sesame Seed, 200 Gms
Method
Heat a pan and add white sesame seeds for roasting.
Add peanut, roast along with sesame seeds.
After cooling sesame seed, add green cardamom and put in the grinder.
Grind till the mixture is coarsely grounded.
Heat a wok, add ghee and sauté the khoya.
Take a mixing bowl; combine half of sesame powder -peanuts mixture into Khoya.
Roll the mixture into round balls and coat them with remaining roasted sesame- peanuts mixture.
Laddoo are ready to be served
Read More: Food Voyager