Romance and the Monsoons go hand in hand and monsoon destinations are in demand!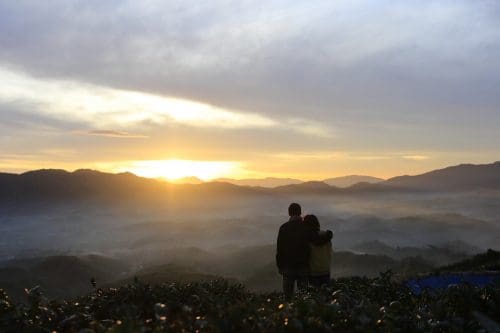 From ancient times, the monsoon season with its dark clouds, sensuous misty days, light and shadow, and the sound of the rains beating down on parched earth has been a muse to legendary poets like Kalidas, Jaideva, and Rabindranath Tagore, who created sonnets to this beautiful season.
India has a surfeit of romantic destinations to visit. Its beguiling mix of ancient forts, stunning palaces, beautiful deserts, gleaming lakes, green mountains and valleys, and gorgeous beaches has everything to offer for a romantic holiday.
If you're looking for a special setting to spend time with a special someone, here are the most romantic destinations in India to set the heart soaring.
Jaisalmer happens to be one unique destination in India for couples with the white, shimmering desert landscape that is spread as far as the eye can see, the colorful attires, and the locals who are colourful and vibrant with their folk songs and dances.
Jaisalmer has the appeal of culture and tradition of the 'Golden City' which is capable of warming a cold heart. Here you can experience Sand dunes, Desert Safari, Camel rides, Palace on Wheels, stunning Forts and Palaces, memorable Festivals, Local Music and Dance, and Arts and crafts with your significant other.
Alleppey
One of the must-go-to places in Kerala with your soulmate, Alleppey is among the best places that offer an alluring romantic experience. With the Laccadive Sea on its west, Alleppey is surrounded by beautiful natural flora and fauna with the backwaters and wetlands creating rich biodiversity for marine life and migratory birds.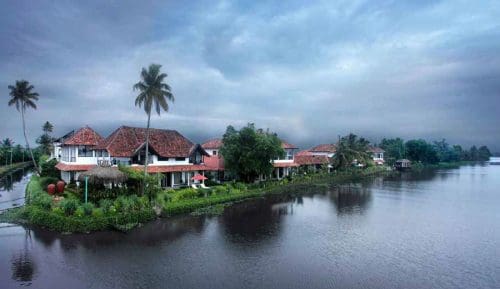 You can explore the watery world of Alleppey dotted with villages, toddy shops, canoes, and many houseboats. This Venice of the East is the best honeymoon destination in India to witness the real beauty of backwaters.
Alleppey looks stunning during the monsoons due to its rain-washed pristine greens! While the backwaters are often out of reach during the rains, to truly experience the wonder of this place, lodge in one of these quaint boathouses in Kerala that calmly glide upon the clear water offering views of mesmerizing paddy fields and hillocks.
Don't miss the famous snake boat races in August and September.
Manali
Manali is a hill station nestled within the mountains of the Indian state of Himachal Pradesh. Surrounded by thick forests, the hillsides and valleys are filled with wild blossoms and flowers, thick forests and bird songs, small picturesque hamlets, freshwater rivers and streams, and fruit-laden orchards.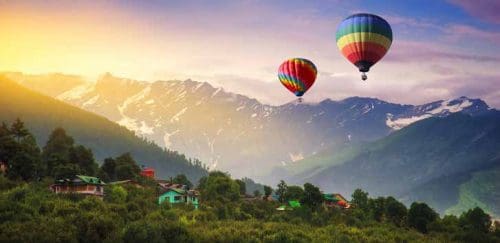 Plenty of cottages with mountain views and a pristine atmosphere make it ideal for couples and with the added warmth of a local meal by the warm-hearted locals, couples are up for an everlasting experience. If you and your partner are adventure junkies, then delight in a plethora of activities as there are a variety of things to do in Manali, from hiking to skiing and even camping in the awe-inspiring mountains and lush valleys of Manali.
Udaipur
Udaipur in Rajasthan known as the 'City of Lakes' is a wonderful place to spend a royal exotic break together. With its sumptuous pink-hued Palaces overlooking a series of placid blue lakes, Udaipur is perhaps India's most romantic city. While the lakefront has been overtaken by stunning hotels, head to the labyrinthine backstreets to seek out the true heart of the town and experience the Udaipur of old, as you wind past traditional Havelis and historic bazaars.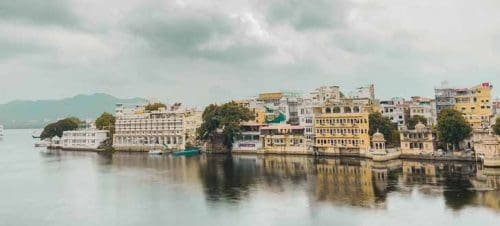 The beautiful Palaces, the winding alleys that inspire awe, the cafes with a view, and also the beautiful artwork in every nook and corner make Udaipur a destination that one will always cherish.
Andaman
Andaman is also one of the most trending honeymoon places in India for newlywed couples, so it definitely is going to be the ultimate destination for love birds to seek a romantic trip. This is a destination that is submerged in the ocean breeze, breaking of waves against the shore, swaying palm trees, aqua depths of the sea, and peace and tranquility.
With awesome places to see and exciting experiences to embrace, Andaman is certainly one of its kind! With so many wonderful activities to keep you busy like water sports, scuba diving, romantic secluded islands, luxurious resorts to stay in – and even historic places and museums to visit, you'll wish your romantic holiday never comes to an end.
Munnar
Munnar, the picturesque and tranquil hill station of Kerala, away from the hustle and bustle is a sheer delight, It's here that you simply get to experience endless stretches of deep green tea plantations and blue skies. Adding to the romance is the sweet aroma of tea that drifts through your stay at colonial-styled bungalows where you're in sync with Mother Nature.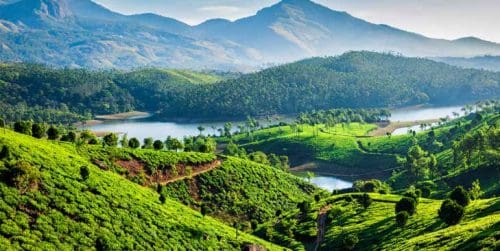 The captivating scenery redefines your love for nature. Here you can experience harvesting buds and leaves in the tea gardens, visit the Eravikulam National Park, trek to the Anamudi peak and take the short drive to the Devikulam hill with the most beautiful scenery.
Agra
The city of love, Agra is where the opulent and extravagant epitome of love resides – The Taj Mahal. Also one of the Seven Wonders of the World, the Taj Mahal was built by Mughal emperor Shah Jahan in memory of his beloved wife. The Taj is unquestionably the biggest, boldest romantic symbol in the world which is ethereally beautiful in its design and symmetry.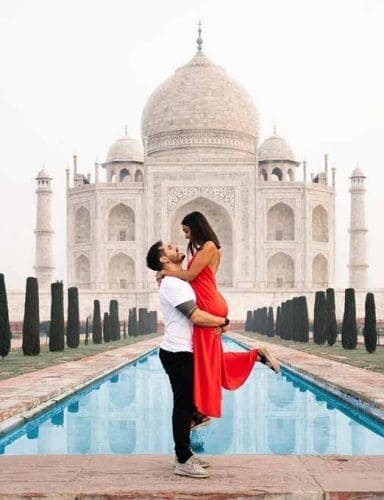 A significant way to immortalize your love for each other is by Instagramming yourself against the Taj as a backdrop. All couples end up admiring the embodiment of eternal love, with the environs of this beautiful monument finding them seated with a fixed gaze for hours as they take in its beauty with their significant other.
Here you get to steep yourself in the rich Mughal history, reside in beautiful lodging, discover the bylanes and gardens of this ancient city and discover the cuisine and delicacies prepared by the local food outlets. Agra craftsmanship is legendary so stop and buy yourself traditional handicrafts that will always remain more than a souvenir each time you see them.
Wayanad
A green paradise, nestled in the Western Ghats in Kerala, Wayanad is an enchanting destination for couples. Wayanad does justice to the word 'romantic getaway' as it is India's spice garden with green plantations of various spices like cardamom, fenugreek, black cumin, pepper, star anise, What's more, these green orchards have distinct fragrances wafting in the breeze which is magically intertwined with the fresh aroma of coffee plantations, fruits, and vegetable patches and deep green paddy fields.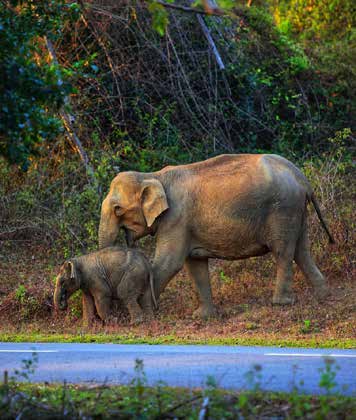 Adding to this natural beauty wildlife sanctuaries, reserves, and national parks not to mention India's largest dams and reservoirs. Because of its mighty mountains, deep woods, and gurgling streams and rivers, Wayanad is a natural for mountaineering, rock climbing, rappelling, trekking, hiking, and camping, among adventure activities.
Head here with your loved one. Immerse yourself in the forests, sub-tropical savannahs, lofty hills, and sprawling plantations. The attractions aren't limited just to wildlife reserves, there are also serene lakes and meadows to explore with your partner.
Pondicherry
The 'little Paris' of India, Pondy is a remarkable colonial French enclave with a touch of bohemian-chic. A quaint hamlet reproducing an authentic French feel, Pondicherry is perfect for couples wanting to relax and create memorable experiences in its botanical gardens, aquariums, and musical fountains.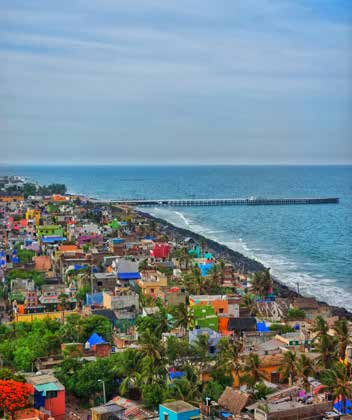 The former French colony on the Bay of Bengal is absolutely captivating with its old churches, 19th-century lighthouse and village squares, its many well-known outdoor cafes, and the appropriately named 'Paradise Beach' for water sports, fishing, and some surfing.
Here you can explore the charming boulevard, laze about together and enjoy the spectacular view of the sunrise or sunset overlooking the beach. Take a romantic walk along the beach promenade for panoramic views over the Bay of Bengal. The Chunnambar Boathouse offers romantic boat rides through the gentle backwaters among deep mangrove trees. Aurobindo Ashram and Auroville are a must-visit for all couples on account of the soothing environs, yoga, and meditation,
Auli
Auli is quite an adventure destination, especially for couples. It is the type of place where pleasure and adventure, wilderness and magnificent hills in their rawest, wildest forms come alive.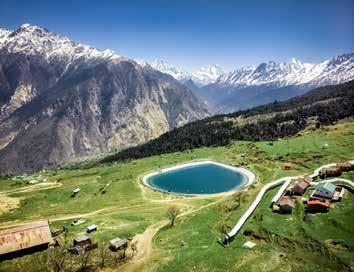 Couples have a choice of adventure activities to do together like the thrill of skiing, taking the Auli Gorson Trek, camping under the stars, hiking to Trishul Peak, and witnessing the sun setting over mighty snow-capped mountains or spending a day with nature at its best at Nanda Devi National Park.
There are lakes, sacred temples, and trekking adventures, not to mention hills dotted with apple orchards, old oaks, and pine trees that make for a memorable time.
This enticing destination is blessed in winter with snow-white meadows and alpine-covered stretches. Trigger your adrenaline rush, experience skiing down these snowy slopes of Auli with your better half, walk amidst the frosty landscape, and admire the spectacular vistas.
Read More: Discover Your India