What is your favourite dish to cook at Navratri? we asked Corp Exec Chef Rakesh Sethi, Radisson Hotel Group, South Asia – and pronto!
We received a smorgasbord of hot dishes with a variety of delicacies that included Kacche Kele Ki Shammi, Kuttu Atta Poori, Vrat ke Aloo tamater, and Lauki ka Halwa.
This veritable feast for Navratri celebrations is an absolute boon because each of these wonderful dishes is accompanied by recipes that will help all Today's Traveller's readers to recreate these dishes in their own kitchens.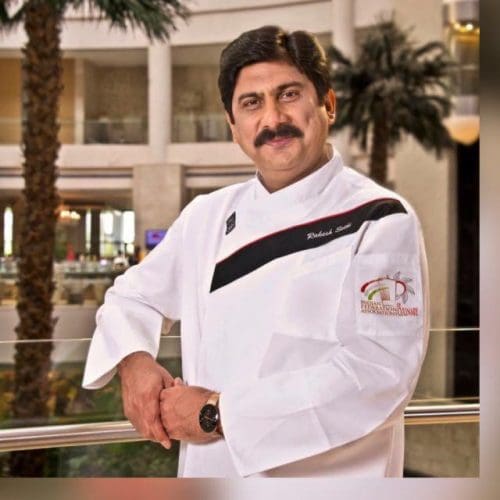 We asked India's top Chefs to share their Favourite Dish to cook during Navratri along with the recipe, so all food lovers can make it in their home for their loved ones.
We wait all year for celebrating food during the Navratri festival in mid-April. The 9-day of festivities puts a spotlight on what is traditionally known as Navratri fare or vrat food but these meals are probably some of the most nutritious and diet-friendly meals in the world.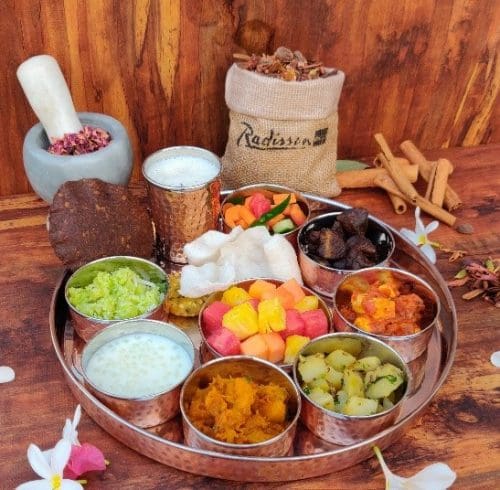 Happy Navratri! Happy Cooking with Chef Rakesh Sethi's favourite dish to cook at Navratri !
Recipe – Kacche Kele Ki Shammi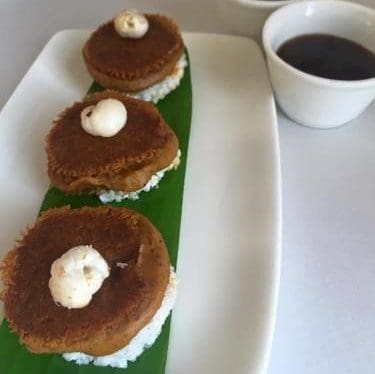 Ingredients
Boiled Raw Banana 150 Grams
Jeera Whole ¼ Tea spoon
Boiled Potato 30 Grams
Mash Paneer 20 Grams
Rock Salt ( Sendha Namak ) To Taste Grams
Fried Cashewnut 15 Grams
Desi Ghee 80 Grams
Black Pepper 1 Grams
Ginger 4 Grams
Fresh Coriander stem 4 Grams
Red Chilli Whole Paste 5 Grams
Sama Rice Powder (Vrat Rice Powder) 30 Grams
Green Chiili Whole 2 Pieces
Green Cardamom Powder 1/8 Tea Spoon
Hung Curd For Topping 40 Grams
Saffron Water 1 Tbsp
Coriander chutney 80 Gms
Recipe
Boil the raw banana and drain the excess water.
Mash the boiled banana along with the boiled potato and mashed paneer. Mix them well.
Make a paste of the brown cashew nuts, coriander stems & green chillies.
Heat a kadhai. Put two tablespoons of ghee. Add ginger paste & sauté. Cook for two minutes and add to the banana mixture and red chilli paste. Add the saffron water.
Add black pepper powder & sendha salt. Cook to dry the mixture. Add the powder of sama rice into to the banana mixture and mix well.
Add some chopped coriander and green cardamom powder. Mix well to combine the ingredients.
Divide the mixture into equal size small portions. Shape them into round kebabs. Shallow fry in desi ghee on both sides until crisp & brown.
Garnish with hung curd. Serve hot with Coriander chutney.
Kuttu ki Poori with Aloo tamater ki Subzi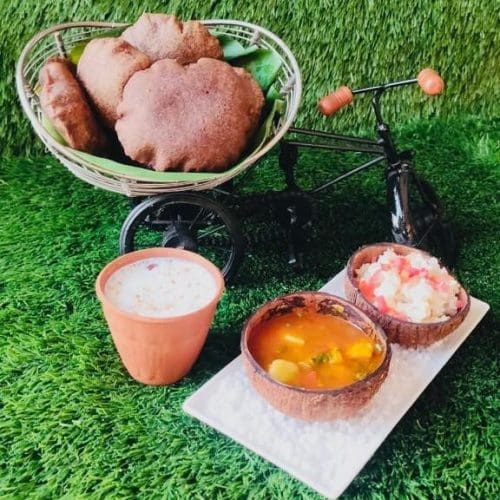 Ingredients
100 gms Buckwheat flour (Kuttu ka Atta)
100 gms Boiled potatoes
½ Tsp Sendha Salt
1/8 Tsp Black pepper powder
Method-
Mash the boil potatoes and add the buckwheat flour into it to make a dough. Cover the dough with a wet cloth and rest the dough for 20 minutes.
Divide the dough into equal size portions and using a rolling pin roll them into discs of around 4 inches diameter.
Heat Desi ghee (clarified butter) or oil in a wok and deep fry the rolled poori's until crisp and brown.
Remove with a slotted spoon in a paper towel and serve hot with fasting special potatoes curry (Aloo tamater), Sama rice and plain curd.
Aloo tamater ki Subzi
Ingredients
100 gms Potatoes, boiled, diced
2 Tbsp Clarified butter (desi ghee)
¼ Tsp Cumin seeds
1 Tsp Grated Ginger
2 Nos Green chillies, chopped
3 Nos. Fresh tomatoes, pureed
1 Tsp Rock salt / Sendha salt
¼ Tsp Crushed black pepper
¼ Tsp Degi mirch-optional
1 Tbsp Fresh coriander chopped
Garnish
Method-
1 Tbsp Chopped coriander
Ginger juliennes
Heat oil / ghee in a pan and add cumin seeds. When they crackle add grated ginger and sauté for 30 seconds and add chopped green chillies.
Now add fresh tomato puree and cook for 2 minutes.
Add salt, degi mirch & black pepper powder. Stir and cook on slow fire for another 2 minutes. Add ½ cup of water and mix.
Mash half of the boiled potatoes using a potato masher or with hands. Mix them with diced potatoes and add them into the tomato gravy.
Add more water as required and give it a stir. Bring to a boil and simmer. Stir and mash the bigger dices of the potatoes using the back of the wooden spoon. Let it cook for 2-3 minutes on slow fire.
Check for salt and add half of chopped coriander.
Remove into a coconut shell or a bowl. Garnish with chopped coriander and ginger juliennes.
Lauki ka Halwa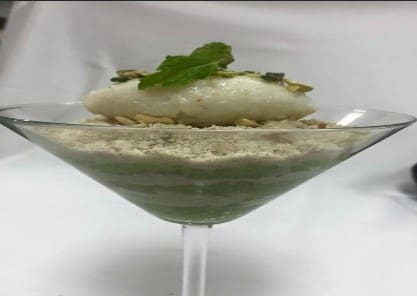 Ingredients
600 gms Bottle gourd (Lauki)
150 gms Sugar
150 ml Full cream milk
80 gms Mawa
20 gms Cashewnuts, sliced
30 gms Almonds, sliced
15 gms Raisins
¼ Tsp Green cardamom powder-optional
Method
Peel and grate the flesh part of the bottle gourd. (discard the seeds)
Take grated bottle gourd in a pan or a wok. Cook on medium heat until Lauki leaves water. Cook for 2-3 minutes or until water evaporates.
Add milk and sugar and continue to cook on medium- high heat for 2 minutes then lower the heat.
When moisture evaporates add grated mawa, slices dry fruits and raisins. Reserve half of sliced almonds for garnish.
Stir and cook for another 2 minutes. Finish with green cardamom powder and transfer the halwa to a bowl. Garnish with sliced almonds.
You may serve it chilled or warm.
Read More: Food Voyager