Scuba diving in Goa is an enjoyable experience on account of the clarity of water and aquatic life.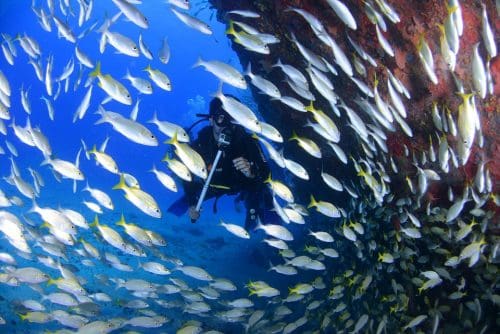 Surrounded by the great Arabian sea, the essence of Goa's spirit is water and as a natural corollary, so are water sports. if you are a sea lover or you are fascinated by life underwater then what better place than the Arabian sea to explore it, where you get to dive deep within the ocean and discover the wonders of the sea?
Nowhere else in India can you have plenty of water sports – that too all in one place. Goa has everything you can think of for a good vacation. Be its scuba diving at its lovely beaches, traditional markets, never-ending parties, splendid nightlife, romantic islands, short treks, magnificent churches, and even historical monuments, Goa has it all.
Goa – a scuba diver's paradise
Goa is a scuba diver's paradise. It has some of the best beaches, crystal clear waters, and stunning marine life making it one of the most popular scuba diving destinations in India. The warm and calm waters make scuba diving an enjoyable experience for both beginners and experienced scuba divers alike.
The best scuba diving sites in Goa include Grande Island, Bat Island, Suzy's Wrecks, and Sail Rock. At Grande Island, you can explore the depths of the sea with a selection of coral reefs for scuba divers to discover. Bat Island is home to an abundance of marine life including colorful corals and tropical fish. Suzy's Wrecks is a shipwreck scuba diving site that offers an exciting adventure for scuba divers. Lastly, Sail Rock is a popular scuba diving spot with its beautiful coral gardens and colorful marine life.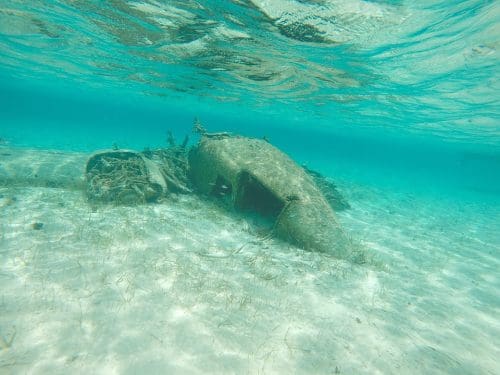 Experienced scuba divers can take advantage of the challenging scuba diving sites for maximum exploration, while beginner scuba divers can enjoy scuba diving with a qualified instructor.
With this, let us give you all the information you need for scuba diving in Goa starting off with the best places which you can explore.
Grande Island
Located in southern Goa, Grande Island Goa is the most famous destination in Goa for water sports. You can take a boat ride to reach this island which in itself is an amazing experience as you can witness dolphins splashing in and out of the ocean.
Grande Island Goa is great for watersports and scuba diving. Snorkeling is another popular activity in the waters of Grande Island. Many species of fish like the flamboyant cuttlefish and coral can be found here, making it a great spot for underwater exploration. Scuba diving is done in the presence of experts there and because of the very clear water on that side, the view you witness under the sea is just unforgettable.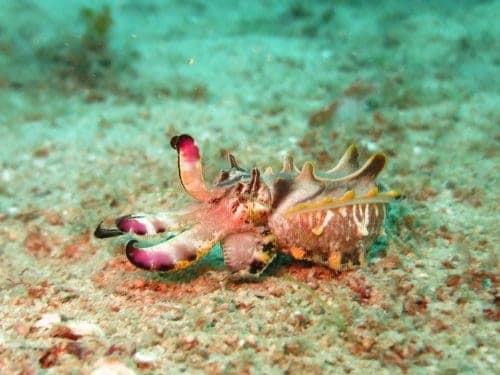 The island also has a host of other adventure activities like beach volleyball, banana rides, kayaking, parasailing, windsurfing, and more. Several operators offer day trips and packages to the island that include all these activities.
Grande Island Goa is also a great spot for birdwatching and nature lovers. The lush vegetation and mangrove forests on the island attract many species of birds and other wildlife. Birdwatchers can explore the area in search of rare species, while nature enthusiasts may find solace in the peaceful surroundings.
The stunning beaches of Grande Island Goa are also a major draw for travelers. The white sandy shores lined with clear blue waters provide an idyllic spot for relaxation and indulgent activities like sunbathing, swimming, and beachcombing. There are several beachfront restaurants where visitors can enjoy delicious seafood dishes while admiring the incredible views. The nearby beach town of Palolem is a great spot to unwind with a few drinks in one of the many beach shacks.
Overall, Grande Island Goa offers plenty of activities and attractions for visitors to explore. From watersports and birdwatching to relaxing on the beaches, visitors are sure to find something that appeals to their interests and preferences. Whether you're looking for a fun-filled day of adventure or an indulgent beachside retreat, Grande Island Goa is the perfect destination.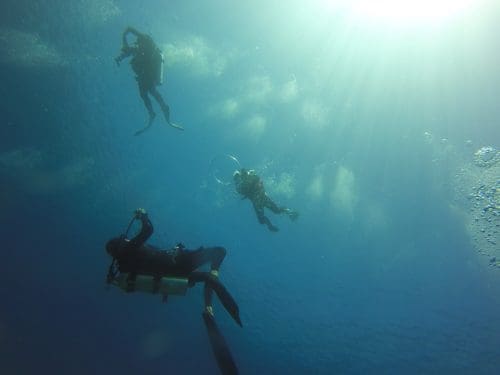 Calangute Island
This serves as the perfect location for scuba diving in the north of Goa. It is located 11 km away from Panjim and the best way to reach here is by bus or cab service.
Calangute beach itself is known as the queen of beaches in Goa. It is not just known for its natural beauty but also for its excellent scuba diving services. Scuba diving at Calangute beach is an experience like no other.
With its vast coral reefs, colorful marine life, and clear waters, this place is a paradise for scuba divers. The dive centers here offer excellent services and professional instructors to ensure safety and peace of mind while diving. You can witness here the most beautiful and colorful corals and aquatic critters.
The beach is full of fun activities like sunbathing, swimming, and other water sports. One can also visit the shack restaurants here for a delectable meal or a drink. The sunset views from this beach are spectacular and make it a favorite spot for couples.
The lively Calangute market is also worth mentioning when talking about the attractions of this place. It is one of the biggest markets in Goa and offers a wide range of items from clothes to jewelry, furniture to artifacts, souvenirs to leather goods, and much more. The atmosphere here is always cheerful with people bargaining for their favorite products.
Calangute beach also hosts various cultural events and festivals throughout the year. There are boat trips, colorful parades, and other activities to enjoy here. It is also popular for its nightlife which includes parties, pubs, discotheques and live music performances.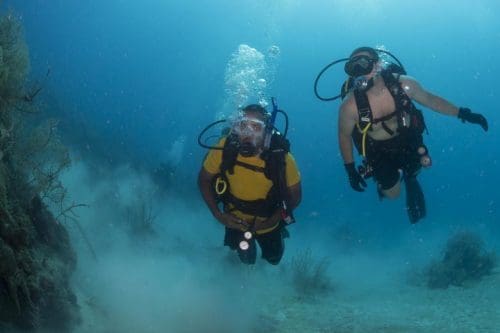 All in all, this beach offers an unforgettable experience of sunbathing, shopping, and partying that makes it a must-visit destination for every traveler.
Uma Guma Reef
This is also a very famous destination in Goa for scuba diving as here you can see a lot of sea creatures including colorful tuna, sharks, turtles, and snappers. This place is literally best for someone who studies sea life very closely.
The coral reefs are home to a wide variety of tropical fish, including colorful parrot fish, sea anemones, and clownfish. You can also find moray eels, turtles, and other crustaceans in the coral reef.
The visibility underwater is great here so you can clearly observe the beautiful marine life. The warm waters of the Arabian Sea are perfect for scuba diving. There are several dive shops in the area that provide all the necessary gear and experienced instructors who can guide you during your underwater exploration.
The waters of Uma Guma Reef are calm and shallow, making it a great spot for beginner divers as well as experienced ones. Dive safely into the depths and explore the mysteries of Uma Guma Reef. The clear waters provide some breathtaking views and a chance to witness an amazing array of sea life.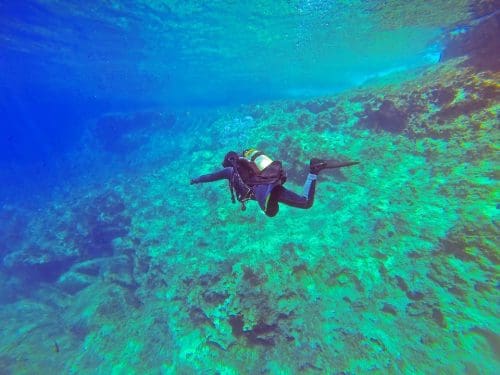 Baga beach
The most famous and crowded beach of Goa, the Baga beach apart from bars, clubs, and fine dining experiences beside the sea, also serves the visitors with various water sports including scuba diving.
Scuba diving in Baga is special because of the crystal clear waters, which allow visibility up to 30-40 feet. The aquatic life of Baga beach is also quite rich with a variety of colorful fish and coral reefs. Scuba diving here offers an unforgettable experience along with the chance to explore the underwater beauty.
Baga beach in Goa serves visitors with various water sports including scuba diving, banana boat ride, parasailing, jet skiing and more.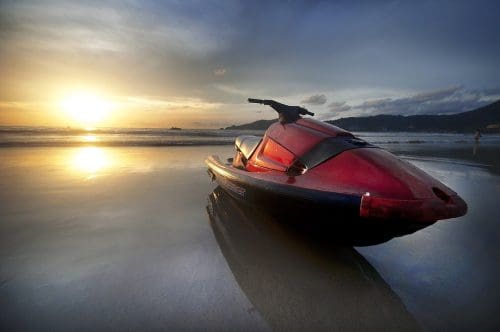 Parasailing is another exciting activity at Baga beach, offering the thrill of soaring high in the sky. You get a chance to enjoy amazing aerial views of the beach and its surroundings. The banana boat ride is also very popular with visitors as it offers a fun time for all age groups.
The jet skiing experience here gives you an adrenaline rush like no other. Glide across the waves on a jet ski and take in the beauty of Baga beach.
It is one of the most visited beaches in North Goa owing to its picturesque beauty and great vibes. The serene environment makes it a perfect place for those who want to relax or spend some quality time with their loved ones. There are various shacks here that offer lip-smacking seafood and other Goan delicacies. Baga beach is also known for its vibrant nightlife with numerous pubs, discos, and live music venues.
No one misses this popular beach when in Goa, so yes if you plan to visit Baga then you can also tick the scuba diving on your bucket list as Baga serves you all of it in one place.
Lobster Avenue
This location is widely popular for its white sand and as the name suggests this place is home to various varieties of lobsters. This is the calmest place in Goa for scuba diving where you get to dive in the tranquility of nature.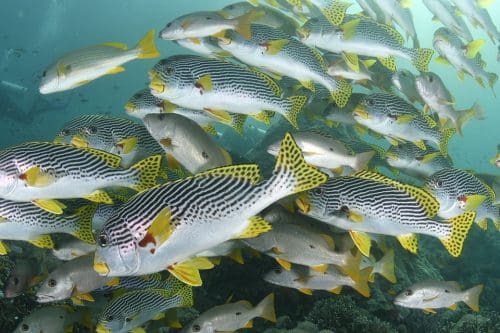 Lobster avenue is known for its clear blue waters, spectacular coral formations, and diverse marine life. The visibility of the water allows divers to explore the depths of the sea without worrying about getting lost in the murky darkness below. There are numerous dive operators available for hire who will provide you with all the necessary equipment and safety tips that you need to ensure a safe and enjoyable dive.
The underwater life at Lobster Avenue consists of a variety of species such as turtles, dolphins, sharks, octopuses, manta rays, and much more. The beautiful coral formations also allow you to witness the vibrant ecosystem that exists in this part of Goa. If you are lucky enough, you may also spot a few rare species of fish that are found exclusively in this region.
The waters around Lobster Avenue are incredibly calm, making it the perfect place for beginners and experienced divers alike to explore the depths of the ocean. It is also a great location for night dives which allow you to experience an entirely different side of underwater life in Goa.
The best time to visit Lobster Avenue is during the months of October to April when there are fewer tourists and water visibility is at its peak. During this time, you can enjoy a peaceful and picturesque dive in Goa's most beautiful waters
Malvan Island
This location is not very famous but it is gradually becoming well-known as the best place for diving. Here you get to dive twelve to thirty feet deep underwater and witness the beautiful coral reefs and marine life in all its glory. An underwater surprise comes when you find that the sand here is totally white compared to the golden sands in the rest of Goa.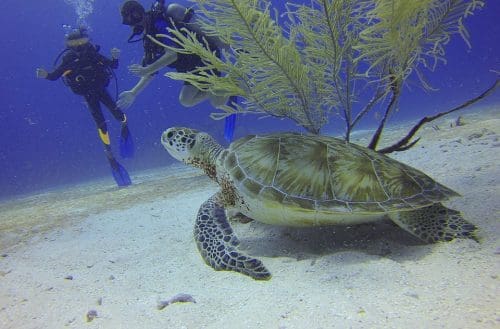 You can also experience a few activities such as snorkeling, kayaking, and fishing, and even try your hand at some fun water sports. There are plenty of beautiful beaches to explore like Tarkarli beach which is known for its white sand and blue waters.
In addition, you can enjoy the delicious seafood cuisine in Malvan. You can also visit the Sindhudurg Fort which is an ancient fort built by Shivaji in 1664 and explore its history. Other attractions include Bhogwe beach, Chivla beach, Vengurla beach, Redi Ganapati temple, and Ajgaonkar Point.
If you're looking for a little adventure, then take a jeep safari in Goa. This is a great way to explore the less-visited parts of the region and experience its unique culture. You can also go on a nature walk and explore the natural beauty of Goa. Lastly, you can also enjoy some water sports such as windsurfing, parasailing, and jet skiing.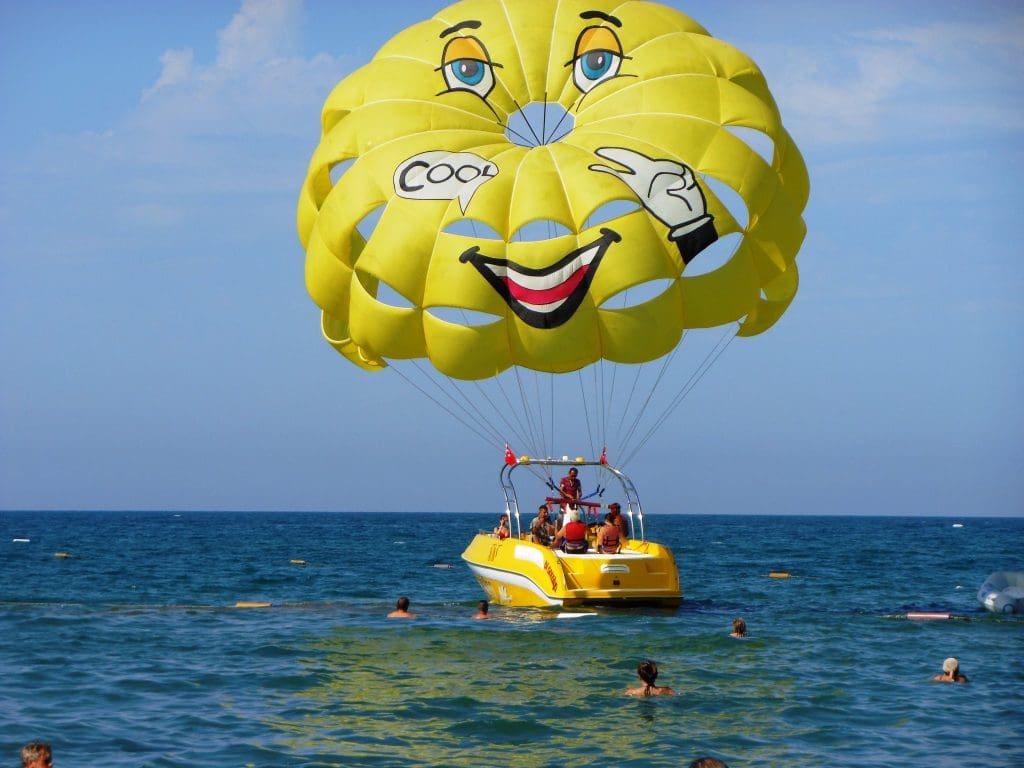 Overall, Malvan Island in Goa offers a plethora of activities and attractions that you can explore during your holiday. Enjoy some peaceful time in nature with a spectacular view of the ocean waves crashing against the shore. Take a boat ride to explore the picturesque islands nearby and go swimming in the crystal clear waters.
Discover the fascinating history of Goa by visiting some of its impressive monuments such as churches, temples, and forts. Sample some delicious local cuisine while savoring stunning sunsets over the Arabian Sea. And end your day with a memorable night sky full of stars!
Sail rock
Again one of the best places in South Goa for the best diving experience you should not miss is Sail rock. It is just one kilometer away from Grande Island.
So what makes it different from our magnificent Grande island? Well, the name here suggests it all. It is a rock pinnacle that literally protrudes from the sea and for diving you get to dive from that great natural pinnacle and witness the beautiful marine life. Every location comes with its own differences and here the differences are worth celebrating and not missing at any cost.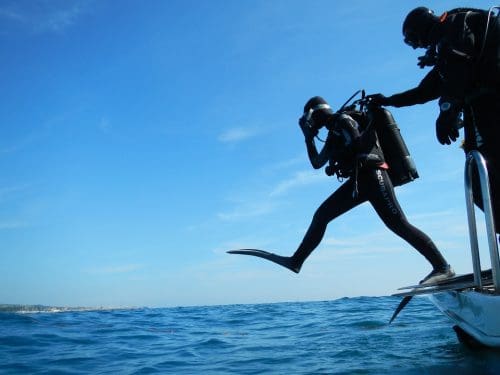 The area is abundant with sea life and rocks that make for a great dive spot. The visibility in the waters is usually good, so you can see all the amazing marine life up close. You can also explore the caves and swim through them to get to some secret lagoons hidden beneath the surface of the water. No matter what type of diver you are, this spot is sure to provide an unforgettable experience.
Additionally, it is one of the few places where you can dive with whale sharks and manta rays. The area has plenty of variety when it comes to sea life, so no matter what type of marine creature you are looking for, there's something here for you. The area also has some great marine life photography opportunities if you have a camera, so don't forget to bring one along with you!
All in all, this is one of the best places for diving and exploring South Goa's unique underwater world. So don't miss out on this incredible opportunity to experience it first-hand!
Nagao
Well, last but not the least, Nagao, a small village which is located 11 km north of the South Goa district is a place where you get to dive in peace. Nagao allows you to dive underwater up to 25 feet and the clarity of water there is par excellence. It is good both for experienced as well as first-timers.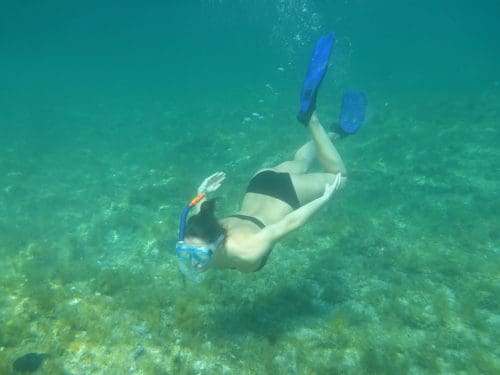 The stunning coral reefs and an array of colorful fish can be seen while scuba diving. There is also a wide range of activities that one can indulge in such as snorkeling, kayaking, stand-up paddle boarding, parasailing, and much more.
Nagao also boasts some amazing beaches which are great for sunbathing, swimming, and doing beach sports. You will also find a multitude of water-based adventure activities like jet skiing, banana boat rides, and more to keep your adrenaline pumping!
The scenic beauty of Nagao will take your breath away and it is a perfect destination for those looking for an unforgettable beach holiday experience.
Now the one thing we crave to know before planning our wonderful trip anywhere is the price it takes to enjoy your vacation to the fullest. So here we bring the general price it takes for scuba diving in Goa.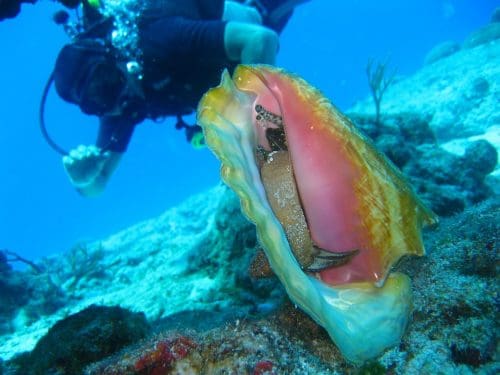 As we know Goa is a hotspot for tourists therefore scuba diving in goa cost moves with the season. In the off-season you can enjoy scuba diving for just Rs 1,500/- while during the peak scuba diving season in Goa which is generally November to February the prices for scuba diving go up to Rs 3,500 /- per person.
For safety reasons the post-monsoon months are best for scuba diving, that is the months from October to May are advised. The timing of watersports activities generally varies between 10 am to 4 pm. On a general level, you get clear visibility up to 10 meters. On average, Scuba Diving as an activity lasts for 15-20 minutes.
Some tips you definitely should keep in mind before planning a scuba diving activity are:-
The scuba diving tour can be booked online but always remember to book it from a trusted site certified as well as an experienced operator.
The worst time you can pick to indulge in this activity in Goa is the monsoon season. Therefore, always keep the season in check.
A prior health check-up is suggested before you dive deep into the sea, also keep in mind if you are already suffering from any chronic disease or have an allergy as we all know prevention is always better than cure.
And finally, always listen to your instructor and check all the equipment by yourself before diving deep into the ocean.
Read more: Latest