As we kick off the new year, many of us start looking for new adventure holiday destinations.
The Caribbean is an increasingly popular destination for adventure holidays. With its stunning beaches, lush tropical forests, and vibrant culture, the islands of the Caribbean provide a perfect backdrop for adventurous activities like surfing, mountain biking, trekking, sailing, and kayaking.
The region also boasts an array of exotic wildlife, making it ideal for birdwatching or snorkeling trips. Whether you're looking for a relaxing beach getaway or an action-packed holiday, the Caribbean has something to offer everyone.
Central and South America also provide some of the best adventure holiday destinations in the world. From the spectacular Inca ruins of Machu Picchu to the incredible Amazon rainforest, these regions are packed with activities for thrill-seekers.
Whether you're looking to go trekking in Costa Rica or exploring the Mayan ruins of Mexico, South and Central America offer a wealth of opportunities for adventurous travelers.
If you're looking for an adventure holiday off the beaten path, then why not explore the Far East? There are plenty of exciting activities to discover in places like Thailand, Vietnam, and Japan. From thrilling hikes in the Himalayas to cultural tours of ancient cities, there's something for everyone in this diverse region. Plus, the food is sure to be an adventure all its own!
So go ahead, and explore – whether it is adventure holidays for couples or the best adventure holidays for families, there is something for everyone to choose from and discover together.
From skiing to snorkeling, the world has so much to offer; therefore, adventure travel company The Bucket List Company has researched and uncovered the top 10 travel destinations popular in 2022.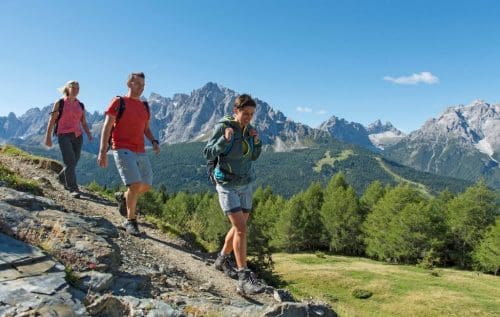 By analyzing popular adventure holiday destinations and then looking at social engagements, ratings and Google searches, the ultimate adventure holiday guide for 2022 was formed!
The Top 10 Adventure Holiday Destinations
| | | | | | |
| --- | --- | --- | --- | --- | --- |
| Ranking | Activity | Country | Engagement | Searches | Rating |
| 1 | Niagara falls | Canada | 1,310,950 | 60500 | 5 |
| 2 | Everest base camp trek | Nepal | 68,225 | 2400 | 5 |
| 3 | Three peaks challenge | UK | 42,501 | 9900 | 5 |
| 4 | Tanzanian safari | Tanzania | 7,635 | 2900 | 5 |
| 5 | Ama dablam | Nepal | 9,613 | 1900 | 5 |
| 6 | Surfing Sri Lanka | Sri Lanka | 3,733 | 590 | 5 |
| 7 | Annapurna circuit trek | Nepal | 2,926 | 590 | 5 |
| 8 | Mera peak | Nepal | 2,106 | 1300 | 5 |
| 9 | Raft the grand canyon | USA | 16,661 | 170 | 5 |
| 10 | Azores hiking | Portugal | 2,368 | 210 | 5 |
Top 10 Adventure Holiday Destinations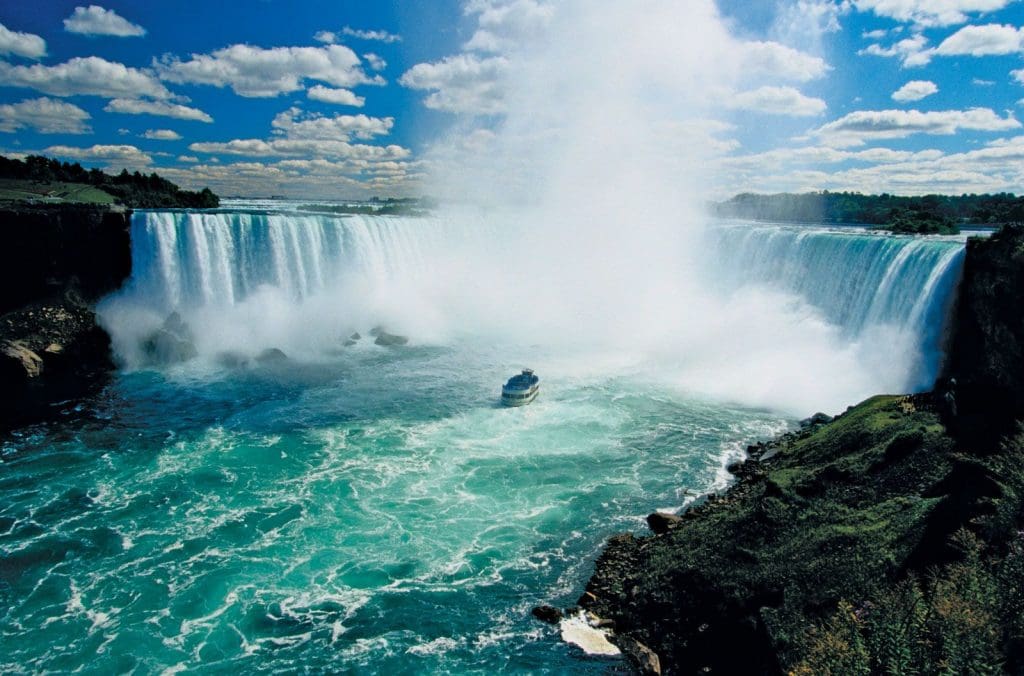 Niagara Falls, Canada
Taking first place as the top adventure holiday for 2022 is Niagara Falls; the three waterfalls border Ontario, Canada and New York, US.
Social media engagement for the place is over a whopping 1.310,950, with over 60500 Google searches in 2022.
Niagara Falls has plenty to do, from ziplining to tours, so you can guarantee the best view of the falls.
More on Niagra Falls
Niagara Falls provides adventure activities like hiking, camping, and skiing. Visitors can take a guided tour of the Niagara Falls State Park, one of the oldest state parks in the United States.
At night, guests can watch spectacular fireworks and laser light shows that illuminate the iconic falls from Queen Victoria Park and other areas around it. There are also several museums, restaurants, and attractions surrounding Niagara Falls for visitors to explore. If you're feeling more daring, take a ride on the famed Maid of the Mist boat tour and experience thundering waters up close.
For adventure seekers wanting to take their Niagara Falls experience to a whole new level, there are several thrilling activities that provide an adrenaline rush. Go white water rafting on the Niagara River or take a plunge in Cave of the Winds to experience walking right near the edge of the falls and getting splashed with mist from downstream.
You can also soar above the falls in a helicopter ride, or if you're brave enough, go on a wild journey down the Niagara Gorge with a zip line tour. No matter how you choose to explore the falls, it's sure to be an unforgettable experience that will stay with you forever.
The area surrounding Niagara Falls is also full of activities and entertainment for visitors to enjoy. Take a leisurely stroll through the colorful gardens at the Botanical Gardens or rent a bike to explore the Niagara River Recreation Trail.
There are also several wineries and breweries nearby for those looking to sample some of the region's finest wines and craft beers. If you're looking for a more unique way to spend an evening, check out the fireworks shows at Fort George or take in a performance at one of the many theaters located around the area.
Things to know about Niagara Falls, Canada
1. Niagara Falls, Canada is a UNESCO World Heritage Site and attracts millions of visitors each year.
2. The three waterfalls that makeup Niagara Falls are Horseshoe Falls (Canada), American Falls (USA) and Bridal Veil Falls (USA). The Canadian side is the more popular among tourists.
3. Niagara Falls was formed over 10,000 years ago by receding glaciers. It has been estimated that up to 6 million cubic feet of water flow through Niagara Falls each second!
4. Did you know that there is a Bay of Whales located beneath the falls? This is a large deep basin that was created by the powerful currents of the river.
5. Niagara Falls is a popular destination for daredevils and thrill seekers. Over the years, people have attempted to go over Niagara Falls in all kinds of vessels, from kayaks to barrels!
6. The River Road is the oldest road in Canada. It winds along the Niagara Gorge and offers spectacular views of the falls.
7. The town of Niagara-on-the-Lake is one of Canada's prettiest towns and a popular spot for wine tasting, theatre and shopping.
8. There are numerous ways to get a good view of Niagara Falls. You can take the Hornblower Cruise, visit Skylon Tower or take a helicopter tour.
9. Did you know that Niagara Falls is used for generating electricity? The power generated from the falls is sent to both Canada and USA for energy needs.
10. At night, the falls are lit up in different coloured lights. There is also a fireworks display over the falls every Friday and Sunday night during the summer.
11. Niagara Falls, Canada is home to numerous casinos and other attractions that make it one of the top tourist destinations in North America.
12. The area around Niagara Falls is full of history and culture. There are many museums, galleries, and other attractions that can be explored for educational purposes.
13. Niagara Falls is a popular honeymoon destination! Couples come from all over the world to take in the breathtaking views of this natural wonder.
14. Niagara Falls also has some fantastic golf courses, including the world-renowned Niagara Falls Golf Club.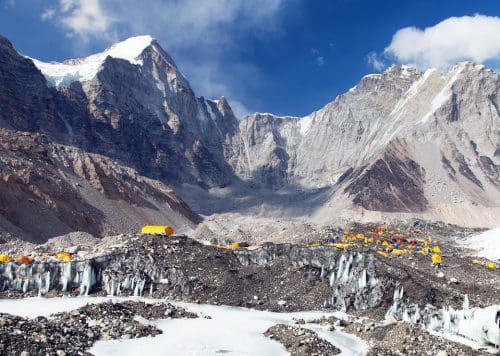 Everest Base Camp, Nepal
One of the most challenging adventures on earth is in second place, Everest Base Camp in Nepal.
The trek to the camp at the base of the highest mountain in the world takes you through glaciers and picturesque scenes.
Everest Base Camp has had over 2400 searches in the past year, alongside a vast 68,225 engagements via social media.
More on Everest Base Camp, Nepal
It is a challenging trek and requires physical stamina and mental strength to complete. During the trek, you can enjoy views of majestic peaks such as Mt Lhotse, Cho Oyu and Makalu as well as Buddhist monasteries and remote settlements. Along the way, you will also get a chance to learn about Tibetan culture and traditions. On your way back from the base camp, you can also visit Namche Bazaar and other nearby villages.
At the end of your journey, you will get to witness some truly awe-inspiring views and gain a greater appreciation for nature. You will also have plenty of opportunities to take pictures which will make your trek even more memorable. The Everest Base Camp Nepal Trek is a once-in-a-lifetime experience and should definitely be on your bucket list!
Things to know about the Everest Base Camp in Nepal
1. The Everest Base Camp is located at an elevation of 5,364 meters (17,598 feet).
2. It takes about 12-14 days to reach the base camp from Kathmandu, depending on the route and means of transport used.
3. The best time to visit the Everest Base Camp is during spring or autumn when the weather is more stable and the visibility is better.
4. The Everest Base Camp trek involves crossing high-altitude passes like Cho La (5,420 m/17,782 ft) and Renjo La (5,340 m/17,520ft).
5. The area around the base camp has several glacial lakes and moraines, making for a stunning landscape.
6. Mount Everest itself is visible from the base camp on clear days, offering a spectacular view of the world's highest peak.
7. The terrain around the base camp consists of rocky paths and large boulders, so trekkers need to be very careful while navigating them.
8. The air at the base camp is very thin, with oxygen levels about half of that found at sea level.
9. In order to avoid altitude sickness, it is important for trekkers to acclimatize along the way and take rest days as needed.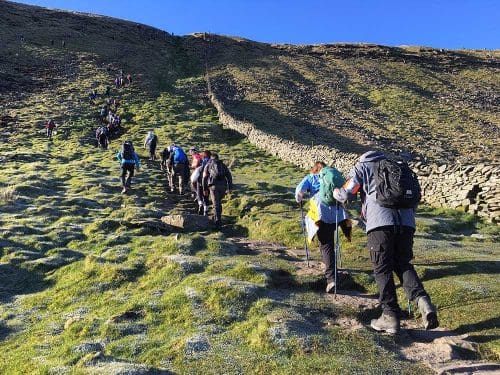 Three Peaks Challenge, England, Scotland & Wales
In third place is the Three Peaks Challenge, which involves climbing the highest mountains in England, Scotland and Wales within 24 hours.
The famous challenge has over 42,501 social engagements, with Google searches reaching over 9900 searches last year!
More on the Three Peaks Challenge
The challenge involves a hike of 24 miles over rough terrain and includes an ascent of 4,408ft.
It is an extremely arduous undertaking, but the experience of completing such an incredible feat of endurance can be incredibly rewarding. The views from the summits are spectacular, and it's a great way to test your physical and mental strength. Whether you're a beginner or an experienced climber, the Three Peaks Challenge can be a great way to take on a new challenge and push yourself to the limit.
Things to know about the Three Peaks Challenge
1. The Three Peaks Challenge was first completed in 1954 by Herbert Tompkins, who climbed all three peaks within 24 hours.
2. The highest peak of the challenge is Ben Nevis which stands at 1,344 meters and the lowest peak is Snowdon which stands at 1,085 meters.
3. The total distance of the challenge is 24.5 miles (39.4 kilometers) and it has an ascent of 10,052 feet (3,062 meters).
4. It is estimated that only around one in ten participants actually complete the Three Peaks Challenge within the recommended time limit.
5. There are several different routes that are used to complete the challenge and each route has its own distinguishing characteristics.
6. The challenge usually involves walking, running, scrambling, and climbing over rocks, peat bogs, and streams.
No matter where your travels take you, there are plenty of amazing adventure holiday destinations out there waiting.
Read More: Latest