Let's get this guilt-free, sugar-no-more party started! Malaika Arora, a popular name in the women's entrepreneurship circle has added yet another feather to her cap – a tie-up with a health dessert brand.
The model, actress, and entrepreneur has joined Get-A-Way, a healthy dessert brand, as an investor and brand ambassador.
This 2019 start-up is known for healthy desserts which have no added sugar, are high in protein, are keto-friendly, and are low in calories.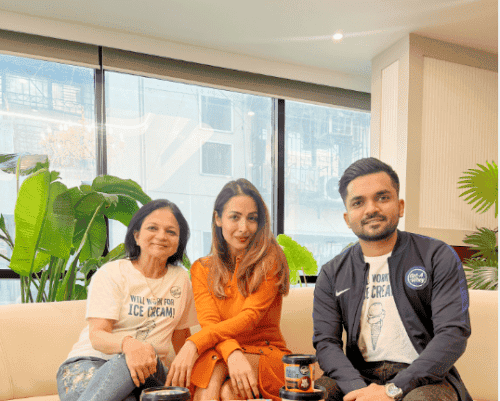 Get-A-Way is a start-up that appeared in Shark Tank India season 1 and bagged an investment of INR 1 crore from 3 investors, Aman Gupta, Ashneer Grover, and Vineeta Singh. The brand also recently closed a funding round of $2 Million from Biryani By Kilo.
The start-up, founded by Jash Shah, Pashmi Shah, and Jimmy Shah, has been successful in making delicious desserts without compromising on the health aspect. The brand has an array of guilt-free treats, including ice cream sandwiches, popsicles, low-calorie kulfis, and high-protein ice creams.
"People who know me well, know my love for food is undying and a good dessert only brings happiness to an otherwise mundane day. My current portfolio of investments includes fitness, fashion, wellness, food – most things which complete me and spell passion for me," said Malaika Arora.
She added, " The one thing which I truly cherish and which is going to be joyous from here on is the luxury to bake my own cake and have it too- that too healthy and guilt-free! We have some very fluffy, sweet and ambitious plans lined up ahead which will enable dessert and fitness lovers to enjoy their desserts guilt free and I can't wait for everyone to get their hands on my hand-picked desserts and get away with enjoying them",
According to the founders, this relationship will help the company grow both its offline and online footprint across the nation.
"For our brand, we've always sought out connections with like-minded people. Malaika is truly a fitness icon, and she is committed to fostering healthy habits among individuals," said Get-A-Way co-founder & CMO Pashmi Shah.
He added, "This is something that resonates perfectly with our brand philosophy. At Get-A-Way, we want to change the way people eat and our vision is to facilitate that through our products,"
Get-A-Way wants to provide customers with truly guilt-free products. The company wants to expand its product line, and manufacturing capabilities, and strengthen its sales channels. With Malaika Arora on board, they also have plans to introduce keto cheesecakes, vegan gelatos, and many more innovative treats in the ensuing one to two months.
About Get-A-Way
Get-A-Way makes high protein, low calorie, and no added sugar desserts such as ice creams, ice pops, ice cream sandwiches, and diabetic-friendly kulfis. It sells across Zomato, Swiggy, Swiggy Instamart, Blinkit, and many more platforms.
About Malaika Arora
Malaika Arora is a famous model and fitness icon in India. She has been featured on various TV shows and magazines, and is known for her sizzling looks and style. She often sets fashion trends with her stunning appearances on the red carpet. Malaika Arora is also a successful businesswoman, owning several fitness centers in Mumbai and other cities across India.
She is also an active social media user, often sharing her thoughts and experiences on different platforms. Malaika Arora has made a name for herself in the entertainment industry, and many aspiring models look up to her for inspiration. She is an example of how one can achieve success in life through perseverance and dedication.
Malaika Arora's passion for fitness is evident in her regular workout sessions, and she has inspired millions of people to stay fit and healthy. her investments in fitness centers have enabled her to provide employment and other benefits to many people. Malaika's hard work and passion for life have made her a shining star.
Read More: Latest