Ladakh is a region in the mystical Himalayan mountains which have been the centre of salvation for humans for ages.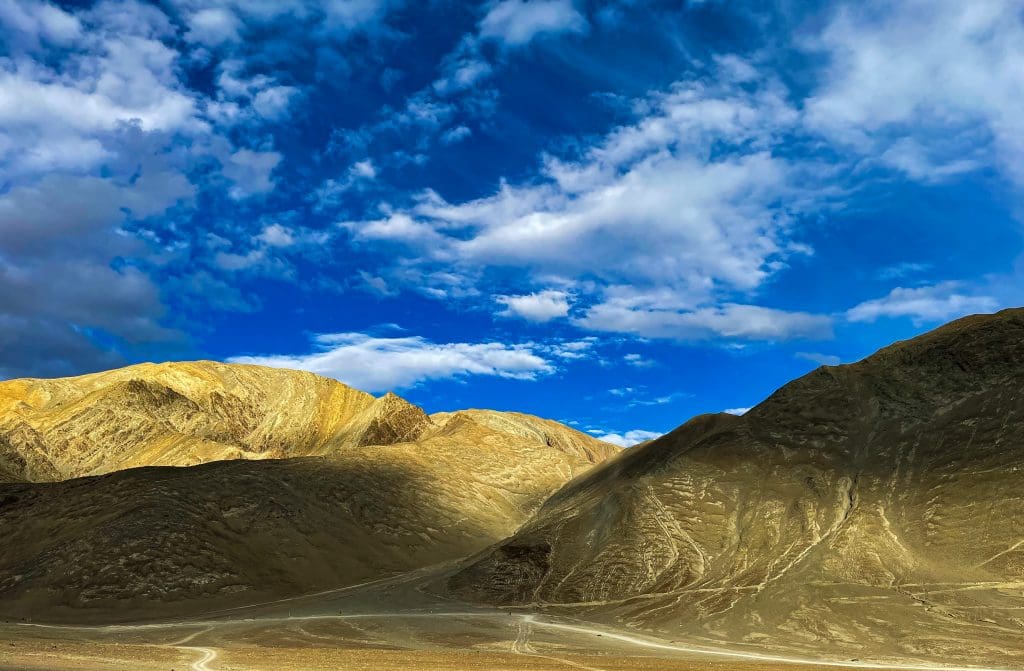 The mysterious valleys are still unexplored, untouched since the birth of the existing earth as we know it. Ladakh being an aloof place surrounded by arduous but rejuvenating roads, made you feel that the old proverb about time, that never stops is a myth. 
In some tranquil soul moments while travelling through these awesome parallel mountains, getting deeper to dense, the sound of my solitary friend, my "Himalayan Enfield" perceived that this place is a particle of the infinite universe where the law of time doesn't exist, environmental elements do not move, they are between the divide of appearance and disappearance.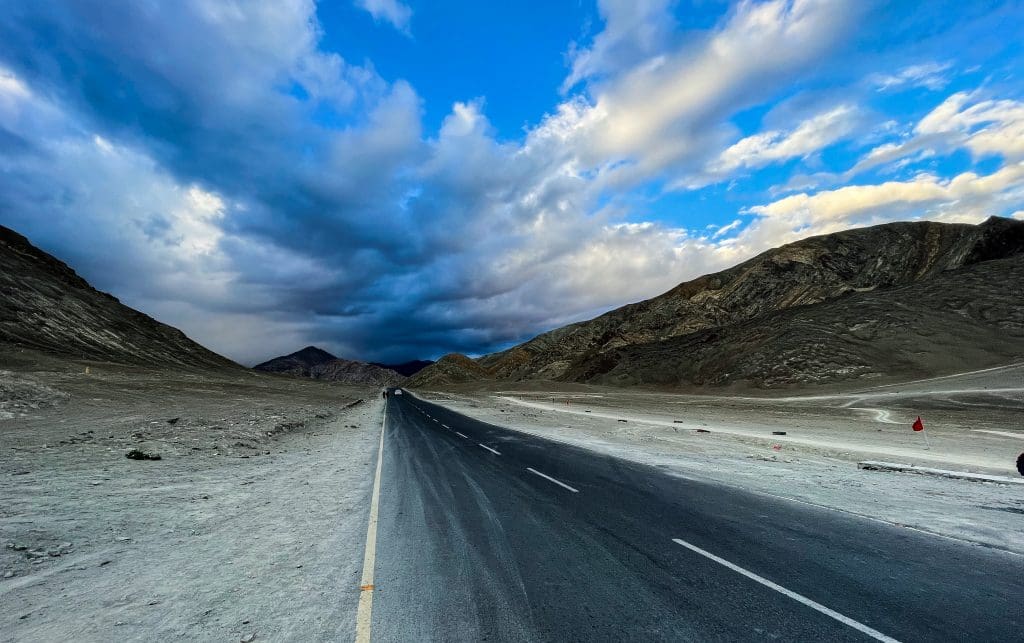 My recent trip to these sacred summits was an astoundingly serene experience of a lifetime. The trip begins from clamorous Delhi which is a high-energy experience, and one begins to breathe easy begins from the time one sees the clouds over the revered Himalayas which leads us to land at the starting point of the trip, at Leh.
Spending two days at Leh, the capital of Ladakh, for us was a must-follow protocol for our bodies to adjust from our city's addictive smoky environment to the high altitude of Himalayan pure air. We were fortunate enough to get a homestay at a local Buddhist family's house where we were amazed to learn that their worship place was over 900 years old in the same house we were staying in! And that's just one of the many facts we were fascinated by.
Renting a bike that has been built for precarious roads of the Himalayas, "The Royal Enfield Himalayas" and driving on 14,000 ft. at Magnet hill is something I proudly took off my "to-do list before die"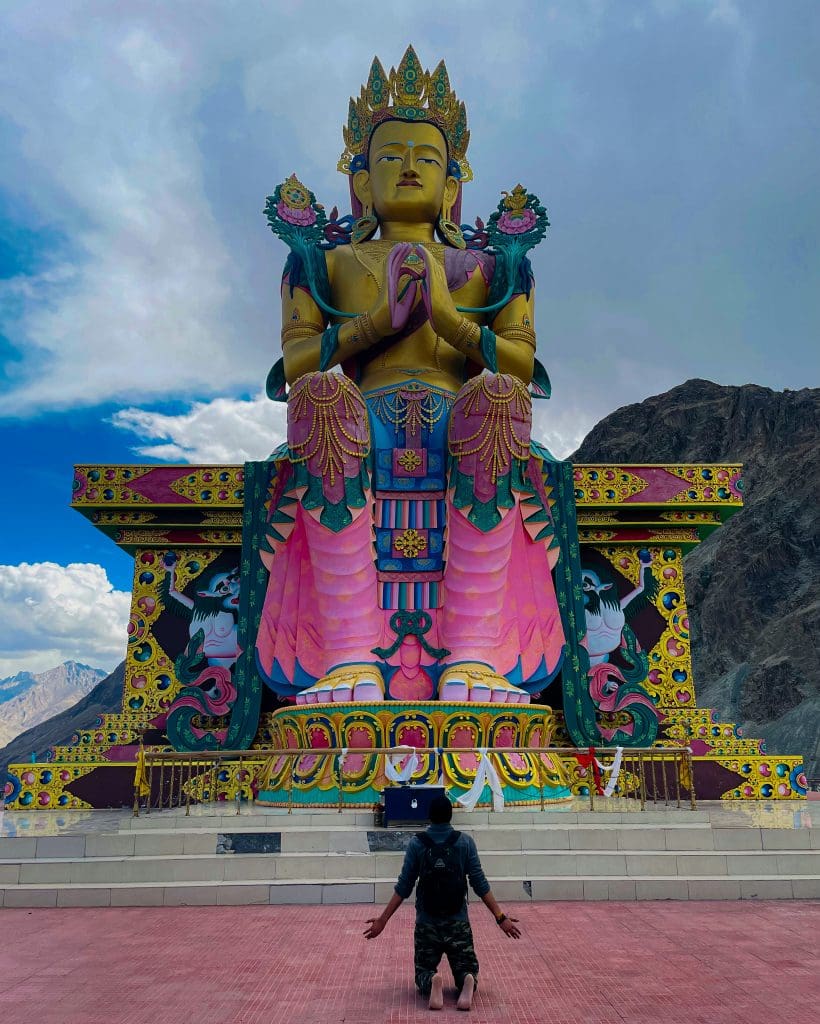 Continuing our journey through "Lord of the Rings" lookalike mountains to the sacred Diskit valley was an epic experience, so true of tourism in Ladakh.
One of the oldest valleys, Diskit valley is vividly known for the 106 ft. tallest Buddha statue and one of the oldest monasteries in Ladakh.
My soothing conversational encounters with monks, roaming in the 14th-century-built monastery took me to the placidity of nothingness and that led to a sudden change of plan and staying another night at the Diskit, even after spending an adventurous night at the jungle camp.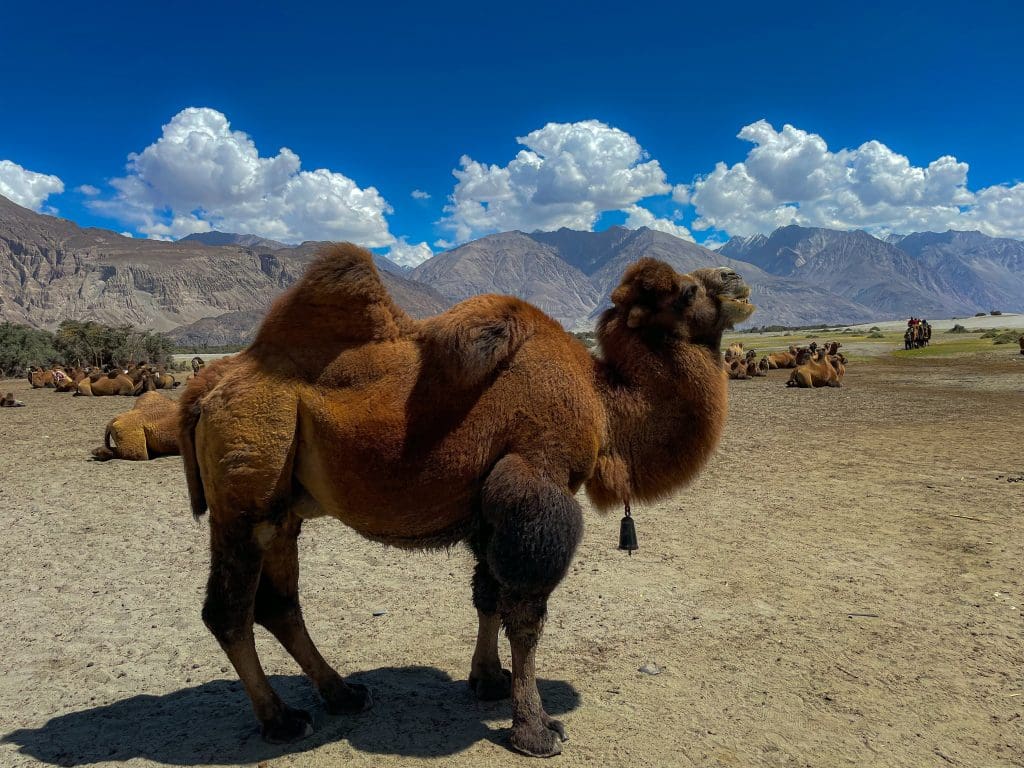 After attending the morning's soul-vibrating chants where we witnessed the mighty yet pure collaboration of sincere, carefree young monks obediently following their wise, guiding masters. Keeping their innocence, extremely joyous and loving smiles in our hearts forever, we headed to our concluding destination "Penyong Lake".
Penyong, the world's highest saltwater lake is one of the few loci remaining which are still untouched and unexplored.
Keeping our feet in the soul-freezing Azure was an immensely rejuvenating and surreal experience. After spending the coldest night of my life here at Penyong, it was time to bid an emotional adieu to the realm of tranquillity. 
Ladakh astonished me with the unparalleled serene silence of the mighty Himalayas and I was delighted with the authentic hospitality and the genuine warmth of its grounded citizens. For every living human soul who wants to get lost in the creator's horizon to find and feel their core identity beyond the limits of name, body or even soul, a trip to Ladakh is 'A Must Escape'.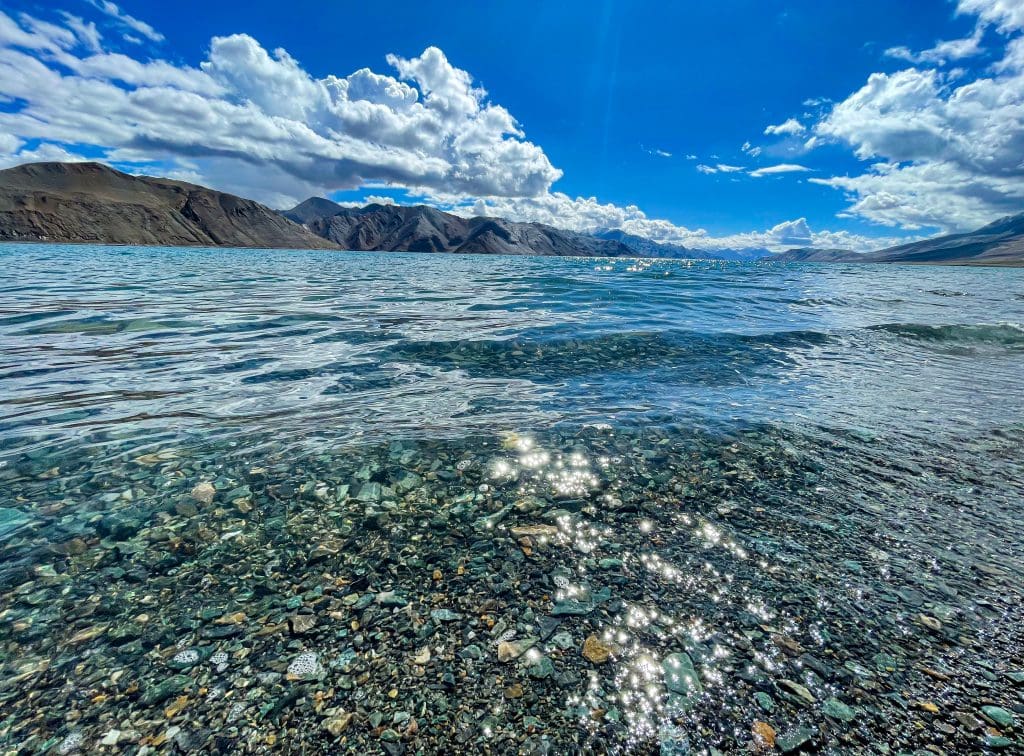 Tips for a Leh-Ladakh trip for first timers
Here are some essential tips to make sure you have an amazing journey.
Don't forget to carry cash as most shops and restaurants won't be accepting credit or debit cards!
If you want your mobile network connection to work during your stay there – purchase BSNL postpaid sims. For last-minute calls, PCO booths in Leh Market also come in handy.
Adjusting quickly is key so once arriving at Ladakh take it easy by taking a day's rest – altitude difference can give one a 'heavy head' but that will pass with adequate acclimatization!
If you're travelling through Ladakh, be sure to enjoy the local cuisine – home-cooked dishes are not only tastier but also healthier! The people of Ladakh are warm and friendly and ready to share a meal. However, if you prefer a vegetarian diet then don't forget to carry those instant noodles.
The higher altitudes will mean burning calories at a faster rate so snack smart on glucose biscuits, nuts and wafers while keeping an eye on your water intake.
Bathroom breaks really needn't break up your itinerary as having toilet paper and sanitiser in hand can help make for more comfortable pit stops along the way
If you're headed to Ladakh, make sure that your medical kit is packed with all the essentials – think Iodex, Savlon or Dettol for treating wounds; headache meds, and body pain relief in case of muscle soreness.
Don't forget a plastic bag too! Collect leftover wrappers and other trash during the day until it's time to find a bin when you reach home base.
Remember to go on moonless nights so you can see the stars hanging large, low, and luminous. Well worth making plans around – trust us Ladakh's night sky looks its best on a moonless night!
(About the Author and Photographer: Siddhartha Trivedi has rediscovered himself from being a hotelier at Raffles Dubai to transforming into a passionate blogger, travel writer, and photographer.)
Read more: Latest