The art of homemade pasta making is a much-loved one everywhere.
But it is especially so in India since there is a similarity in the process of making freshly kneaded dough chapatis or fresh rice batter idlis and dosas so integral to meals in every Indian home.
From chapatis to idlis and dosas to making handmade pasta – the transfer is an easy one for the Indian homemaker as a lot of cooking is traditionally fresh, hand made and piping hot!
So here's to learning more about the art of homemade Pasta making:
Handmade Pasta Making Workshop
Loci and Toot the elegant new café and wine bar located in the boho-chic neighborhood of Bandra, Mumbai did a Handmade Pasta Making Workshop on 12th June 2022. Look out for the next one!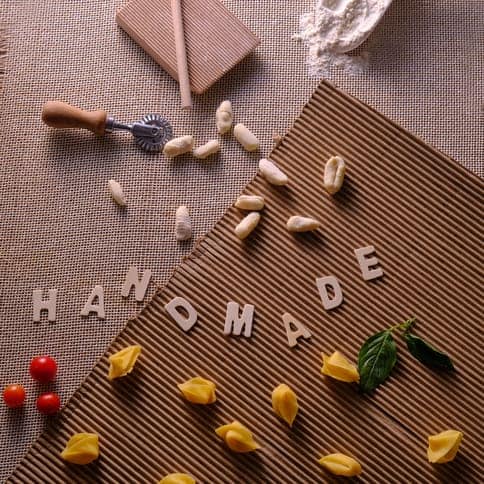 Everyone spent a delightful afternoon as guests turned their passion for food into a professional skill under the guidance of Chef Shahbaz Shaikh.
Knead cut and roll your way through making fresh pasta from scratch! One can also learn to shape the pasta into an array of shapes such as pappardelle, tagliatelle, sorpresine, capeletti, garganelli, etc.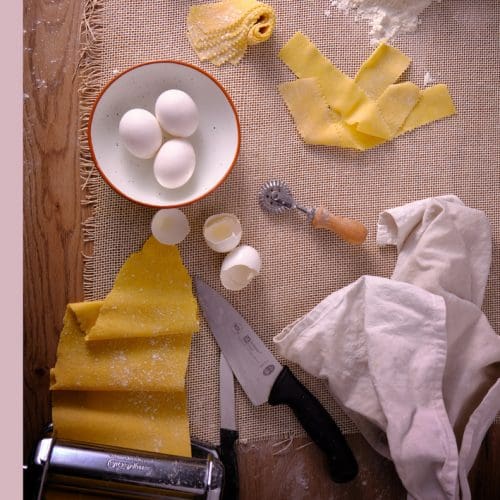 Chef Shahbaz was at hand to teach you all there is to know about making the best homemade pasta. Loci and Toot also gave a complementary sangria/ rosé sangria to all those attending the workshop. What's more, guests could also take their pasta creation at home and prepare it at their own convenience. In addition to that one will also get to relish pasta from the menu at the workshop.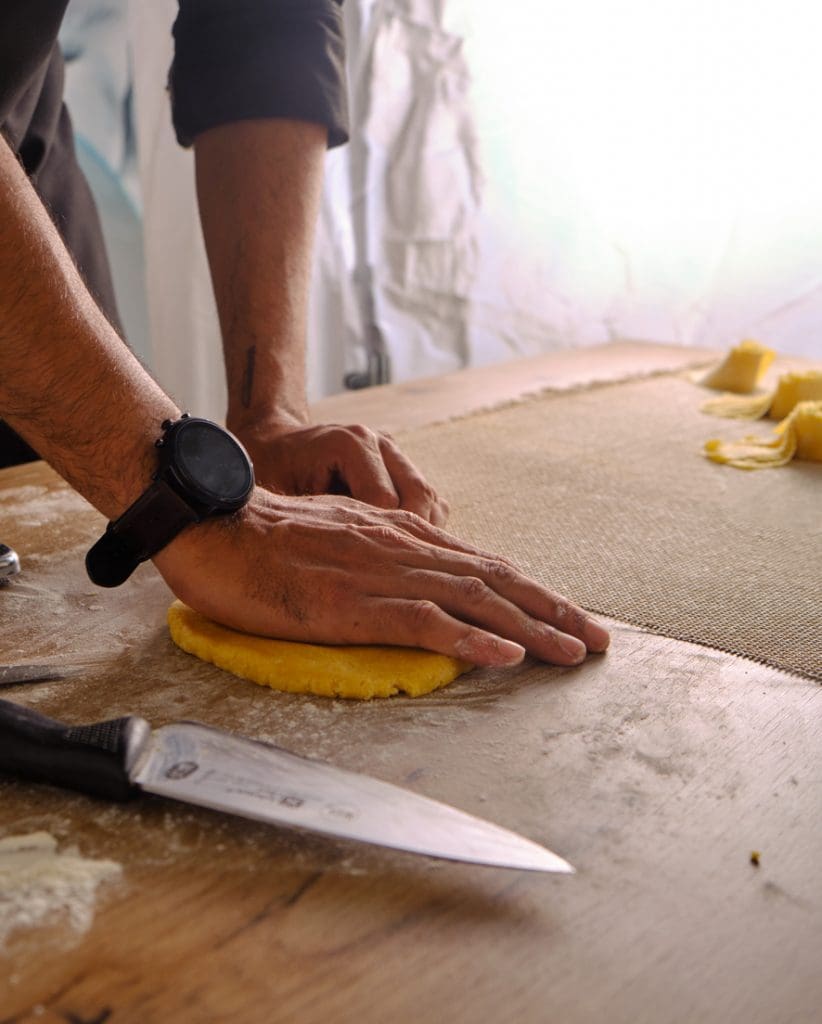 The art of homemade pasta making in Italy by Mama Isa (Isa Cook in Padua)
Here is an authentic account of homemade fresh pasta by Mama Isa which is a great help for those trying their hand at pasta making at home.
She suggests making it with wheat flour extra-fine called 00 and eggs. The texture should be porous and rough, thus ensuring it is ideal for thick sauces.
Says Mama Isa, "But real pasta making is becoming a lost art." She refers to the legend of 1931 that the fresh "tagliatelle" was invented by Maestro Zafirano, a cook from Bologna province in Italy. He made a special new fresh pasta for the occasion of Lucrezia Borgia's marriage to the duke of Ferrara in 1487.
She also mentions that one of the most significant figures in pasta tradition is the "sfoglina", a woman who made the pasta dough "sfoglia" without the pasta machine and cut it into fettuccine, tagliatelle, tortelloni, agnolotti, pappardelle, lasagne, and other types of fresh homemade pasta shapes.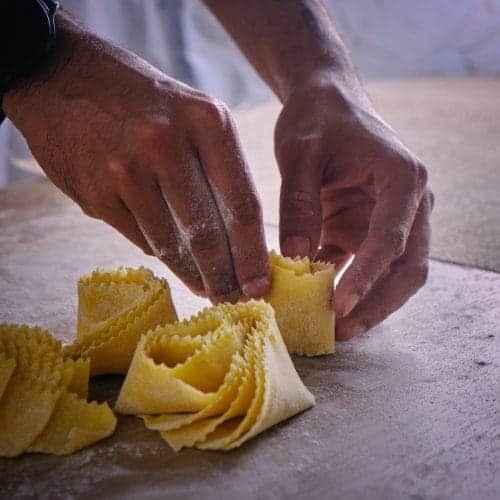 She adds, "In Italian houses of old, every woman was a sfoglina, but now this ancient art is disappearing. The art of pasta making is an essential part of intangible cultural heritage in Italy and the preservation of pasta making is very important. This old art should not disappear."
Mama Isa learned the art of pasta-making watching her grandmother and her mother. She recalls, "They used their hands to transform the wheat flour & eggs into silky pasta dough. I am a pasta purist: I don't like the food processor and the pasta rolling machine because they change the end result!"
According to Mama Isa the traditional method for making fresh pasta dough includes fresh ingredients in a ratio per person of 1 organic egg, 100 g Flour Type '00′ – Farina tipo '00′ – and a pinch of sea salt
She suggests placing Flour Type '00' – Farina 00 – on a large wooden board, and making a well in the center of Vulcano flour. Then beat eggs in a cup and put the egg mixture in the center of the flour.Use a fork to incorporate the flour.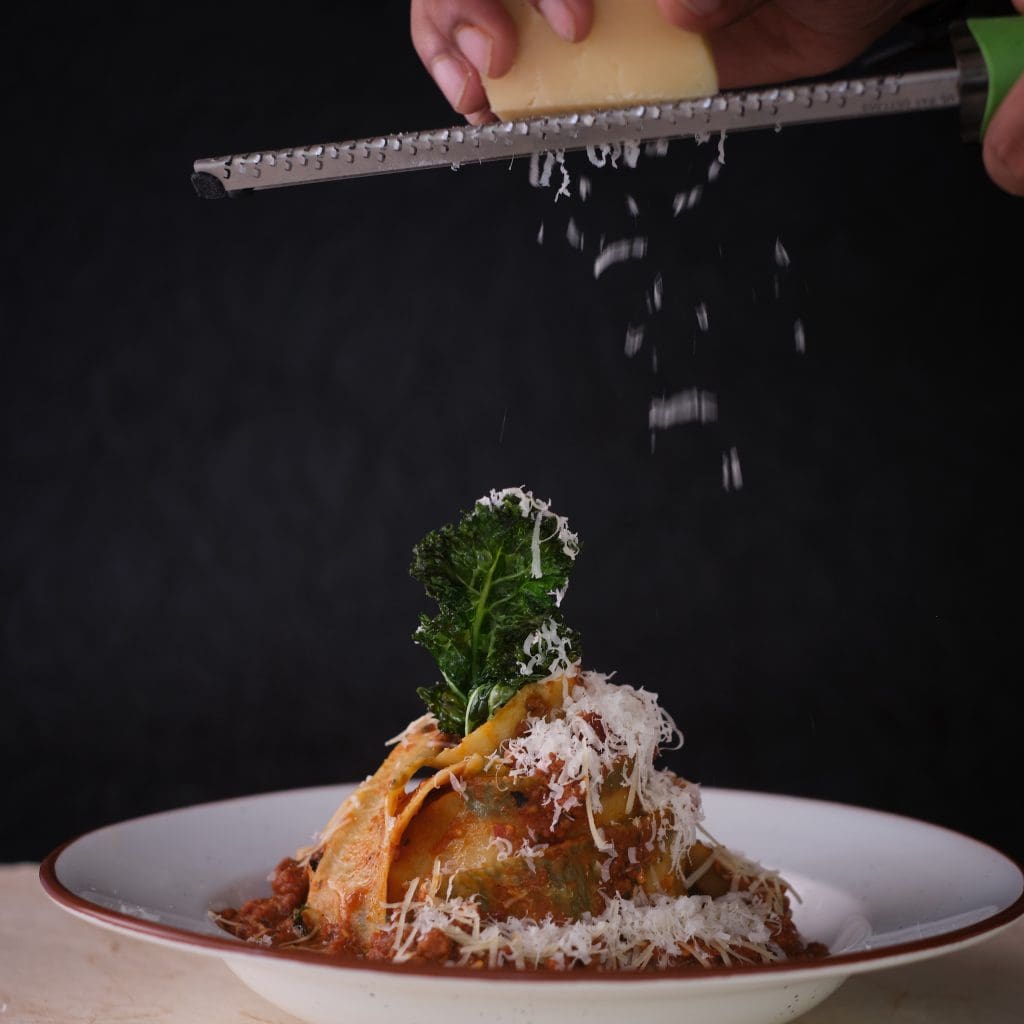 Once a pasta dough begins to form, she advises using your hands to incorporate the rest of flour in a few minutes. Then knead the dough with the palm of your hands for about 10 minutes until the dough is smooth and elastic. A word of caution – if the pasta dough is sticking, sprinkle it with flour. Now wrap the dough with a cling film and let it rest in the refrigerator for at least 30 minutes.
After resting use a meter-long special rolling pin and roll out into a thin sheet, keeping the wooden board dusted with flour. Then put the sheet of pasta to rest for 5 minutes on a lightly floured surface, covering it with a clean kitchen towel.
The sheet of pasta will dry quickly so do not leave it above 5 minutes. Now make the pasta shapes you like – "Tagliatelle" (¼-inch wide strands for example. Then fold the sheet 5 or 6 times and cut small strips with a rectangular knife and let the tagliatelle dry for 10 minutes on a floured surface, covering them with a clean kitchen towel.
After about 10 minutes you can cook the "tagliatelle", tossing it into a delicious Italian sauce!
Book yourself a traditional Pasta making Italian vacation
You will be a sort of a master as you will know a bit of the secret to pair pasta textures, fillings, and sauces.
By the end of the vacation you will know how to tell a pici from your penne, and perhaps turn out a neat dish from Italy's regional recipes like Pici Cacio e Pepe, Ricotta, and Spinach Ravioli, Pappardelle al Ragù, and also Gnocchi alla Sorrentina.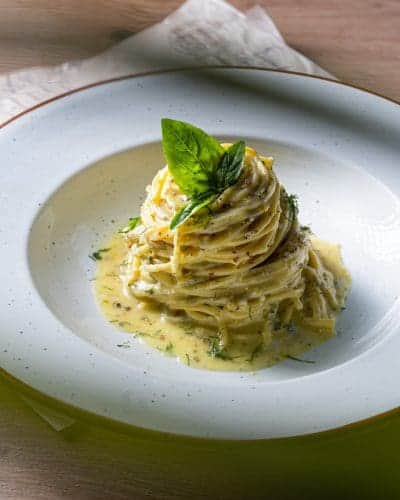 While we are on the subject of the art of making homemade pasta, there are all-inclusive cooking holidays like the one by Tuscany Now &More Pasta vacations comprising a series of hands-on classes, demonstrations, and food and wine tastings spread out throughout the holiday.
On such tours pasta enthusiasts can learn the ingredients and methods every great chef uses, as well as the essential techniques to make over eight different types of hand-made pasta.
Read More : Food Voyager