Udaipur is a city imprinted by captivating history and culture.
This fascinating city in the historic state of Rajasthan is a stunning architectural discovery. From majestic palaces to imposing forts, this beautiful region beckons visitors looking to explore its intriguing past. The city's Rajasthani architecture and rich heritage are reflected in the many places to visit in Udaipur, providing an unforgettable experience.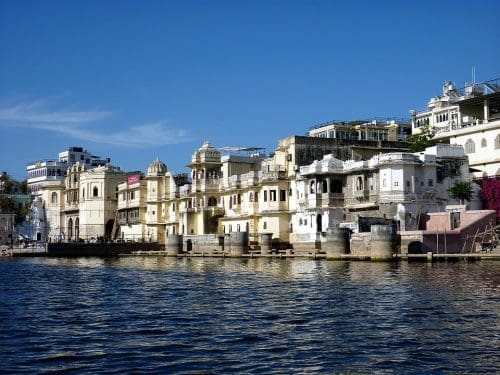 Among the things to do in Udaipur, is to hire a good guide and set off to see the remarkable heritage of this royal city where forts and palaces stand amidst deserts, mountain-tops and lakes as sentinels to a wonderful history of valour and great warriors.
The Taj Lake Palace, Udaipur
This breathtaking palace is situated on the calm and pleasant waters of Lake Pichola. Built in 1746 by Maharana Jagat Singh II of the Sisodia Dynasty, this eye-catching white marble edifice was originally built as a pleasure palace for the royal family. Its spectacular design features stone carvings and intricate paintings that depict scenes from Hindu mythology. Visitors can also marvel at its majestic domes and towers, which soar high above the lake like an elegant miniature city.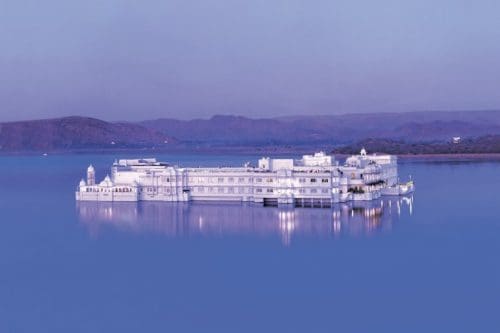 Jag Niwas (now known as Lake Palace) boasts exquisite architecture and majestic beauty. Its walls are constructed from black and white marble with semi-precious stones decorating its ornamented niches, as well as fountains and terraces adorning its courtyards. For over 50 years it has been managed by IHCL, resulting in global recognition such as leading the finest luxury resorts in Udaipur; and films such as Octopussy & The Fall have chosen this stunning palace for their movie shoots!
The Monsoon Palace
Located atop a hill overlooking Fateh Sagar Lake in Udaipur, this stunning palace is known for its impressive architecture and interesting history. The structure was initially constructed by Maharana Sajjan Singh in 1884 and served as a summer resort for the royal family. It later became a popular hunting lodge after its conversion into a game reserve by Maharana Fateh Singh in 1909. Today, the palace is open to visitors who can look forward to admiring its picturesque views of the lake and exploring its intriguing history.
The City Palace
The Udaipur City Palace is majestic palace complex that was constructed by successive rulers over the course of centuries. Built with materials ranging from granite, marble, and sandstone, it features numerous elaborate structures that offer insight into Rajasthani culture and history. Visitors can explore this stunning site and admire its intricately designed courtyards, pavilions, gardens, and terraces.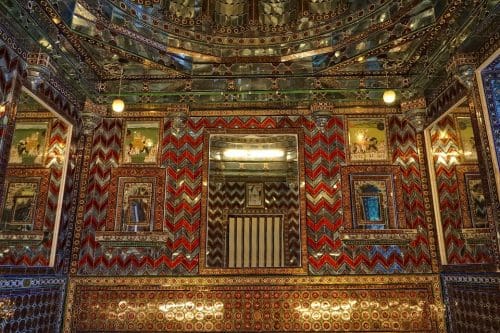 Located in the heart of the city, it stands tall and proud with its majestic turrets and lofty towers. Built in 1559 by Maharana Udai Singh II, this sprawling palace complex is a testament to the rich history and culture of Rajasthan. The palace is made up of 11 separate palaces, all connected by a series of courtyards and terraces.
The City Palace has been beautifully designed with intricate carvings and beautiful stained glass windows. As you walk through the various sections, you will be amazed at the level of detail that has gone into making its grandeur. From the stunning marble columns and fountains to its intricate mosaic flooring, every corner of this palace is a visual delight.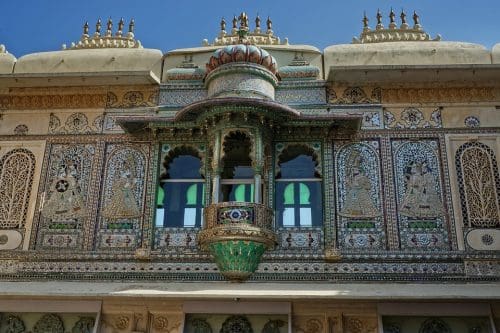 The City Palace also houses several museums that showcase the splendor of Rajasthani culture. The Bari Mahal is one such museum where you can explore royal artifacts and exhibits. There are also some rooms dedicated to the royal family, including a huge hall for royal receptions and ceremonies. The Moti Mahal is another treasure trove of historic artifacts from the region's past.
The City Palace also offers visitors an array of activities. From boat rides on Lake Pichola to elephant rides on the palace grounds, you can truly immerse yourself in the grandeur of this ancient city. There are also plenty of cafes and restaurants located within the palace walls, allowing you to enjoy a delicious meal while taking in the breathtaking views.
The Jag Mandir Palace
This beautiful palace is situated on the southern side of Lake Pichola and is accessible by boat. It was initially built by Maharana Karan Singh in 1620 as a pleasure palace for the royal family. Over time, it became a popular destination for those seeking refuge from political turmoil in other parts of India, including Shah Jahan who constructed the Taj Mahal. Today, visitors can take pleasure in admiring its majestic architecture and exploring its rich history. The exterior walls are decorated with intricate stone carvings, while its grand interiors feature colorful frescoes, royal chambers and an impressive array of royal artifacts.
The palace is located on the beautiful Lake Pichola and offers stunning views of the lake, along with spectacular sunset views. Visitors can explore the grounds and take in its regal beauty while admiring its grand architecture. Inside, one can explore the many corridors filled with artifacts from the royal family's past, as well as a number of ancient temples and shrines.
The Jag Mandir Palace is also home to one of Udaipur's most famous monuments – the Moti Mahal. This grand five-story structure overlooks Lake Pichola and was once used by the Maharanas for both entertainment and relaxation. Today, it is a popular tourist destination and offers many activities such as boat rides, cultural shows and music performances.
The Ahar Cenotaphs
Situated on the banks of Ahar River, this group of cenotaphs is one of Udaipur's most popular tourist attractions. Constructed by various rulers of the Mewar Dynasty, it features over 500 memorials that are dedicated to brave warriors who sacrificed their lives for the region. Each cenotaph is decorated with ornate carvings and inscriptions that offer insight into Rajasthani culture and history.
This grand memorial was built in 1725 AD, by Maharana Sangram Singh II as a reminder of his courage and bravery in battle. The three-storied structure is an example of Rajput architectural style and stands tall at the entrance of Ahar village.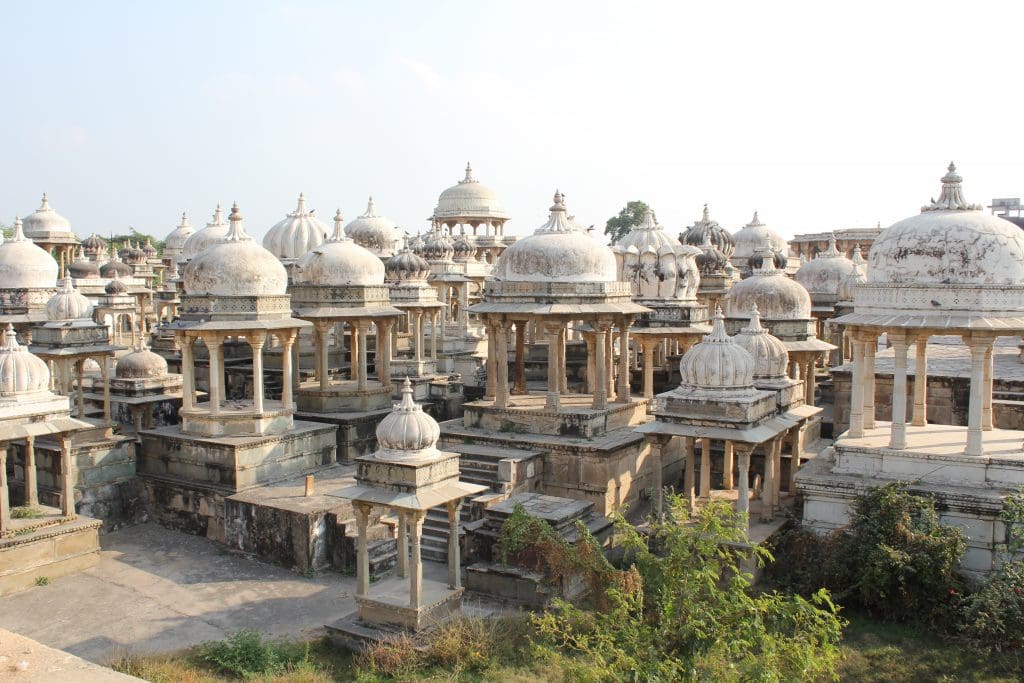 The cenotaph has very intricate and detailed sculptures adorning its facade. The uppermost portion is embellished with numerous shrines, and it features a beautiful chhatri or dome made from red sandstone. This memorial is made even more striking by the tall and colorful spires that top it, which are said to be a representation of Maharana Sangram's bravery in battle. The entrance gate is richly decorated with an array of elephants and horses, symbolizing power and strength.
The cenotaph also has four large pillars at its base and several smaller pillars in between. These pillars feature intricate carvings of gods, goddesses, warriors and celestial bodies as a tribute to the Rajputs that defended their kingdom. Apart from sculptures, the cenotaph also has inscriptions written in Sanskrit, reflecting the culture and heritage of the region.
The Kumbhalgarh Fort
Perched atop a hill in the Aravalli Range, this formidable fort is one of Udaipur's most majestic sites. It was constructed in 1458 by Maharana Kumbha as a defense against invading forces from neighboring kingdoms and served as the capital of Mewar during his reign. Visitors can explore its sprawling grounds and admire its impressive architecture, which includes numerous palaces, temples, gateways, and walls.
The fort's walls span an impressive distance of 36 kilometers, earning it a spot in international records. Within the fort's boundaries, visitors can explore over 360 temples as well as various palaces and gardens, making it an essential destination for any traveller.
The Fateh Sagar Palace
This elegant palace is located on the western shore of Fateh Sagar Lake and was built by Maharana Jai Singh in 1678. It features a number of beautiful pavilions and gardens that offer spectacular views of the lake and its surrounding hills. Visitors can also explore its fascinating history through its various artifacts, including photographs of former rulers such as Maharana Pratap who used it as his summer residence.
The Sajjangarh Palace
Located atop a hill near Udaipur city, this magnificent structure was constructed by Maharana Sajjan Singh in 1884 to serve as an astronomical center for studying monsoon patterns. The palace is surrounded by vast grounds that offer stunning views of the lake and its surrounding hills. Visitors can also explore its intriguing history through its various artifacts, including photographs from royal functions and ceremonies.
The Jaisamand Lake
The Jaisamand Lake is a stunning, picturesque symbol of this city in southern Rajasthan, India. This majestic lake is located in the Aravalli Range and stretches for about 32 square kilometers. It was built by Maharana Jai Singh during his reign in 1685 and remains one of Udaipur's most iconic sites. It is the second-largest artificial lake in Asia.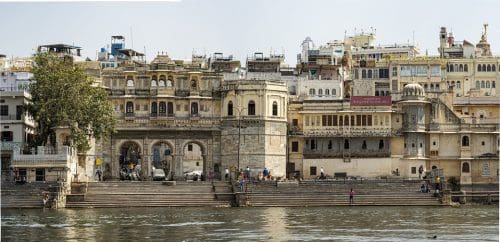 The lake is surrounded by lush green mountains and hills, as well as a 50-km-long embankment built with large blocks of sandstone. There are four large and five small islands within the lake that provide a picturesque view for visitors. Visitors can take pleasure in admiring its picturesque views and exploring its rich wildlife, which includes a variety of birds, mammals, reptiles, and amphibians. Some of the species that can be spotted here are Pintail ducks, Grey Herons, Spotted Owlet, and Black-necked Storks.
Jaisamand Lake is an ideal spot for boating and fishing, making it a popular tourist destination in Udaipur. A variety of boats are available for hire at reasonable prices, providing visitors with the opportunity to explore the lake. In addition to this, the lake features a number of fascinating temples that offer insight into Hindu culture and traditions.
Chittorgarh Fort
Chittorgarh Fort is a magnificent monument to India's history, situated just outside the city of Udaipur in Rajasthan. With walls stretching across five kilometers, this fort is one of the largest and most striking fortifications in India. The majestic fort stands atop a hill surrounded by steep cliffs and is often referred to as the "Unconquerable Fort of Rajasthan".
For centuries, this fort has been a symbol of the courage and valour of its people. It was in Chittorgarh that Maharana Pratap, one of India's most famous warriors, held his ground against an invading Mughal army. Much of the fort has been restored to its original glory, making it a popular tourist destination for those looking for a glimpse of Rajasthan's rich heritage.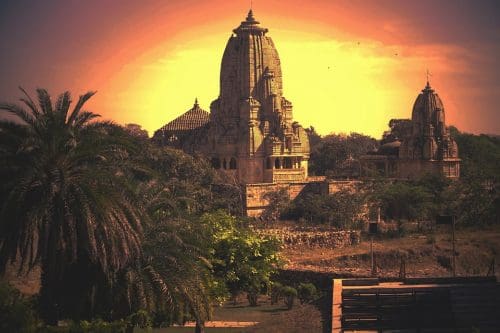 When visiting Chittorgarh Fort, visitors can explore imposing palaces, carved temples, and deep trenches that were once used as defensive barriers. The most famous structure within the fort is the Vijay Stambh, or Tower of Victory, which was built by Maharana Kumbha in 1448 to commemorate his victory over Mahmud Khilji. Other noteworthy attractions include the Fateh Prakash Palace, located within the fort complex, and several grand temples dedicated to Lord Shiva and other Hindu deities.
Chittorgarh Fort is also home to several festivals and events throughout the year, including the annual Chittaurgarh Fair which draws huge crowds from all over India. This fair celebrates the life of Maharana Pratap and features traditional Rajasthani dance, music, art and cuisine. The fort is also popular amongst photographers who can capture stunning views of the fort walls and surrounding countryside.
Getting to Udaipur:
By Air: Travellers can fly directly to the Maharana Pratap International Airport or Dabok Airport located 22 km away with services from airlines such as Air India, IndiGo, Jet Airways, and SpiceJet.
By Rail: Two railway stations- Udaipur City Railway Station Rana Pratap Nagar Railway Station make it possible for visitors to take frequent trains from Jaipur, Mumbai, Delhi Kolkata & Surat including luxury options like Palace on Wheels and Royal Rajasthan on wheels that have scheduled stops in Jaipur and Udaipur
By Road: Road travel remains economical as the city is well connected via buses (A/C or normal) running frequently between places like Ahmedabad, Delhi & Jaipur .
Where to stay: Visitors are spoilt for choice – from heritage havelis, to homestays and budget to palace hotels in Udaipur, Among the best hotels in Udaipur are the country's biggest brands like Taj, Oberoi, Leela, Raffles, and so on with luxury and 5-star hotels in Udaipur.
Read More: Latest